It's not just foundation brushes that Liz Kelsh has hiding up her sleeve. The celebrity makeup artist and Max Factor ambassador also hoards supercharged Japanese eyedrops and a micro-current face massager in her bulging beauty kit. With twenty years making up the likes of Cate Blanchett, Gwyneth Paltrow and Jennifer Hawkins, the Irish-born Kelsh has developed some very nifty makeup tricks indeed. So much so that she recently launched her first book, "Makeup by Liz Kelsh".
The lovely – and rather hilarious – Liz swung open the doors to her gorgeous Bondi pad and revealed exactly which cult products she uses on both herself and her superstar clientele to achieve luminous skin, bright eyes and luscious locks. Consider us schooled.
In my makeup kit…
I have got millions and millions of brushes, but to actually do my own makeup, I just use four or five brushes. They are: a shadow brush, a long haired shadow blending brush, a pointer brush, a blush brush and a large powder brush. If you have these you can accomplish pretty much any look.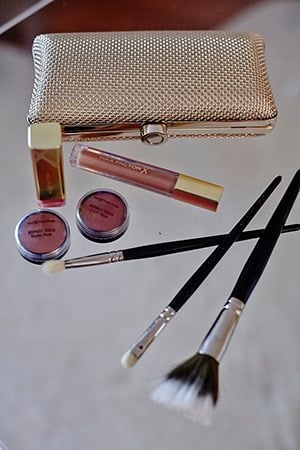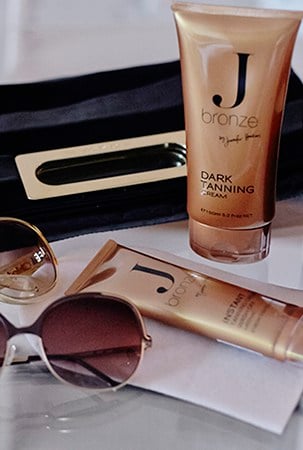 I love Illuminizer
Illuminizer is EVERYONE'S friend.  I use that down the center of the legs, on the arms, on the cheekbones, on the temples, it gives instant polish and glow! I also love Jennifer [Hawkins'] tanning range – J Bronze.
I have these crazy Japanese eye drops
But when you use them, you can't see for 5-10 minutes. But they're so good; Jennifer Aniston put me on them like a hundred years ago. She had them and they were like,  'Boom!'. But when you put them in it's actually scary, you're like, 'Oh my God, I just got acid in my eye!', if you're not expecting it. They hurt so much, like, you have to breathe through it kind of thing. But then when it clears, it's like, 'Bing!' I mean they're not amazing for you…but they really open the eyes.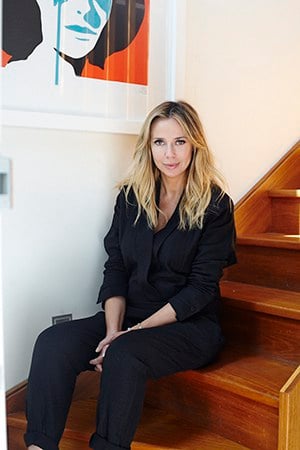 They get every scrap of makeup off. If I'm doing a quick overnight job in Melbourne or something like that and I just want to have a carry on, instead of bringing a million things with me, I'll just bring these and a Foreo[for skin]. The cloths get every bit of mascara off. They're amazing for fashion shows when models race in from an earlier show with a crazy make up look that includes black eyeshadow all the way up to their eyebrows  and you're doing a Stella McCartney-esque no makeup look… They're the only ones I've found that don't leave a residue. I recommend them a lot to younger girls, as I know they tend not to clean their face properly.
I use a tool called the CACI – it's a Micro Current machine
It has an electric current and you hold it on the muscles [of the face]. It stimulates the muscle and can give you the appearance of a stronger jawline. It simply just switches on the muscle. I found it at Selfridges in London. They've just started doing a portable version because traditionally it's quite a large machine.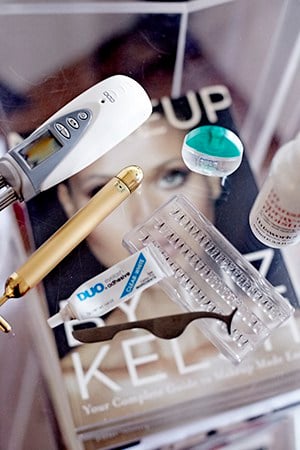 I find it makes the skin so glowy, I use that on every single client I do, even on young girls because quite often young girls' skin can be dehydrated due to  not looking after it properly. It's not dry like mine would be dry, it's more just un-nurtured and so I when I take it off… the results are noticeable no matter what. They are effectively a time machine!
So for my active ingredient things I like them. In my imaginary life, I'm the girl who buys Haider Ackermann jackets – when she's not going to events and she's on her day off she casually goes for a facial. In my real life, I usually have to do all this stuff myself at 12 o'clock at night when my daughter is in bed.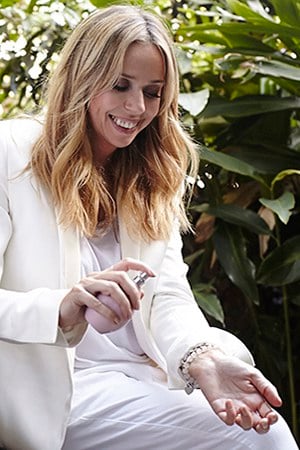 LIZ SPRITZING HERSELF WITH A LITTLE OF HER FAVORITE SCENT: AGENT PROVOCATEUR
Agent Provocateur is my signature scent…
I'm big fan of layering fragrance, so using the same scent shower gel, body moisturiser and then perfume. I love heavy scents and also like mixing fragrances .
Renya and I are the best of  friends. She got me onto Olaplex – a colour developer. They mix it with the colour when you are at the salon, and it stops the bit that normally damages your hair from happening. So you can go as blonde as you want and you walk out and you're like "this is what my hair used to be like when I was 20".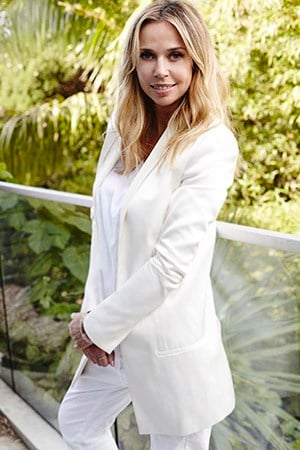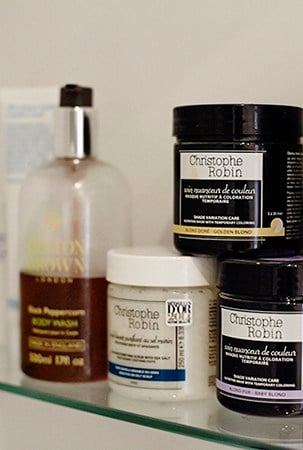 Exfoliation is the key to everything
I love the Clarisonic and the Foreo as well because, lets be honest, everything just slows down. Exfoliating is the fountain of youth! It's why I'm so youthful (laughs). I use it every day it just keeps it all smooth.
I have always been a huge fan of MaxFactor Cosmetics
and  I now have the pleasure of working with them – which is how I got my hands on a new product called the Crème Puff Blush ahead of their release in March.  The blush comes in a variety of colours to ensure there is a colour for everyone and was actually  designed by makeup artist icon Pat McGrath. It is the bomb!  It can be used dry for a flush of colour with a beautiful illuminating effect or my favourite way to apply is to add a little water to really intensify the colour.  I am absolutely obsessed with it and have used it on every job since I got my hands on it in January – it is a must have make up item so keep your eyes out for it."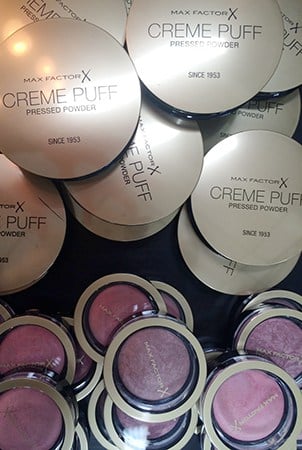 Interview by Sigourney Cantelo; Story by Ally McManus; Photography by Daniel Gurton; Hair and Makeup by Liz Kelsh.