With her long, tawny, fawn-like legs, doe-eyes and brushed up brows, Stephanie "Bambi" Northwood-Blyth, does share some attributes with her Disney namesake. But there's nothing child-like about her career trajectory. The model has worked for Chanel, Balenciaga, Calvin Klein and countless top magazines, all the while flitting between Sydney and LA, lending her face to some of the world's biggest brands. Bambi recently opened the doors to the uber cool Bondi abode where she spoke to us about her health (she's Type 1 diabetic), her enviable beauty bounty and her and Rosé range. Oh, and she also divulged what she uses on those famous arches…
Bambi wears Bec and Bridge silk set and Chanel shoes

A very enviable handbag spill...

Bambi's edgy style is what sets her apart from the rest of the beauty bunch...

Bambi's Bondi pad is an eclectic mix of items her and husband Dan have picked up while travelling

Bambi cosies up to her friend's puppy

The beautiful piano is the stand-out feature in their home - Bambi learnt to play as a child

Evo products give her the perfect 'second day' texture on freshly washed hair

Dan and Bambi's incredibly chic (and delicious - yes, we tried) Rosé range, Bird In Hand
"I don't know where to settle down yet…
I like travelling [between LA and Bondi] for the near future. But, I love New York! It's just hectic to live there. For now, it's a good balance. LA's kind of similar to Sydney, it doesn't feel like such a drastic change. You know the hardest time of the year would have to be leaving [Bondi] mid-January; all my friends are back here and down in the beach house and then I'll be back in New York and it's snowing.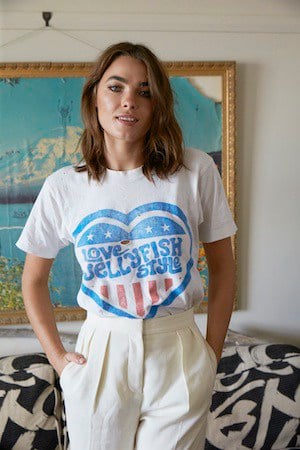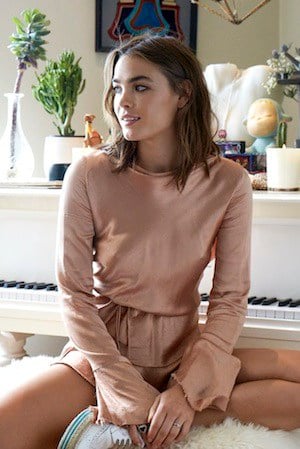 BAMBI WEARS BEC & BRIDGE TOP AND SHORTS, AND CHANEL SHOES
I want to get into acting…
I've been doing a few acting lessons at the moment, twice a week. I'm reading a few scripts, which is really exciting. One of the scripts I did was a Texan girl… Accents are quite easy when you copy someone. I learnt piano as a kid, too.
I've had Type 1 diabetes since I was eight…
Which hasn't been ideal, but constant management has made ok. When life gives you lemons , make lemonade hey. I have 5 needles a day and check my blood sugar levels constantly. No one in my family has it; it's autoimmune. Because the pancreas fails to produce insulin, I have to inject it. I have to be really strict with my diet. At the time I was diagnosed I lost 12kg in two weeks. Now I always carry jellybeans just in case. Low blood sugar can happen quickly and can be scary. I hope to start a charity in the near future and help other young people who are struggling with it and educate on what the condition actually is"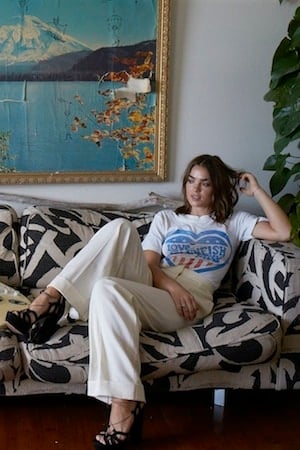 EFFORTLESSLY COOL IN STELLA MCCARTNEY TROUSERS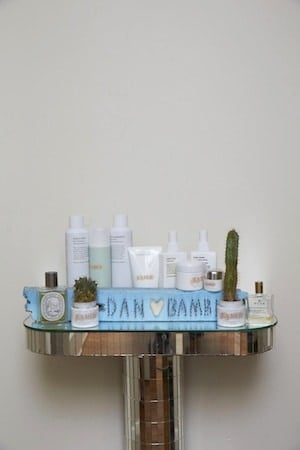 BAMBI USES LA MER TO KEEP HER COMPLEXION IN CHECK
I get regular light therapy facials…
…at Melanie Grant. I have a lot of cosmetics she recommends. There's a mint cleanser, which I love, CosMedix Purity Solution. I love La Mer, I use the moisturiser and the eye cream is really great. The La Mer Body Scrubis honestly amazing. I also see Saimaa at The Last Resort where I'll get a salt scrub or a massage. Then my secret secret weapon has to be Fumi at Zen Facial in Bronte. She gives me these amazing oils and magical face work for lymphatic drainage – it literally gives you cheekbones.  I also love Lancôme during the day, the Energy De Vie has an SPF which is perfect. I always wear SPF. And I am absolutely obsessed with Nimbus and Co Infrared Saunas on Bondi Road.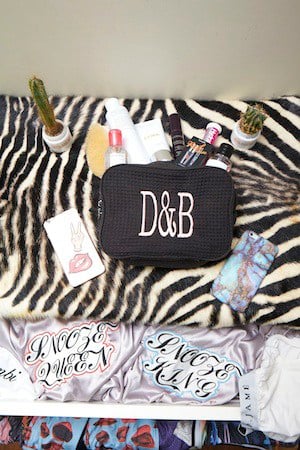 BAMBI AND HUSBAND DAN HAVE A LINE OF AMAZING SILK PYJAMAS CALLED P.JAME.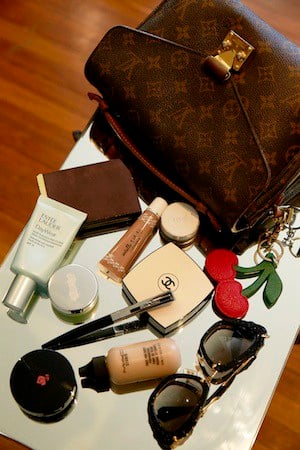 BAMBI LOVES CULT MAC FACE & BODY FOUNDATION AND MAC CLEAR BROW GEL
I put dry shampoo in clean hair for texture…
…so, go figure! Klorane is definitely the best one out there. Evo products are the best. I use the Salty Dog spray in my hair when it's damp. I flip it upside down and then blow dry. I like the haze powder on my centre part to roughen things up. As far as cut and colour, I go to Valonz.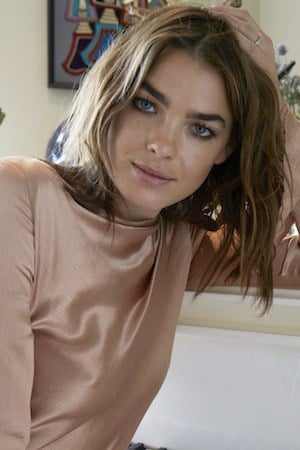 BAMBI HAS NAILED SECOND DAY HAIR USING DRY SHAMPOO AND TEXTURISING SPRAY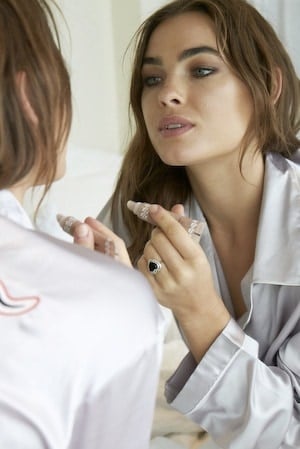 IT'S NOT ALL VIP PARTIES, BAMBI LOVES A QUIET CUP OF TEA AS MUCH AS THE REST OF US
I have an obsession with cold drip coffee and coconut water together.
I get it from Lox Stock & Barrel, it's so good! And there's no sugar. Cold drip is kind of like a tea, it's more watery, it's not like an espresso, but it's really strong. I'm also a huge tea drinker. The English Tea Shop do some really nice ones. I tend to stick to almond milk, I don't really drink [cow's] milk.
I'm on a juice cleanse at the moment…
…it's Orchard Street. I do them a lot when I'm shooting, and I've been shooting the past couple of days. I started doing them when I was overseas, especially somewhere like London when the food on set is not that good. I love to do them maybe once a month or every six weeks.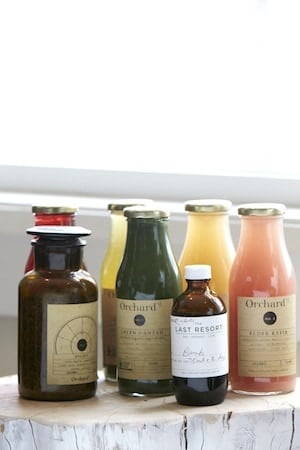 BAMBI OPTS FOR A JUICE CLEANSE EVERY FEW MONTHS TO RESET HER SYSTEM
FITTING IN WITH THE LA HEALTH SCENE, BAMBI GETS VITAMIN INJECTIONS AND HIKES LA'S MANY TRAILS
In LA, I do a lot of vitamin injections…
… and sometimes I inject myself with B12 in the backside. I find it really helps! The drip makes me a bit sick, so I feel like the injection does more [for me]. I don't mind the gym, but I'm really into yoga. In LA I go to Hot Eight Yoga in Beverly Hills. It's really hot and they use light weights. I like dance classes, it can be fun. And I hike, there's like Baldwin Hills, Malibu, Runyon, Bondi to Coogee. Malibu's quite nice because you can jump into the ocean after.
I'm pretty obsessed with sunglasses…
I seem to stick to one Prada shape [but I also have] Miu Miu, and Rayban – a few actually! Prada Shoes are pretty much all I wear… I have like five or six pairs. Celine do the best sweaters, I love wearing them. I love Stella McCartney and my P.Jamé for bed or lounging around, too."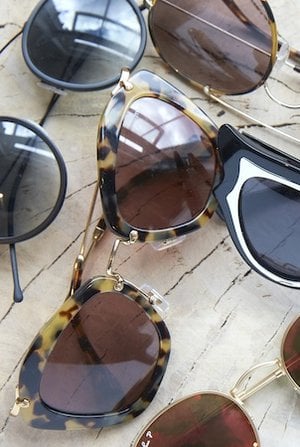 MUI MUI, PRADA AND RAYBAN ARE HER SUNGLASS PICKS
Story by Emily Algar; Interview by Sigourney Cantelo; Photography by Carlotta Moye. Hair by Paloma Rose Garcia for Oscar Oscar Paddington; Makeup by Sarina Zoe. Bambi wears P.Jame and Bec and Bridge.