It can be hard not to judge a book by its cover, especially when said cover looks like the Insta-perfect world of model, mum and footballer's wife, Clementine McVeigh. As soon as she invited us into her rock 'n' roll luxe Sydney home, though, it was immediately obvious how misleading covers can be. Clem is utterly honest, very funny and a true girl's girl, and she just so happens to have some killer makeup tips.
"Day to day I am pretty busy, between work and looking after my two kids (Lolita, 7 and Florence, 18 months, aka Lolly and Flossy). My morning routine is a total groundhog day.
It's getting them up, getting them dressed, packing lunch, doing school drop off… Once all that's done I'm often shooting something, and usually have the baby with me. Doing my Instagram work is easiest because the baby can be there, whereas if I have a shoot for a client she can't, so ideally I get some notice and can 'book' my lovely mother-in-law to take care of her while I work.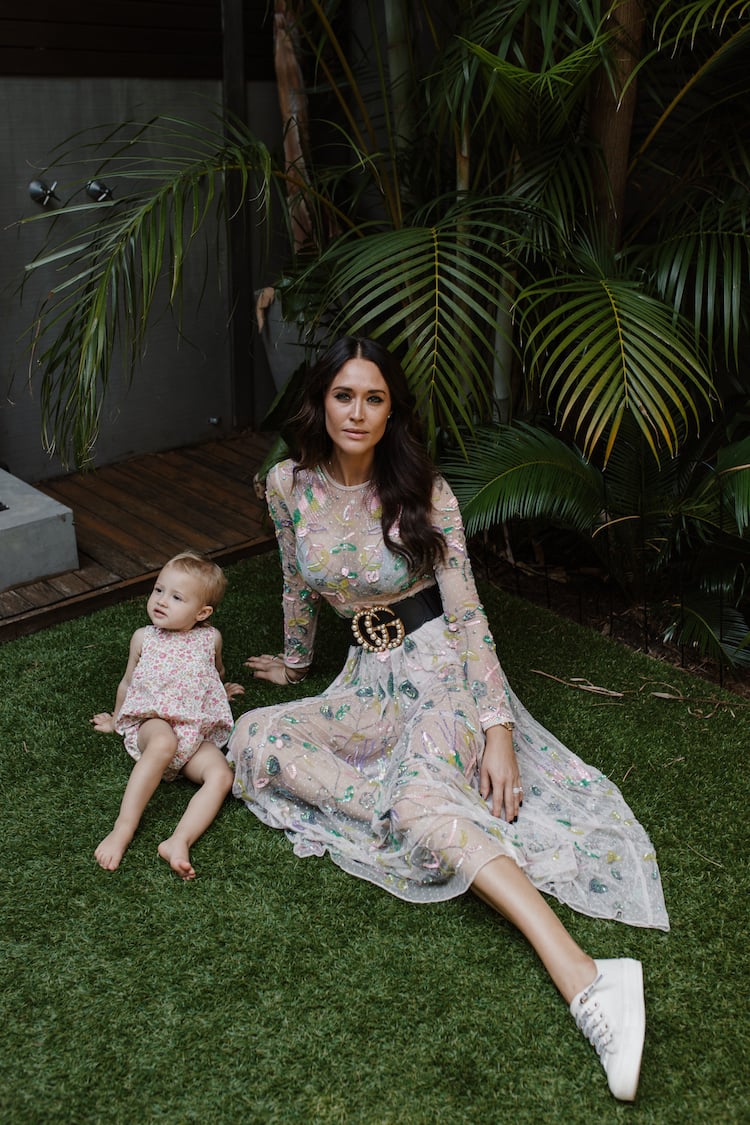 Growing up, I used to change outfits six times a day. I was always dressing up. When my parents had friends over I had to parade up and down the hallway past everyone, and if no one noticed I'd go and get changed again until someone did. I have always just loved clothes.
I grew up in Vietnam, and when I was about 12 I was approached to model by a photographer from LA, but Mum said I was too young. When we moved to NZ I met the owner of Nova modelling agency when I was about 15, and at 16 I started travelling, first to Japan and then to Italy. Mum came with me to Italy for a month and lived in the models' apartment with me. Once she was satisfied I knew what I was doing and had a good head on my shoulders, she was comfortable with me doing more on my own. I eventually was runner up in a competition called 'Face of '98' and met the owner of Vivien's Models, and my moving to Australia for a couple of months has turned into 19 years and counting!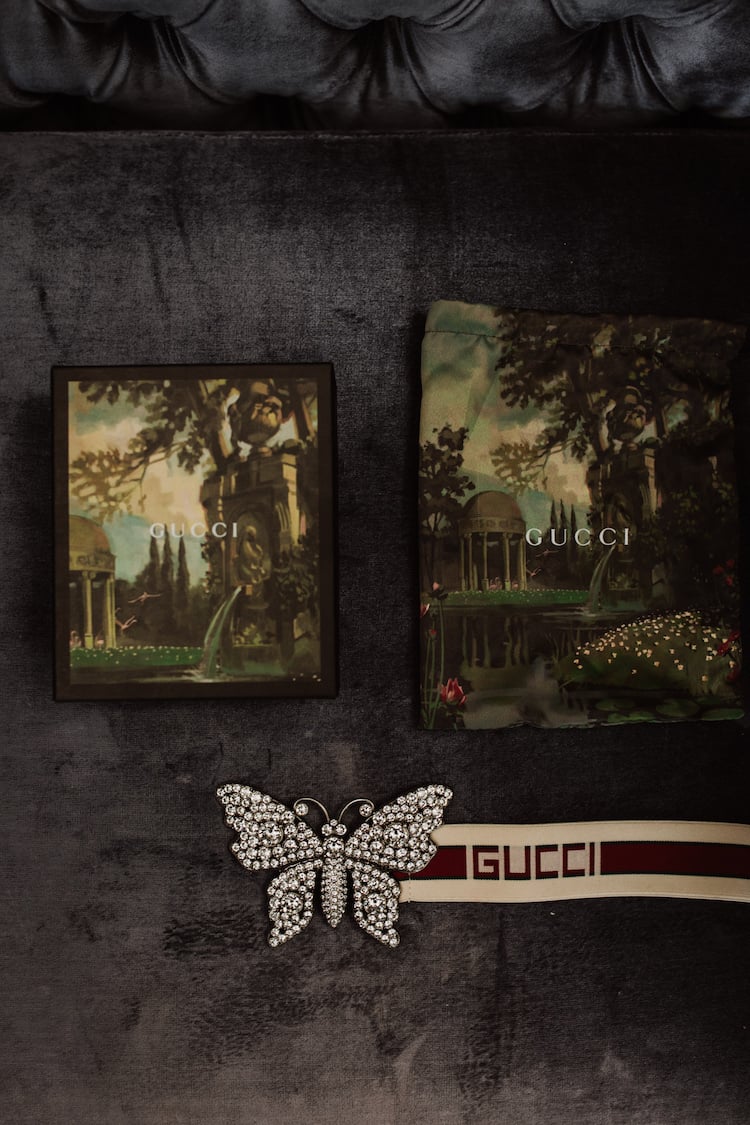 I have loved modelling ever since I started as a teenager, but it is hard work.
It's different now with social media, as anyone can get themselves out there. It's overall easier for people these days, I think. I mean, I used to walk around a city I'd never been to with a big fold out paper map to try and find my appointments! Learning the business that way did give me a great foundation to always keep trying, and to get knocked back and just keep going. Mum always said "don't ever let anyone affect how you think and feel about yourself" and it's so important to remember. I know that if I'm not right for one job, I will be right for another. I genuinely love modelling. I've been able able to work through having kids, even working while being pregnant, and it continues to be an interesting journey.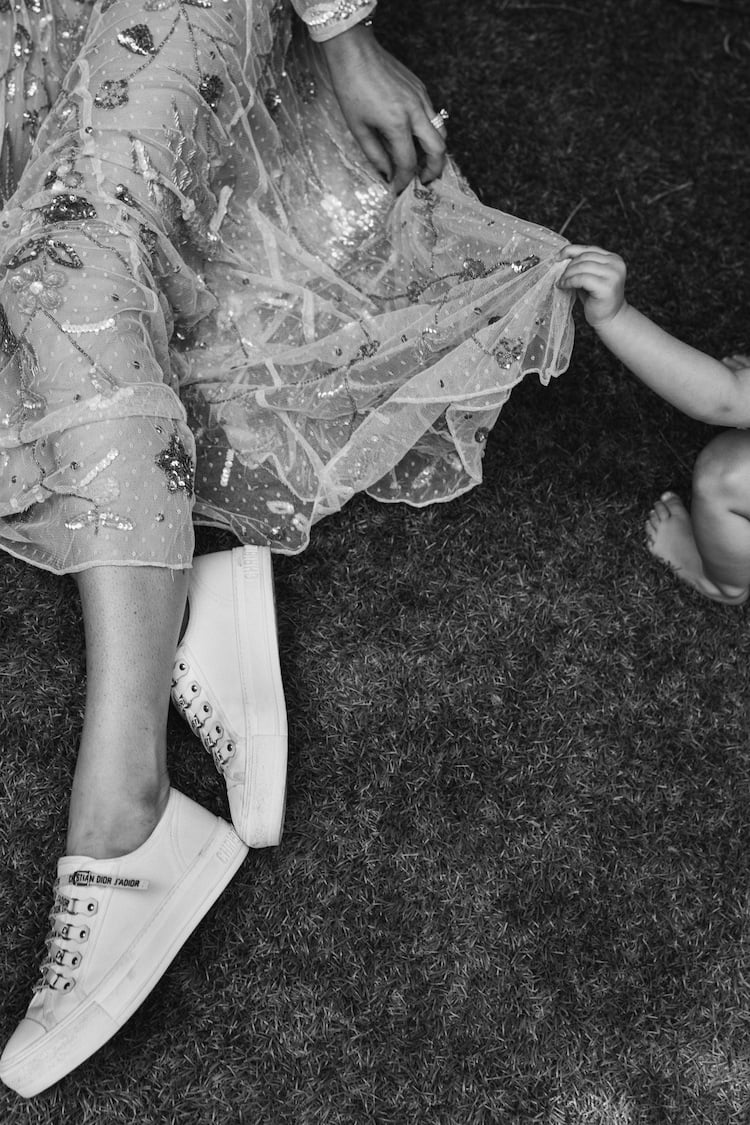 I don't think I have a particular style – I kind of love everything. I go for colour, florals, sequins, but I am always drawn to the overall look being elegant. I pay attention to how I am feeling on the day and I am definitely never afraid of what to wear
 (or not to wear!)
My job absolutely comes with its perks. One great example is when the lovely people at Roger Vivier let me choose these emerald satin heels, and can I tell you, they are as comfortable as they are beautiful. I felt so lucky that they gave these to me. Then one day I'm driving home and waiting for me was a Roger Vivier carrier bag containing the most spectacular silver bag. Thank goodness I didn't run it over. Now that was a good day!
I'm definitely not always in heels though, I love a sneaker – they're so comfy. Another great accessory is a belt, and I am always throwing one on and pulling together a dress into a different look. My ideal outfit is a mix of high and low. This gorgeous embroidered dress I wore for our shoot today is from ASOS Edition, can you believe it? They do the best stuff. I got it on sale for $150. [Ed. note: this dress is now sold out, but similar styles are available here and here.]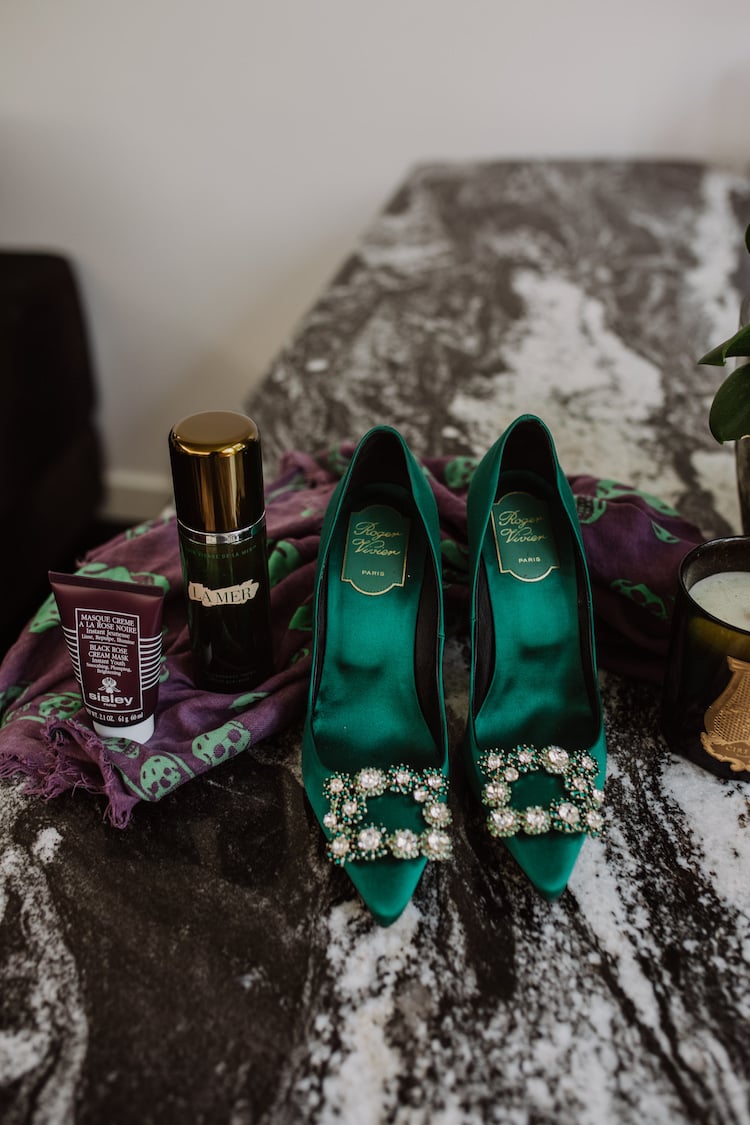 I have to start any conversation about beauty by saying I really do think it comes from within. If you look after yourself, it shows on your face.
It's important to make sure you're covering the basics, like drinking lots of water and using sunblock. I haven't had a full on beauty routine for a long time because being in this industry I get given a lot and love to try a lot. It's hard to be consistent, and I think your skin can get too used to the same products and needs a change. One thing I do swear by, though, is cleansing and moisturising. I never go to bed with makeup on. It's so important to wash your face! I really like Dermalogica Special Cleaning Gel.
Because I use so many different products it's hard to single out the ones I love, but you know it's good when you end up going back again and again. I love an oil at night, and Sunday Riley's Luna is a real favourite. I love their Juno Oil as well, as it's not heavy. I switch between those and Go-To's Face Hero (which I used all throughout my pregnancy), just depending on what my skin needs. I really enjoy using Rationale products but I couldn't commit to using one regime all the time, haha! La Mer products are wonderful too, and always make me feel like I've had a spa day. Speaking of which, I love going for treatments to All Saints Skin Clinic in Double Bay. My most recent treatment was their Pomegranate Peel with a Healing LED Light, which was fantastic.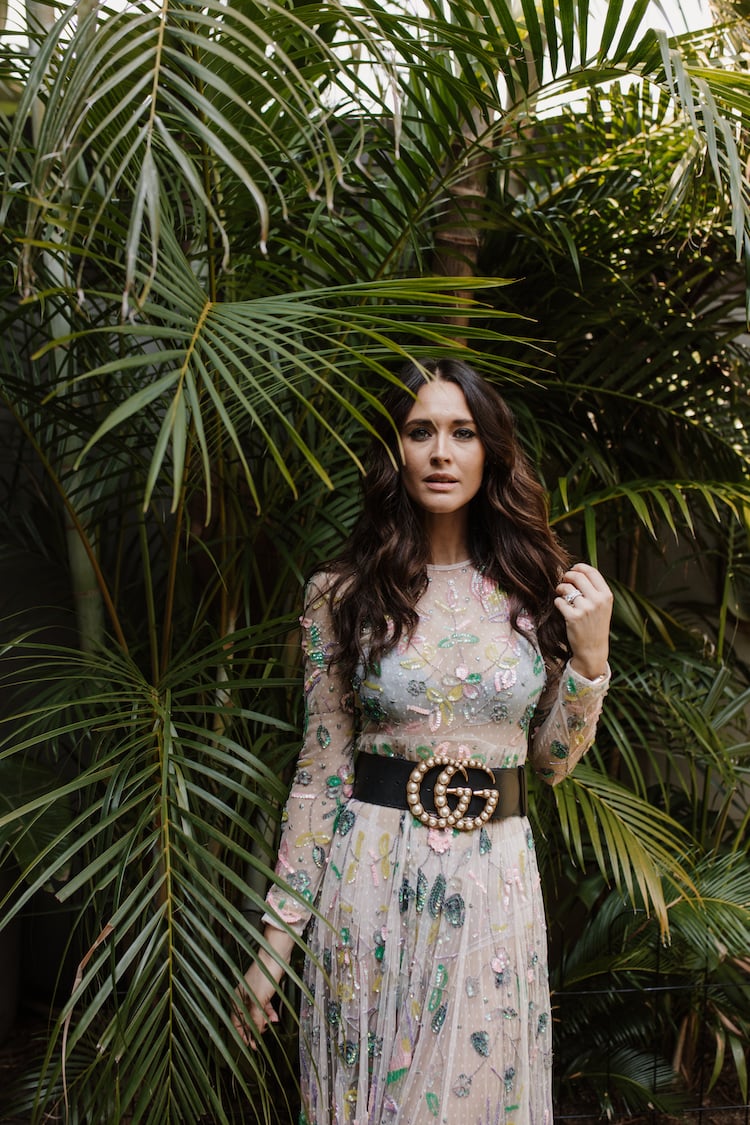 When it comes to fragrance, I have a real type – I'm a sucker for a good white floral. I like to have a bit of a perfume wardrobe going.
Some of my current favourite fragrances include Rrose, Aerin's Lilac Path (which I love and is a proper floral, very pretty and feminine), and Gucci Bloom. I think it's good to have some classics in there to round it out, so I also have Chanel No. 5 and Miss Dior.
I use Bobbi Brown's gel liner every day. It can either just be used as liner or you can amp it up to do a smokey eye. I have the brown and the black, so I start with brown and then use black for the cat eye part, so say from the outer third of your eyelid out to the wing. I like to have more definition in that outer part of the eye. The Bobbi Brown eyebrow pencil with the spoolie on one end is also part of my daily routine.
I always wear Chanel foundation, either Sublimage or Vitalumière. I think wearing a layer on your face every day helps provide a bit of protection from the elements (in addition to sunblock, of course!) And obviously I think it makes me look better. I just use fingertips to apply. I always have and will continue to, despite what the makeup artists recommend. I feel like brushes and sponges hold onto bacteria, plus I can't be bothered.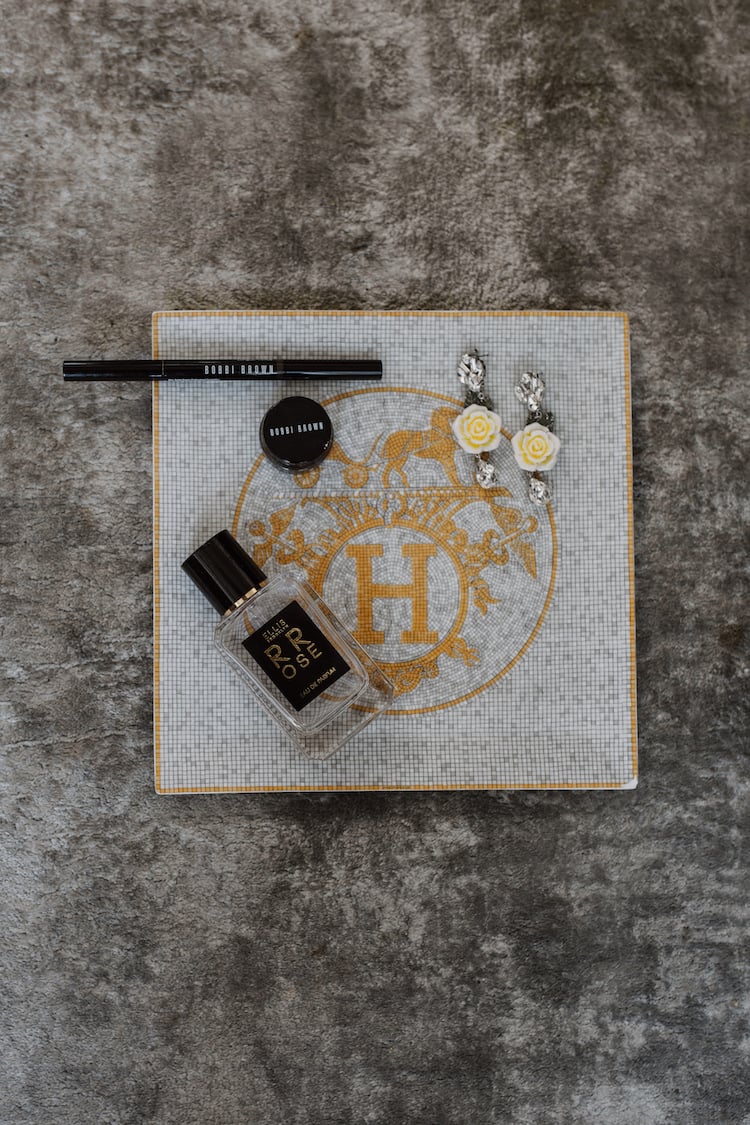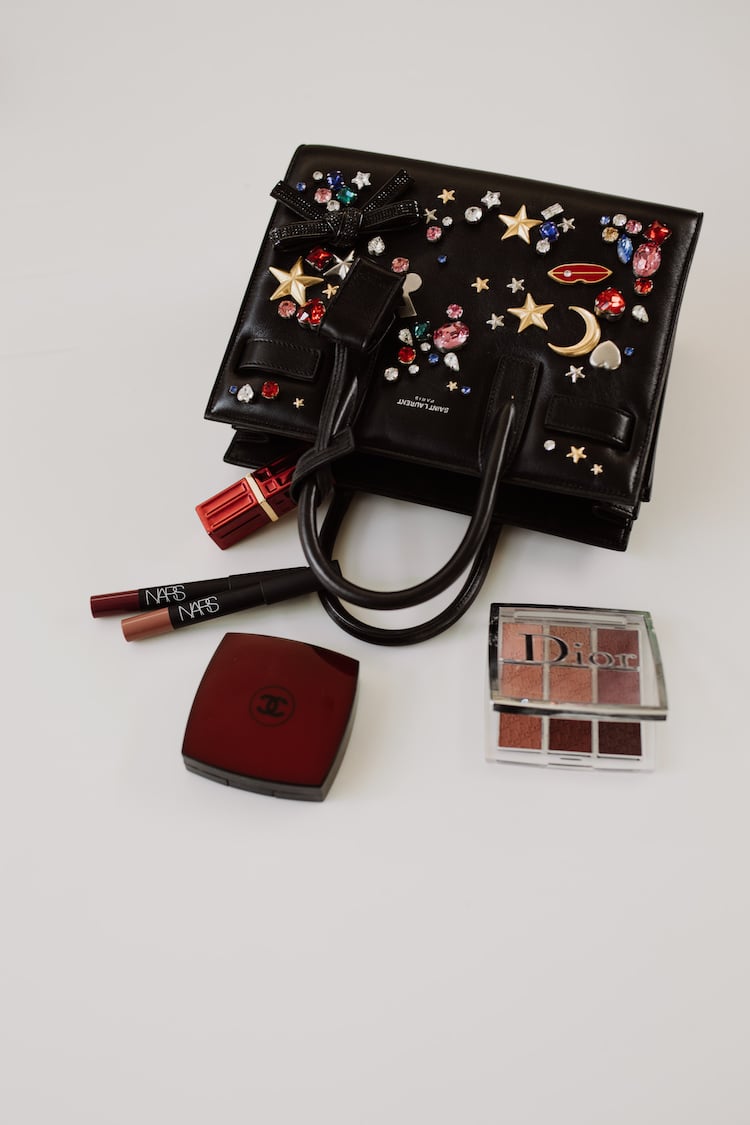 My hair has been a work in progress.
My hair started to fall out after my daughter passed. [In 2011, Clem and her husband Jared's first child, Luella, lost her fight against the heart condition she was born with. Luella was one month old]. I was on my first shoot having returned to work and the hair and makeup artist I've worked with for many years suggested hair extensions. My initial reaction was to laugh and say 'God no, I don't want to look fake' but she explained how much they'd changed and suggested I try someone at Joh Bailey who used tape extensions. They have honestly changed my life. I have them re-taped every four to five weeks and changed for new extensions about every five months, and there's basically no damage to my real hair.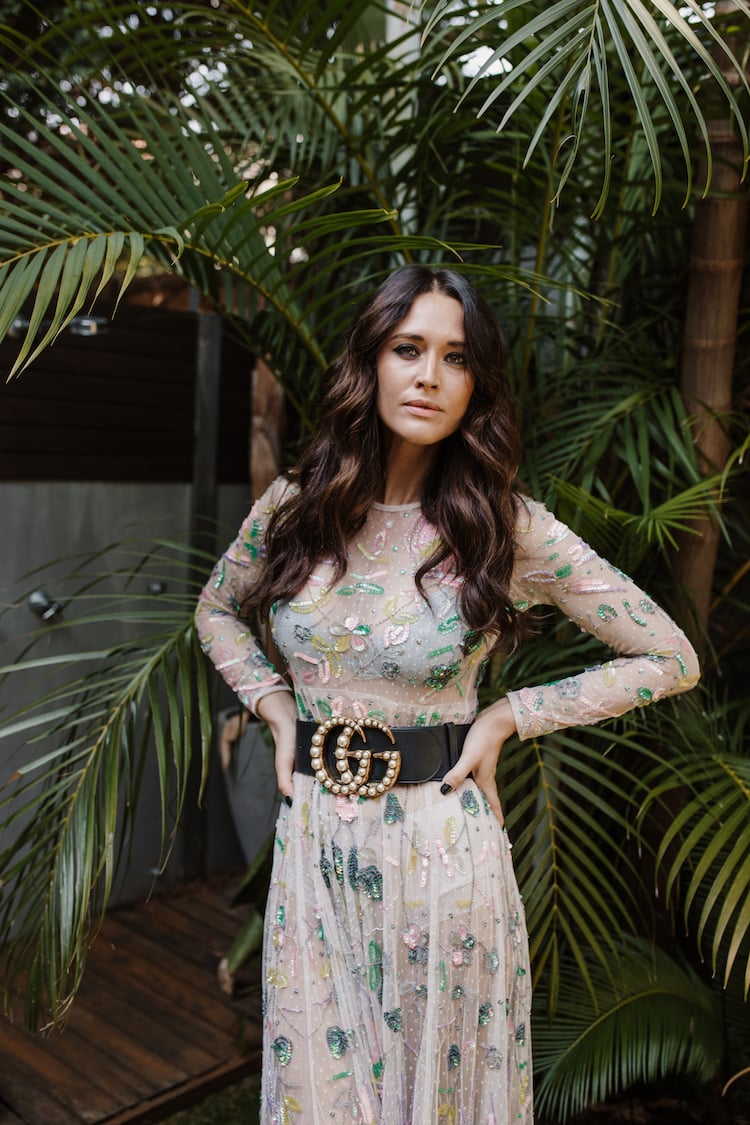 I've had an allergy to wheat since I was 12, so I basically follow a Mediterranean diet. And I am a major meat eater.
I like lots of meat, fish and veggies. I love red wine and would have a glass or two most nights. They say it's beneficial in lots of ways, all of the antioxidants etc, but I call it Mother's Juice and think its best benefit is relaxation! I know Australia and of course NZ make beautiful wines, but I tend to stick to Italian, French and Spanish reds, because there are less preservatives in them than in ours down here. My mum is asthmatic and so we grew up with European wines because the preservatives didn't affect her asthma like the NZ ones did.
When it comes to exercise, I keep it simple – I am a runner. I've never been a gym person. I don't really like to be around people! I tried yoga but it didn't work for me because I couldn't switch off and was just thinking constantly. I do love Pilates but I don't do it regularly. At the moment I get in about five runs a week, often around Centennial Park with Flossy in the pram. Before I had the kids, I'd do early morning soft sand runs in Bondi, but funnily enough that's a bit hard to do with a pram. I generally go for about fifty minutes, and I like that it's done first thing and so it fits in with the rest of your day.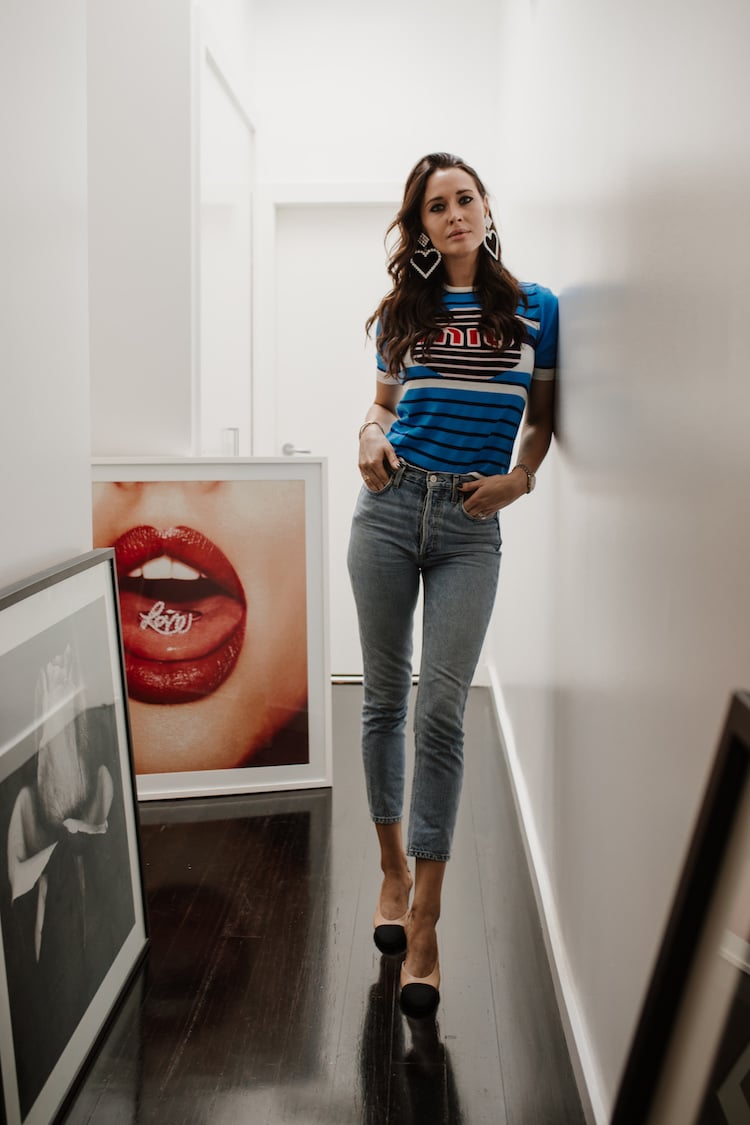 My mum taught me everything about beauty. She is a very glamorous woman.
Every single day she gets dolled up. It's a very old school approach. She has her hair in hot rollers, nails always polished, and she's always done up even if she's going nowhere and spending the day in the garden. She has always said to me, "Clementine, there's 24 hours in the day and so there's no excuse to look grubby or not have your nails done". She really instilled in me that you don't have to be a slob, that you should always look after yourself and take pride in your appearance even if (or especially if!) you don't feel like it. She made my clothes as a child and always sent me to school with ribbons in my hair. It's probably no surprise then that she just can't get over the trend of people being out and about in active wear!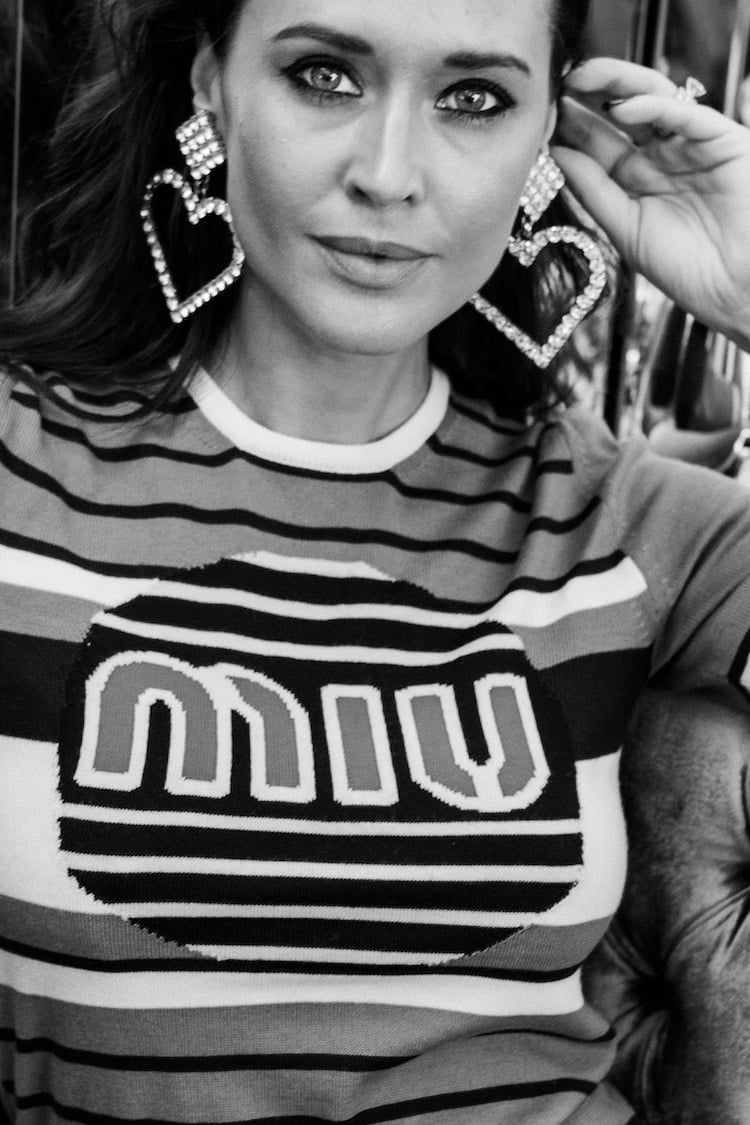 I do think growing older gracefully is beautiful.
Look at Mum – she's 68 and looks unbelievable. But that's partly because she never went in the sun. I should have listened to her and of course I didn't. I stay out of it now but wish I had listened when I was younger.
I have zero opinion on people who want botox or collagen – I just think each to their own. I haven't had any work done, but that's not to say that I won't change my mind down the road. If we are lucky enough, then we will all get old, and by then hopefully we've all realised that beauty really does come from within. And in the meantime if someone wants to give nature a helping hand, it's entirely up to them.