Given her on-the-rise showbiz career includes brand partnerships with Sephora, and her latest as Neutrogena's Sun Care Ambassador – Erin Holland makes an ideal girl to chat to about all things beauty. Inviting us inside her Sydney home, Erin shared with us how she got started on the path to Miss World, how she takes care of herself while she is constantly on the road, her ultimate accessory for a big night out and her favourite beauty product of all time.
"I have always wanted to be a performer, and I consider the presenting work I do now to be an extension of that dream.
Whether it's singing on stage, presenting on camera or live hosting an event, the rush, adrenaline and satisfaction is the same. It's all I ever wanted to do with my life. I grew up singing and dancing and had Broadway aspirations, doing some modelling on the side to get me through my studies at the Sydney Conservatorium of Music and attending musical auditions.
After getting so close to landing a few gigs, but to no avail, I decided to put myself up for Miss World Australia in 2013, which I won and went on to compete in Miss World. Thanks to my amazing manager Morgs Barta, this brought about some incredible opportunities, including amazing brand partnerships and travel, and now I am busier than ever.
The best part of my job is that no two days are the same.
The spontaneity of not knowing what next week will bring is always, always more exciting than it is terrifying. Some of the best experiences and jobs I've ever had in my life came about last minute. I am someone who tends to get bored easily and requires a lot of variety, so this life and career are perfect for me.
I am a product fiend. Working with Sephora just enables my makeup addiction in the best possible way. There's always something brand new to get my hands on and try.
I love experimenting with different looks and taking inspiration from my fave Instagram makeup accounts. You'll often find me trying to recreate a photo I have found on the 'gram for events or nights out! I do definitely have some staples in my kit that I know will never fail me, but then Sephora is constantly stocking new products, new brands – it would just be rude not to try them all, right…?
My absolute, number one makeup tip? Get yourself a Beauty Blender.
This little guy has been a game changer for applying my base. It just gives you the most seamless, flawless finish without any hassle, regardless of what foundation or concealer you are using. You just have to get one immediately – you wont be disappointed.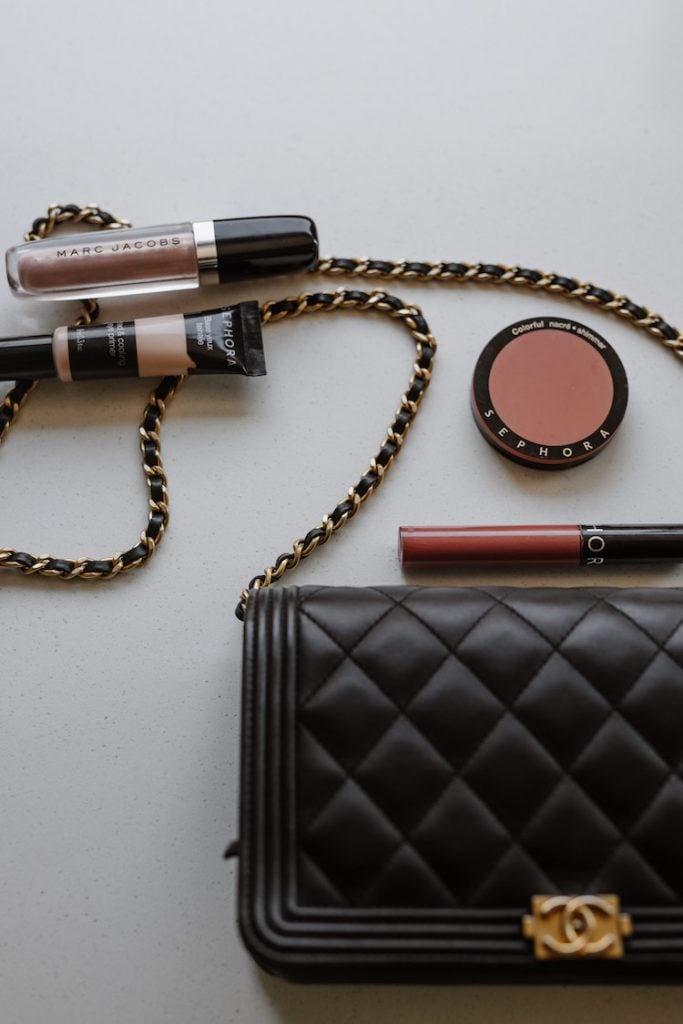 My approach to beauty is versatile and my look is completely dependant on the situation or my mood.
One day it's all about the winged liner, another a pop of colour in a strong lip, or it's pared back and the focus is all on dewy skin. Don't be afraid to try new things and change it up – beauty is so fun. Speaking of which, for a night out I can never go past Ardell Lashes. I use either the Individuals or Demi Wispies. Either type are such an easy way to add some glam to your look, and they really do last all night.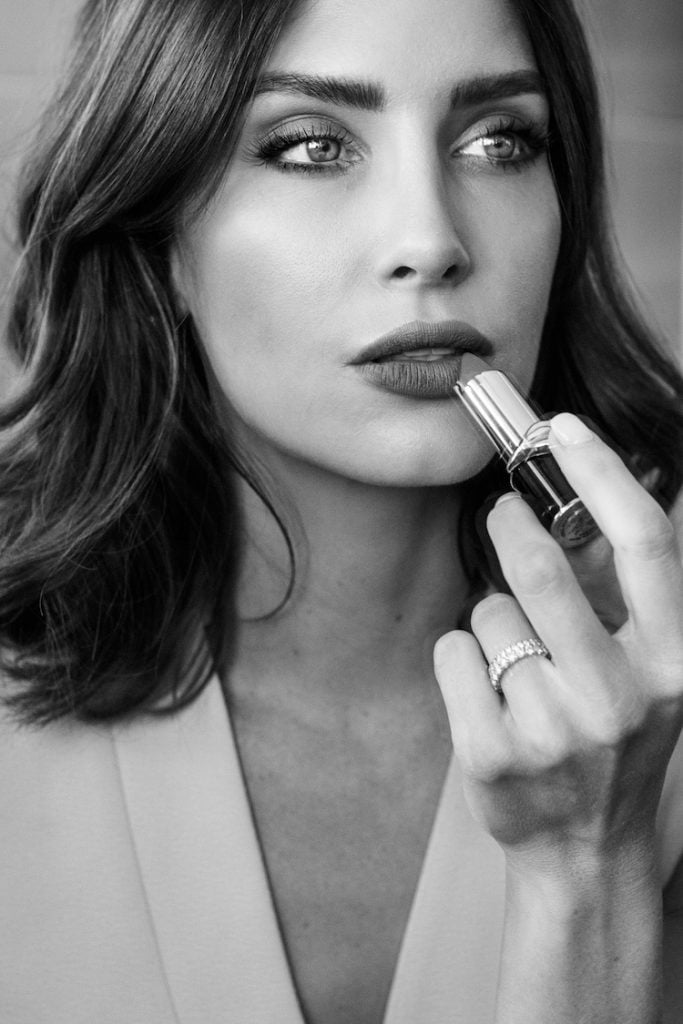 The basics of my skincare routine are simple – cleanse, moisturise, sunscreen.
I like Endota products for my skin, particularly their milk cleanser and the Peptide Firming Moisturiser. After moisturiser I always apply sunscreen before I apply my makeup. Our skin is just too important not to do so. I've been raised to be super diligent with my sun safety, growing up as I did in North Queensland and having our family experience skin cancer, so using Neutrogena Hydroboost Water Gel Lotion SPF50 everyday is a must for me. And in practical terms, we're not going to use a daily sunscreen that doesn't work with our lifestyles, which is another reason I love this – it works so well as a base under makeup. Because it's lightweight and dries matte, makeup goes on so easily afterwards because the sunscreen hasn't made you greasy or shiny.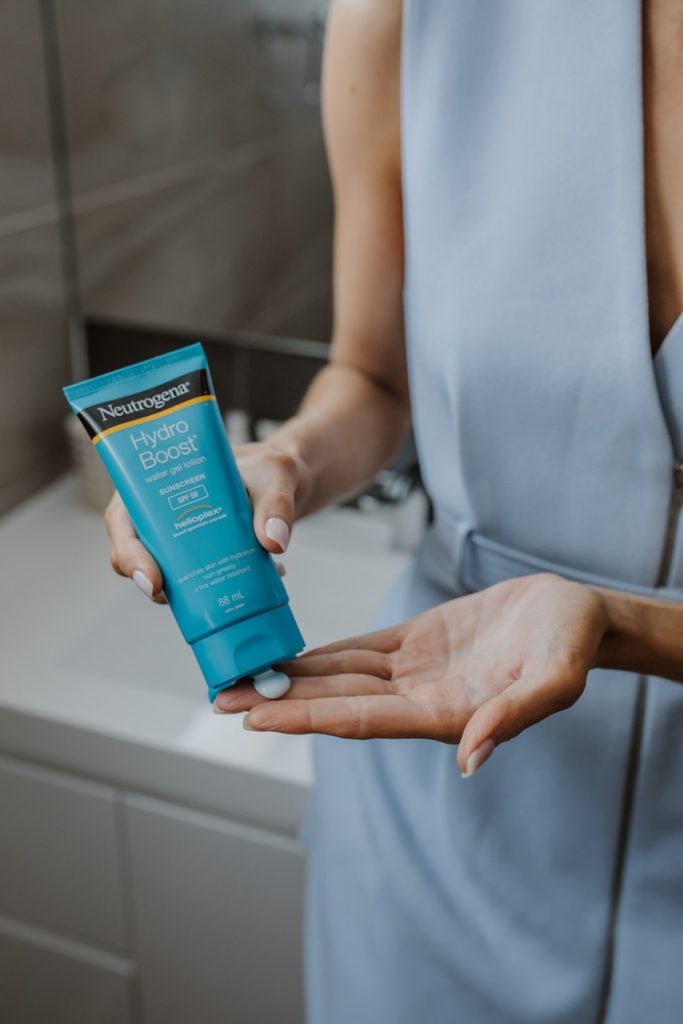 When it comes to your hair I think, if you can, it's good to get to a salon for a treatment and a blow dry pretty regularly. Treating your hair with the same love and care you give your skin and your body is important.
Remington Schulz is my go to hair man and he is absolutely incredible. For someone who constantly has their hair professionally styled or has extensions in, my hair is in amazing condition. My affordable at-home hair routine is all about quality shampoo and conditioner from Alterna, and then investing in a good set of hair tools. Bad quality tools will burn your hair, so my Dyson Supersonic dryer and GHD tools are life savers. And they give me the closest finish I can get to Remington's standard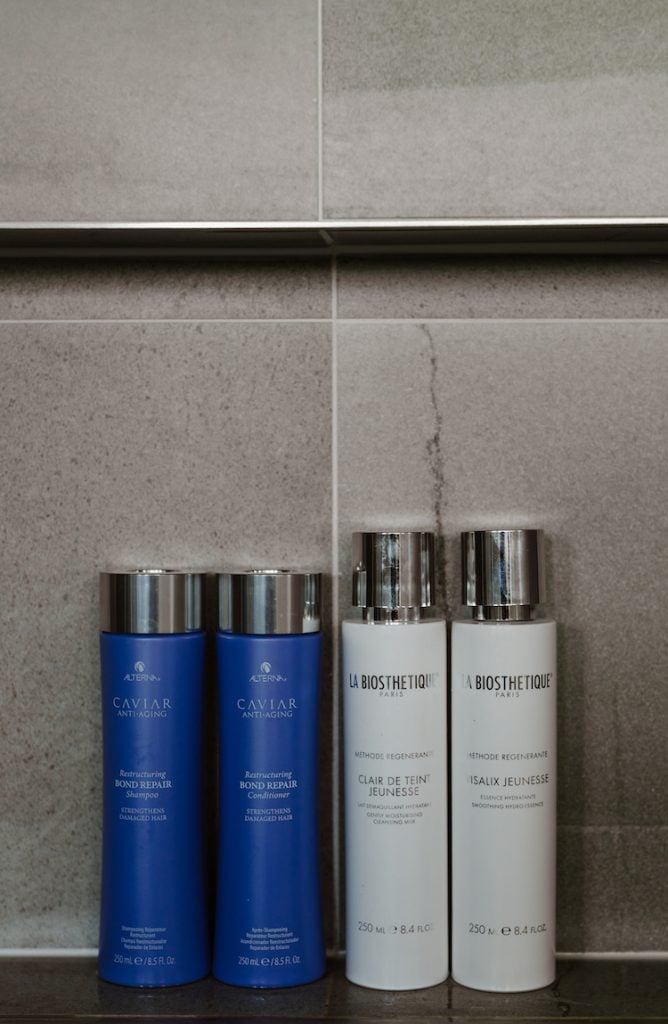 Listen, if you live in Sydney (or even if you don't, I promise it's worth the trip) please do yourself a favour and visit The Parlour Room.
Natalie and her team are honestly the best in the business. I see them for all my beauty needs – on a regular basis that would be SNS nails, Shellac pedicures and eyebrow tints (as a natural blonde I need constant tinting to match my dark hair!)
For facials, Endota Spa is my absolute fave retreat in Sydney. The Intense New Age Light Therapy is super active yet incredibly relaxing – it does wonders for my skin. My face really cops a lot with the consistent flying and heavy duty makeup, so I try to get one of these facials every month to thoroughly clean out and rejuvenate my skin.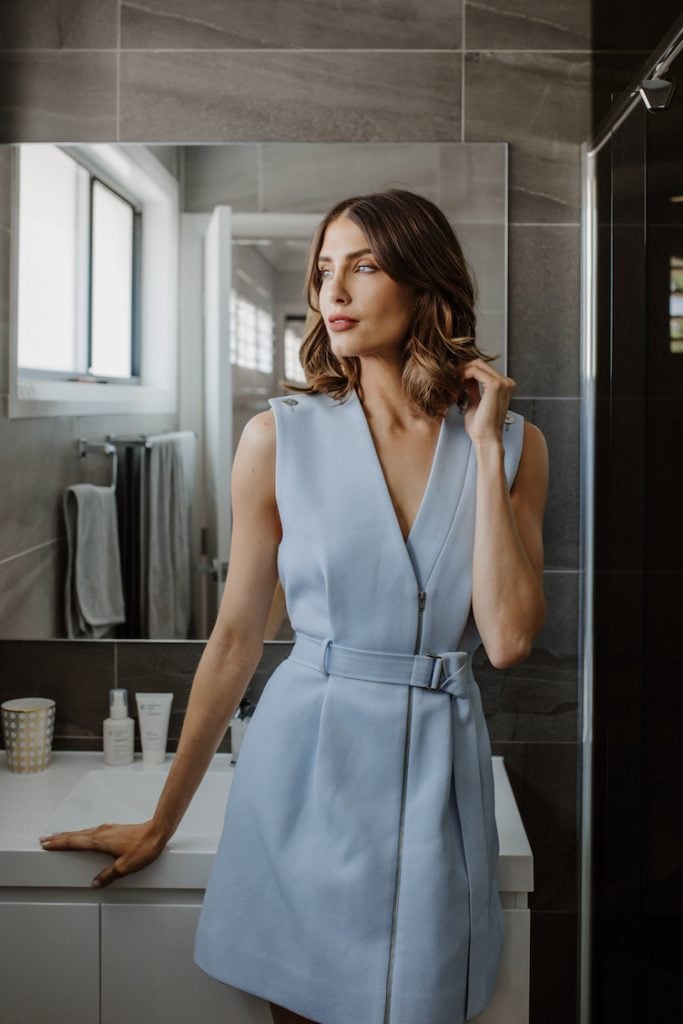 So that I can take good care of my body, I need a large variety of different exercise to keep me motivated.
I usually train 4-5 days a week and that consists of a mixture of Ben Lucas PT Sessions from Flow Training Centre twice a week, with the rest of my sessions made up of classes taken at Flow Athletic upstairs. They have a huge variety that I make full use of, so I do anything from Spin, Strength, Yoga to Reformer Pilates. Keeping my mind fresh and constantly trying new classes really is the key to staying motivated for me.
I find it important to have a good stretch session each day, and listening to a relaxing playlist on Spotify (full of lots of James Bay, Vance Joy and Ben Harper) is my favourite way to unwind. Music is absolutely everything to me and has played a part in every big moment in my life. It's my meditation.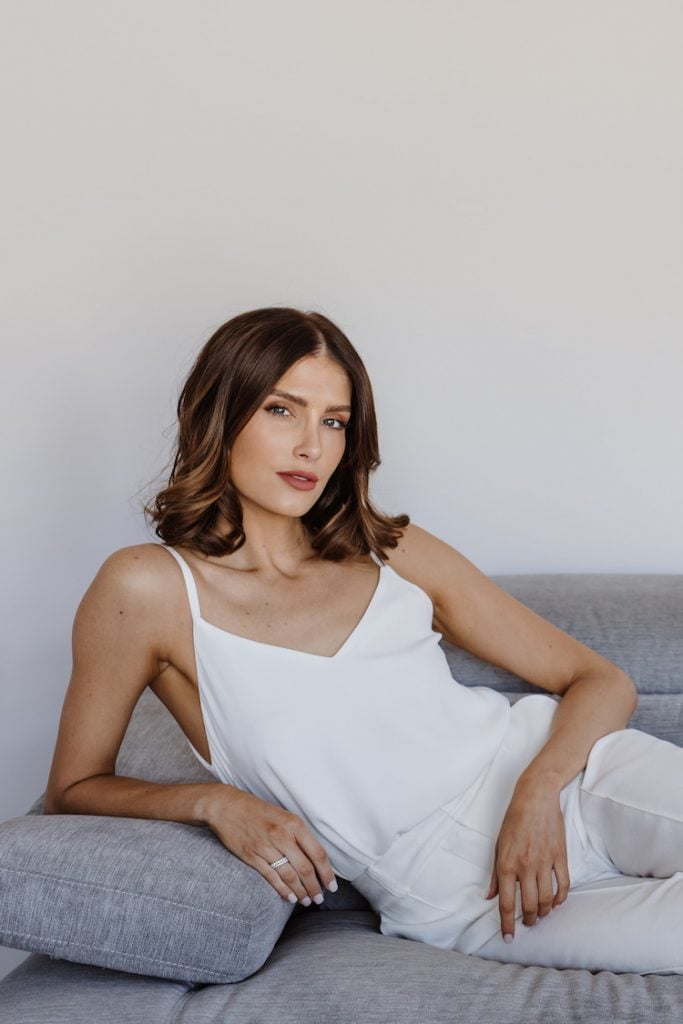 As someone who travels consistently, I can't really stick to a specific diet. I just try and make good choices at every meal.
My menu always includes lots of salads, fresh protein and veggies, fruits and good carbs (whole grains, sweet potato etc). When I am travelling I take a daily probiotic just to stay on top of my gut health, but other than that I try to keep things very simple. I also don't drink much and prefer to save alcohol for social occasions, where I will break out my fave champagne, Moet.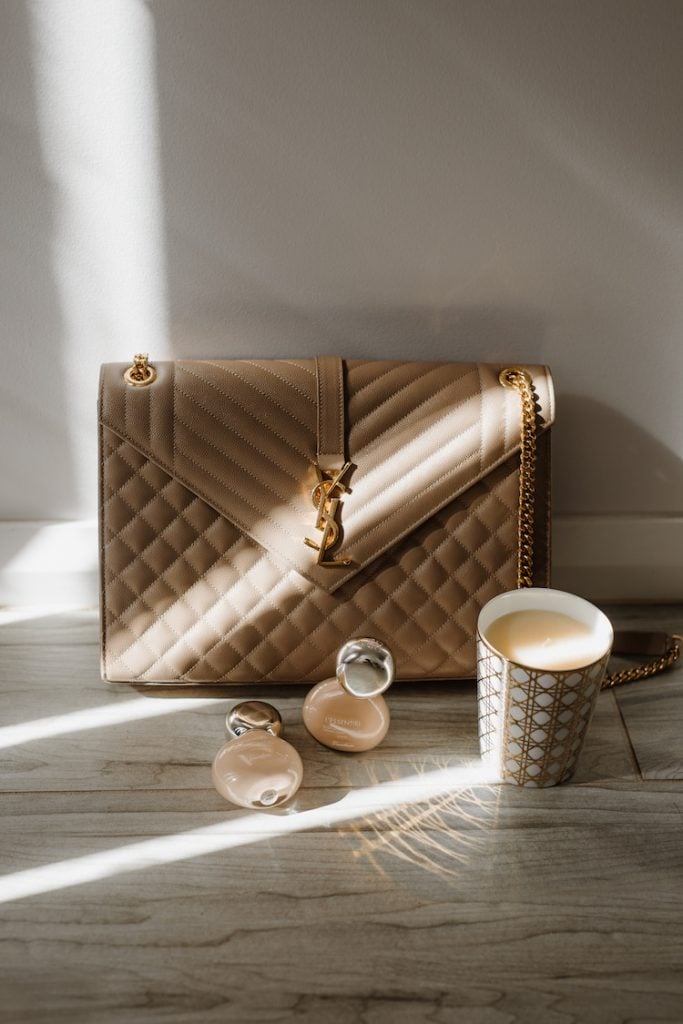 My stylist Donny Galella has taught me SO much over the years. Classic chic with an occasional edge is what we usually go for.
I am definitely more a clean cut kinda gal, but I love how Donny pushes my fashion boundaries and constantly encourages me to branch out and try different looks. I'm loving Rebecca Vallance and Tom Ford lately, along with Steele, Seed and Kindred for a more relaxed vibe. My latest purchase was a nude YSL envelope handbag with gold hard wear – it goes with everything.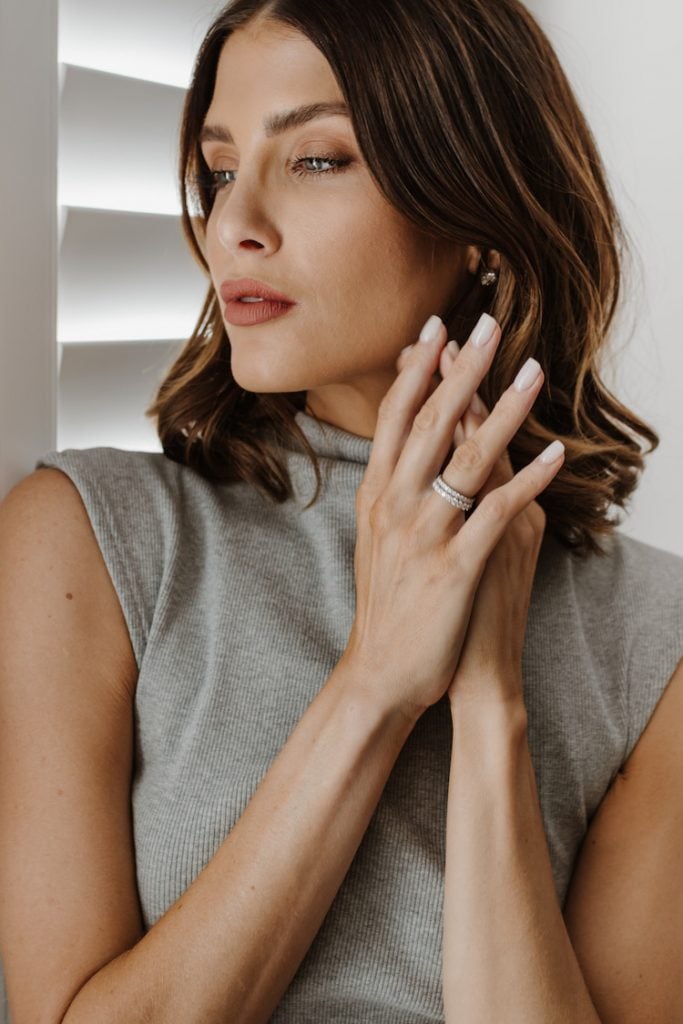 I hope to age gracefully by looking after my face and body in regular, small ways.
People think all too often about the quick fix, but taking the time to invest in your skin by doing simple things like wearing sunscreen everyday (even when you're not necessarily outdoors) really adds up down the road. I think it's part of what my mum instilled in me growing up – not to be sloppy, and to take pride in my appearance, both now and for the future. Even to this day I won't leave the house looking completely terrible. You don't have to wear a full face of makeup at all times, by any means, but it's worthwhile to always take pride in yourself and put your best self forward.