Being born a Baldwin means fame is in your blood, but defining that fame is a skill. Refusing to fall down the rabbit hole of scandal and self-destruction we've seen too often with those who inherit Hollywood, Hailey Baldwin (niece to Alec, daughter to Stephen and Kennya Baldwin) is paving her own path. Young, beautiful and business-minded, she has fronted campaigns for Ralph Lauren, Guess and has just released a cosmetic collaboration with ModelCo – aptly, Hailey Baldwin for ModelCo. From gracing the covers of US Vogue, Marie Claire and L'Officiel, to walking the catwalk for Dolce & Gabbana, Elie Saab and Moschino, Hailey has gathered a wisdom or two on beauty. She spoke with us to reveal her favourite makeup products, how her ballet pastime still helps her today and the one thing she'll never ever do…
"I'd love to settle down and on the path to marriage by the time I'm 25.
I always say this, but my mum and people around me don't agree. My sister is engaged and she's 23. My mum got married when she was 23. So I come from a household where we are very much about getting married and having a family and doing that when you are young. My mum is from Brazil and her mum got married when she was 21, so I am very used to that.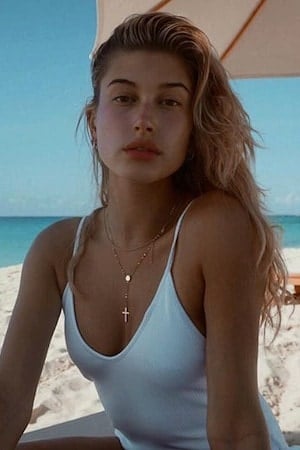 ENHANCING NATURAL BEAUTY WAS THE DRIVING INSPIRATION BEHIND HAILEY'S COLLAB WITH MODELCO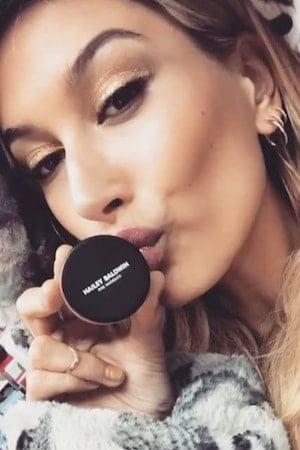 KISS FOR KISS POT
I don't like red carpet.
If I could avoid it all together, I would. But I have to do it. Red carpet makeup is different for me than the photo shoots. I have been very observant of [makeup artist] Pat McGrath. Every time I get to work with her I think she is just really awesome and has a really different vision when it comes to makeup. I mean I have certain people I really love working with, but she's one of my favourites.
SHOP THE LOOK: PERFECT POUT BENDO (RUMOURED TO BE NAMED AFTER KENDALL JENNER)
HAIR CHAMELEON: HAILEY HAS RECENTLY RETURNED TO ROSE GOLD AFTER A SHORT HIATUS TO BLONDE
I will never fall asleep with makeup on. Like, ever…
… no matter what the circumstances are. I say that with the utmost certainty. I can never lie and say that good skin isn't genetic, because it definitely is. I think it's diet, genetics and the way you take care of it. Everybody's skin is different, but I make sure I take really good care of mine.
My mum would put almond oil on my skin as a kid…
… and it really taught me the benefits of oil. I am more of a fan of coconut oil and that's why it was so important for me to include it in the ModelCo range. – coconut oil is in most of the products. But, I especially love the Coconut Luxe Beauty Oil – you can literally use it for everything; hair, face, body, just everything. Mum was big on things being organic. She was into all natural everything in my house. She also always made me drink a lot of water.
HAILEY BALDWIN FOR MODELCO PRODUCTS
SHE DAZZLED AT THE AUSTRALIAN LAUNCH OF HER COSMETIC COLLABORATION LAST YEAR
I always make sure I don't have makeup on before I get on a flight.
If I'm going from a job straight to the airport, I will keep makeup wipes in my bag. As well as a good moisturiser, just until I get to wherever I'm going to properly wash my face. I'll also take the Glow Beauty Balm just so I can have really light coverage and to not feel like I'm wearing makeup, but it makes my skin look really clear. And I drink a lot of water on flights. I feel sick on flights, probably because of the air pressure, so I have multi-vitamins with me.
I really love Jen Atkin's products for my hair.
She has a product line called Ouai. I really like her stuff. My hair is always getting pulled out, brushed and dried, extensions in, extensions out, up or dyed. It's a lot. Coconut oil is something I treat my hair with a lot.
MANE FOR DAYS
IMAGE: @BONDNO9NY
It just smells really good. It's kind of a hard scent to describe because the brand is a real New York thing – it's on Bond St in New York. But it's really good, it smells awesome. I think you can buy it in other places in the US, but it's not very well known.
I've had to teach myself to just spend time on the couch.
To relax, I like to just go home. It's so funny for me because when I am away from home for a long period of time I can't wait to get home, but if I am home for too long I think, what can I do? I just go home and catch up on TV shows or watch movies I haven't seen before. I literally live next door to my gym so I wake up every morning and the billboard for my gym is the first thing I see, so I might do that. My job isn't very consistent – I am one place one week, I am here and there and travelling. When I am home I really enjoy getting into a routine.
SHE'S LEARNING TO TAKE TIME OUT TO CHILL OUT
SHE WAS A PRIMA BALLERINA IN ANOTHER LIFE
I was a ballet dancer for 12 years…
… so I'm very good at treating injuries. I broke my ankle, I broke my foot twice, I fractured a vertebra and I snapped my hamstring. I still have things that hurt and crack in weird disgusting ways. People literally think I am breaking something when I move certain ways. I am still super flexible though and my muscle memory is insane. I now work out with a trainer and I do boxing and Pilates.
I just turned 20, so I have the metabolism of a 20 year old and can get away with eating 'cheaty' foods.
I try not to do that, but I'll eat a cheeseburger and mac and cheese. Pretty much everything with starch, gluten, dairy and sugar is what I consider cheating on eating well. But it's also ok to eat anything that makes you happy, in moderation. I can cook actually. Two of my friends were just in the Victoria's Secret show and they really wanted to eat something healthy but we didn't want to go anywhere. So I went over and cooked them a nice meal before I sent my little kiddies off. I did a chicken teriyaki stir-fry, but I didn't really use any salt. I also added in chopped veggies with spinach and carrots, then I did mashed sweet potatoes with no butter or salt.
SHE CREDITS GOOD GENES, YOUTH AND RELATIVELY HEALTHY EATING HABITS FOR HER FIGURE.
EFFORTLESSLY CHIC
I think I am still finding my personal style to be honest.
I work with a very amazing stylist named Maeve. We collaborate on everything together and she helps me do what I do. And sometimes yells at me when I dress ugly. I am big fan of Saint Laurent, Off White, Fear of God, Unravel, David Coma and Balenciaga."
Interview and story by Rikki Hodge-Smith; Images from ModelCo and Instagram