It's not every university student who ends up, accidentally, Miss Universe. Blessed with pageant-perfect looks (including tumbling glossy locks, a megawatt smile and killer legs), statuesque French beauty Iris Mittenaere was busy with her head in the books as a dentistry student when a twist of fate found her crowned Miss France in 2016. Then, the ultimate crown: Miss Universe. On the tail end of a whirlwind year working everywhere from India to Haiti, she recently passed her title on to Miss South Africa. Although she may be ready to pack up her sequins and head back to her studies, she's not stepping too far from the beauty world, now donning the title of the face of skincare brand Guinot. Here, we chat to her about her number one beauty rule, her secret uses for hairspray and, in the classic French style of passing beauty tips down through the generations, how she learned the secret to great skincare from her grandmother.
"My grandmother has always used Guinot products…
… so I was familiar with them before I really got down to trying them this year. The lovely smells remind me of her every time I use them. My favourites are the Masque Yeux Age Logic Eye Contour Mask, which I use overnight because I travel so much, and the Hydra Beauty Mist. It's so easy to use right after the shower, and you feel so clean and moisturised afterwards.
I was really lucky, I fell into modelling and then pageants.
I was so busy with my studies and just trying different things while I was in college. It really felt like destiny, how it all happened. The organisers of my first pageant didn't have enough girls to compete and one of them knew a friend of mine, so I was asked to try it. Eventually I had to stop studying because Miss Universe is a full time job, but I'm returning to it next year.
We have to do our own hair and makeup for the pageants.
During the telecast we had a hairstylist and makeup artist, but the rest of the time we were on our own! A smoky eye is my go-to. Actually, when I do my own makeup I start with the eyes, because sometimes I end up with eye shadow on my face. It's easier to clean that up first and then be able to start the rest with fresh skin.
My motto is, don't wear makeup when you don't need to, and always use moisturiser.
I think it's really important to do a lot of moisturising. I just started using Clarins Multi-Active Night Cream. I was told you have to start using anti-ageing products at 25, so I started! Another tip is to always remove makeup at the end of the day – it's the key to beautiful skin.
I think mascara is the most important thing you can do for your face.
Doing beauty pageants, I would put on lashes when I didn't have time to properly apply mascara. In France you just do eyes or red lips, ideally a MAC matte red lipstick. Never do both!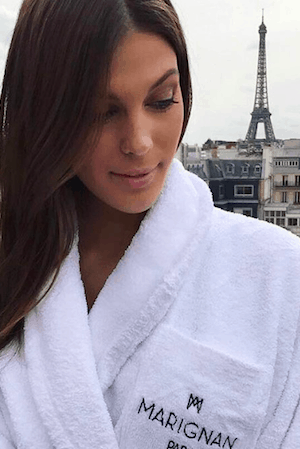 I think we're all looking for that one miracle product.
I really like to try new products, I'm always excited about them. If something is going to be revolutionary, I want to know about it! One of my favourites is the Babor Ultimate Repair Face Mask, it's beautiful and moisturising. I make putting it on a ritual so I can just enjoy the moment, it's so relaxing.
When I was a teen I wanted a very short, blunt fringe…
I thought it would be so cool. I went to the hairstylist with my mum and it was really bad. It was really, really short at the front – I looked crazy. I had to pin it back for three weeks to look less crazy. I was so anxious for it to grow back!
I love CHI hairspray – and not just on my hair…
I also use it in pageants on my skin to keep the swimsuit in place, and under my shoes so I don't fall. I have one hairstylist in France, my friend William – he does simple, modern styling and colouring, and I also go to John Barret in New York.
My favourite way to work out is with a trainer.
When I go to New York or Paris I have a coach – that's the best. Although I also do a lot of working out by myself. I like running outside when it's sunny, or if I'm travelling I do things like squats in my hotel room.
I love to take a hot bath to relax.
I like to light candles too. Diptyque candles are my favourite – they have a lot of different scents and they burn for a really long time. I also like Lush bath bombs. It's so great how they have different ones for Halloween and Christmas. I love to have lots of delicious scents in my bathroom."