Model, Channel Ten presenter and BMW Motorrad ambassador Kate Peck is funny, warm and ridiculously gorgeous. As much at home in front of the camera as she is on a motorbike, her beauty routine is low maintenance but savvy. She invited us into her Bondi pad and shared some of her mad beauty skills with us...
"I cut my hair off years ago…
…for a Toni & Guy campaign. I'd been wanting to cut my hair forever but my bloody agency wouldn't let me, so finally I got paid enough money to chop it off. I never looked back.
[After that] I got different kinds of work, it was not as commercial anymore. There are a million long-haired blondes out there so it just gave me a bit of an edge.
I don't have to do anything to my hair really, I don't have to wash it for days and the less I wash it the better it looks and I can ride a motorcycle and rip off my helmet and it looks exactly the same. The more peroxided I make it, the bigger and better it looks. I try and kill it. I do feel bad and one day it will fall out and snap off but until then I like it looking fairly insane. Dry shampoo is awesome. I used to use just baby powder and then it got really frickin' trendy and everyone brought out a dry shampoo so I usually use Powder Puff by Kevin Murphy, also a Schwarzkopf one, and Kevin Murphy has a good fresh hairspray, so it's called Fresh Hairand it's just like dry shampoo.
KATE AND SOME OF HER FAVOURITE CAMILLA SKOVGAARD HEELS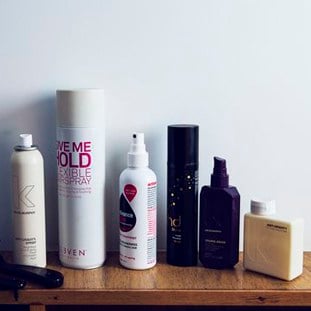 KATE'S HAIR ESSENTIALS: KEVIN MURPHY AND MORE
If I do travel, I just don't wash my hair.
Maybe I'll do it the day before I go travelling and then it will stay the whole time. Like in New York I was there for 5 days I didn't wash it and it just got better and better which is quite revolting but it works.
My brother is losing his hair so he goes to this hairdresser, like a hair scientist in Melbourne who's developed this product called Activance which makes your hair grow back, it's unbelievable. I've got the shampoo and conditioner and spray and it's amazing the difference it made, like it's fucking miraculous and he's developed it himself and it's not cheap but it just worked wonders for my brother's hair. Mum just suggested that I get some because my hair is constantly going through so much damage and torture. So I spray that in first and then I'll put a Kevin Murphy hair serum in, which is really good, or like a Moroccan Oil – I can't live without that, and then I'll put in Kevin Murphy Anti-Gravity. And then some heat protector, because that's handy.
I use this skincare brand, Boscia…
a friend in New York suggested them because I don't know… if I don't have the right moisturizing cream my skin just breaks out, so I got this one, it's French and I got it in Sephora and it's really nice and gentle. It's just really beautiful to wear. I got a daytime 30+ and a night time one. It's really light but it's just creamy enough that there's enough substance to it.
SHOWER SHARP: KORRES CLEANSER ANND CO.
…it takes off makeup and it smells really nice. I got this in New York as well. I get stuff when I travel. I just don't find that there's that much [here]… it's a rip off in Australia as well, let's face it.
I'm also obsessed with crystal deodorant…
… Aloe Vera Naturally Fresh Deodorant Crystal deodorant – and it works for me like it works for no one else. I don't think I've met many other people that it works for, I swear by it and I can't travel without it, it's my number one to have in my bag. All I have to do is put that on and I can sweat my buns off and I will not smell, it's really bizarre and it lasts for like, two years. You've got to shave first and then apply it, you've always got to do it after you shower and you've got to wet the crystal and then that's when you put it on.
Growing up I was a bit of a tomboy.
I have just one brother, so it's not like I had sisters that were dressing me up or anything and mum didn't wear that much makeup anyway so I didn't really have that big makeup influence. My first beauty product was Impulse deodorant, yeah… I went through a lot of those which was revolting and my first makeup was probably a L'Oreal mascara I reckon… yeah or else if I'd be stealing my mums. She uses Clinique blush and Diorshow mascara, which is so good. It makes your eyelashes look so fat! And long and thick and I'm not really one for getting those fake ones… even though they look amazing, the extensions, but I just worry once you pop you can't stop and I don't want to do that to happen because I know exactly what will happen with me. I love single [false] lashes, and so many people try and convince me to just use a full set but it's like "No, they look fake and they're going to come off"
I like my makeup to be pretty natural…
I like a nice fat long brow, big lashes nothing smoky. I want my eyes to pop. I don't really get too fussed about lipstick because it ends up on my forehead my eyelids or earlobes. It's bizarre. I just eat it straight off as well, so it's just a waste of time. In the morning I'd moisturise with an SPF moisturiser, La Roche Posay first. Then I put on M.A.C Face & Body foundation. I've also been using the beauty blender recently and it's just the best thing ever. I dampen it and just dab it into foundation and just spread the love all over my face. It works it into your skin, giving a good even coverage and I use that to apply concealer as well. At the moment I'm using Gorgeous Camouflage Cover Cream in medium neutral. Makeup artist Rae Morris said that it's always good to apply all your foundation first and then check to see if you need concealer after that because most of the time foundation conceals everything, which I've found that it does. After  I'll powder with a M.A.C blot powder and then I'll bronze and contour with NARS Laguna. I hate pink cheeks, I can't stand them, always bronzer. It's just too 'pretty' for me.
IN THE BAG: MAC, NARS AND TOM FORD
KATE KICKS BACK OUT THE FRONT OF HER HOUSE
My family is into motorbikes…
I first got one when I was in Sydney and then I went to Africa on a charity motorcycle trip for about three months that I organised. It's called YGAP, which is Y-Generation Against Poverty. When I came back I got the ambassador role for the Formula 1 and then I got a motorcycle sponsorship with Victory Motorcycles. That finished a couple of months ago and now I've got Harley. It's a bright sparkly retro Seventy-Two Harley Davidson 2013 model 1200 CCs 8 litre tank [laughs] I think it's worth about 20 grand, and yeah there's only enough room for one person on there and the number plate says ABS and that is awesome! My abs are shit as at the moment, they're not ablicious at all.
When I have time, I have a trainer once a week and then I go to this gym called Agoga in Bondi, it's a little studio.
I've never been smashed by someone so much in my life.
They do these amazing classes that just ruin you, and it's the most inspiring place to go because they're small classes, anywhere from 2-8 people, and everyone is fit as and muscular. They're unbelievable.
I'd really like to try and not drink so much wine.
I love that but unfortunately I have no self control. Usually it's just good to stick to a high protein, low sugar diet. I don't really like bread, I'm a cereal kind of person. I never ate much bread but we'd make like pikelets or other random things…baked beans on toast, mum would make some pretty banging French toast. And then like pastas for dinner – a bit – but more like protein and vegetables and lots of good salads and stuff, pretty light stuff. Mum's super slim, but she eats like a horse. My parents are 5'11 and 6 foot. Not that tall by todays standards but that's ok. I'm tall enough at 5'11, I don't want to be any taller. Unless I'm going out and then I want to be the tallest person in the room which I usually am. I get the best view of the house, I can see where the catering is coming from, I can spot where the closest drink tray is, it's all on!"
Words by Sigourney; Photography by Jake Terrey; Hair and Makeup by Regina Gao.
SKY HIGH SHOES AND CHUNKY JEWELLERY