Scouted at the tender age of 17 thanks to those long, lean limbs and dazzling smile, Rebecca continues to prove she is far more than a (very) pretty face. Ten years on and she is putting her modelling know-how and Masters in Communication to good use, whether it's on the red carpet beside boyfriend Andy Lee, or embarking on a new collaboration with Maidenform. We sat down with her in her light-filled Melbourne home to talk about her grandmother's tips for applying blush, learning to accept her flaws and a serious devotion to all things tea.
"I love being able to combine modeling with what I learned during my studies.
I've been lucky enough to collaborate with some incredible brands around the world, including Maidenform. My sense of style is quite eclectic and I feel as though Maidenform caters for that. The range includes simple classic styles for everyday, as well as stunning soft lace pieces which are more structured and sexy.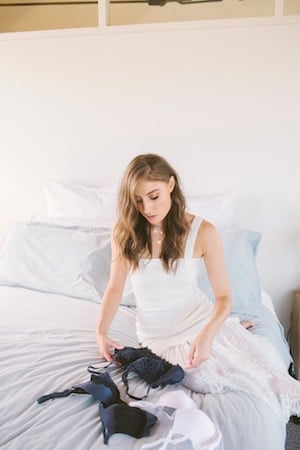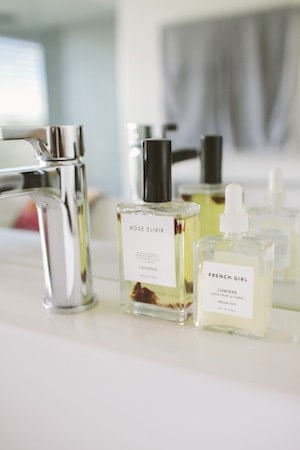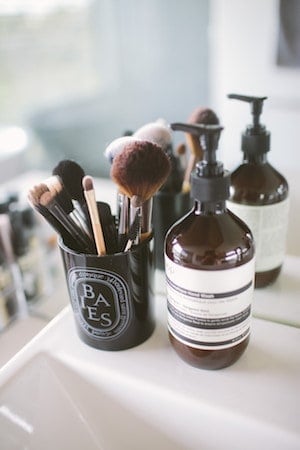 For a night out I really like a foundation with more coverage.
At the moment I'm loving the Lancome Teint Idole Ultra Wear. I won't apply it to my whole face, just over areas that need to be evened out. I also recently came across the perfect eye shadow – Lucky by rms. It's so easy to use and it's made out of coconut oil. I'll just dab that on my eye lids for a little glossy, bronzed look.
My all time favourite treatment is a Hydrafacial at The Doctors Studio in Armadale, Victoria.
They've literally transformed my skin. I'll see my skin therapist Mai every four to six weeks and my treatment will normally include a Hydrafacial, extractions and and a 30 minute healing LED lamp session. Mai also got me onto the best ever SPF for your face – La Roche-Posay Anthelios XL Comfort Cream SPF 50+. It doesn't clog your pores and is super lightweight.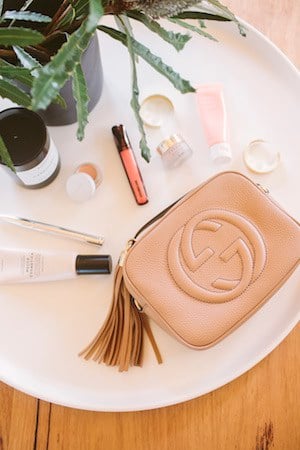 I've loved beauty products since I was young.
I remember getting into my Gran's beauty case one Saturday afternoon and applying blush in the centre of my cheeks. She very sweetly corrected it for me and taught me where the apples of my cheeks were, and passed on the hot tip of smiling when you apply blush.
A lot of people don't know that I actually have two different coloured eyes, my left eye is brown and my right is blue.
My favourite feature of anyone's is their eyes.  Of course I don't love everything about my appearance; I swam competitively as a kid, so I think my shoulders are a little broad. However, I always receive compliments on them from designers as they apparently look great in jackets, haha!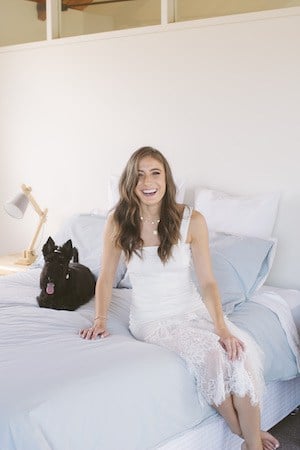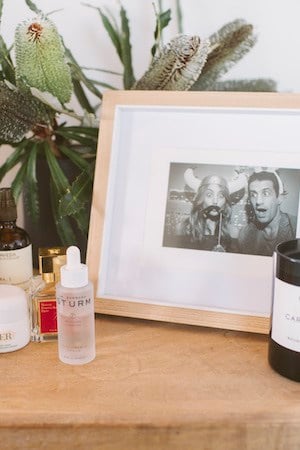 I love collecting knick-knacks and photos from different moments in our lives.
This photo was taken at my boyfriend Andy's brother and sister-in-law's engagement party. There was so much love in the room and it makes me smile whenever I see it.
I love cooking and eat quite a balanced diet of local organic produce.
At the moment I start my day, post-workout, with a green smoothie made with frozen young coconut, a scoop of alkalizing powder, one frozen banana, a handful of fresh blueberries, ice and coconut water or almond milk. At lunchtime I'll look for a salad with some protein, and for dinner I love grilled salmon and a salad with fennel, orange and zucchini. I also drink kombucha and have at least one mouthful of Kehoe's Raw Sauerkrautdaily to help keep my tummy in check.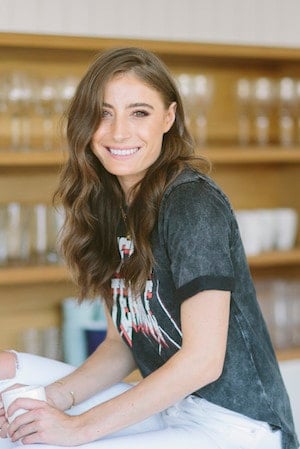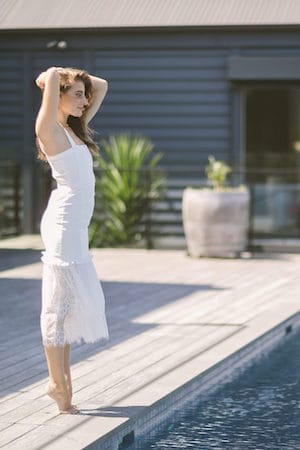 I have a few things I do to relax.
Basically, it's all about tea. I'm a huge tea drinker and I have a specific one I love just for relaxation – Chakra Balancing Tea from Perfect Potions. I also use an aromatherapy diffuser, that I put different oils in for different moods. I have a relaxation blend that includes lavender, orange and bergamot. My third tip for relaxing is yoga. I try to practice at least three times a week at my studio, Universal Practice in Richmond.
My favourite workout to do at the moment is called 'A Deck of Cards' which is a circuit training-style workout.
Before I start I'll warm up with stretches and then stair climbs or an ergo, and I'll finish with some yoga stretches. I do it either at the gym or I take my resistance bands and a yoga mat to the park nearby and do it there if the weather is nice. I also do a Reformer Pilates class four times a week at Universal Practice.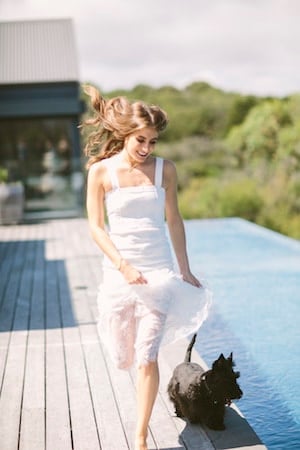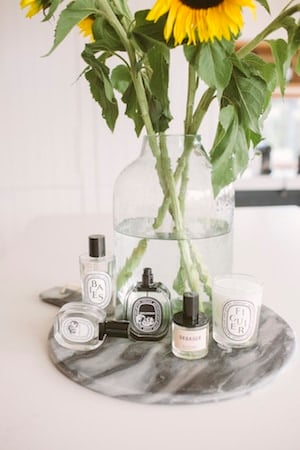 My mum taught me never to leave the house without a spritz of perfume!
I love how a scent can transport you back to a particular time or place. I did the LA to San Francisco drive a few years ago during summer and I had bought the Philosykos fragrance right before we left, so that smell takes me back to that trip. Right before the 2017 Logies I bought the Maison Kerajaan Baccarat Rouge 540to match my dress. My most recent purchase is the D.S & Durga Debaserfragrance, which symbolises my new career direction.
I like how beauty makes people feel and can alter their state or mood.
A peachy cheek makes me feel a little flirty and a red lip makes me feel empowered. I don't like rules when it comes to beauty, or people saying you have to do it a certain way. Do it the way you feel like doing it!"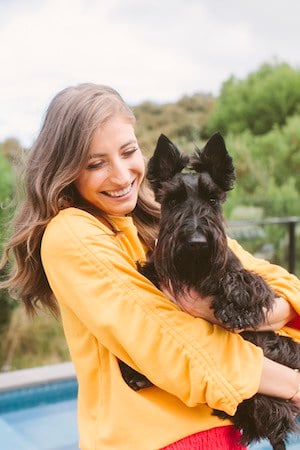 Story by Zoe Briggs, Photography by Neiyo Sun