In the Tozzi family, modeling was as normal as mastering the alphabet or learning to ride a bike. Both Cheyenne's mum and auntie were international models and by the time she was thirteen, the stunning teen was hailed as the next Elle Macpherson and featured on the cover of Harper's Bazaar. Fast-forward 12 years and Cheyenne has rounded out her career nicely...
In addition to a successful modeling career, the 25 year old has also added musician and TV host to her repertoire. She is the lead singer of band Van Hoorn and recently became a mentor on Foxtel's The Face alongside industry veterens Naomi Campbell and Nicole Trunfio. And she swears her beauty routine is all down to just a bit of salt water and coconut oil. Well, almost. We caught up with the gorgeous and down-to-earth Cheyenne in her family home in Cronulla – an amazing sprawling seventies-styled house overlooking the Bay – and got the inside track on how she maintains her enviable yet relaxed brand of beauty.
"I just fell into modeling.
Mum was modeling and Alex Perry would call her when I was eight and be like, "I need Cheyenne for a shoot" and my mum's like, "Yeah, whatever… put the kids in." Then it progressed from there. It's a really nice job to have. I love that I can be a chameleon and just float around the world, depending on whatever mood I'm in and I've got incredible friends all over the world, so I'm extremely lucky. I've worked extremely hard to get where I am so I feel like at this point now, it's just fun.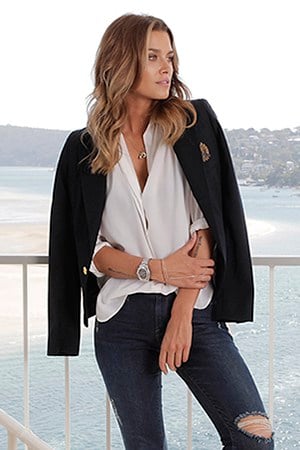 CHEYENNE WAS BORN INTO THE MODELING WORLD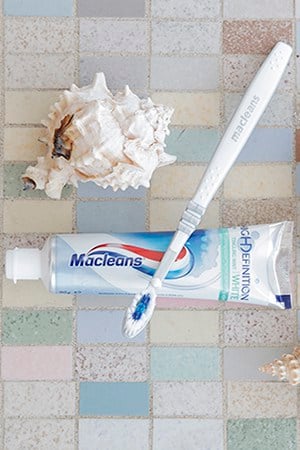 CLEAN TEETH ARE A SIMPLE BEAUTY STAPLE FOR THE MODEL
I'm extremely low maintenance…
My aunts, my mum, they were all models and they all look incredible. We weren't nuts on product after product because we're just very relaxed. In Australia I think you're really lucky to have that outdoor kind of thing, so you jump in the ocean if your skin's bad [and use] aloe vera. I love moisturizing with coconut oil and salt water's extremely good. I think keeping yourself dewy is nice. When I'm traveling I keep it really minimal. I'll take face wipes on the plane; I like Milk by Lindy Klim with the exfoliant on the back. I drink fifty tons of water and green teas the whole flight. Another thing, you need to brush your teeth fifty times a day, I love Macleans.
I actually came across Jergens when I was in New York and it was just a huge brand I was like, "sweet, they're actually really good". The ultra healing is my favorite; I like the smell of that one and it's really good because I have to fly.
CHEYENNE'S BEAUTY ESSENTIALS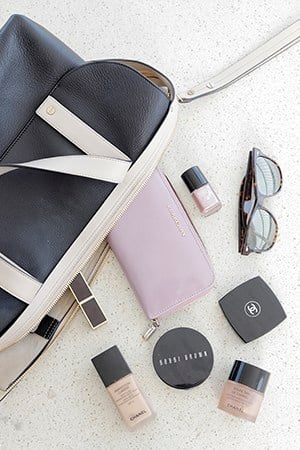 TOM FORD, DIOR MASCARA AND CHANEL LES BEIGES BRONZER ARE AMONG CHEYENNE'S FAVOURITES
With makeup I'm really natural…
If I'm having a shocker, mascara is a definite. I like Diorshow, that's a good one. I love my Tom Ford; the nude lip is really nice. I like Chanel, the Les Beiges bronzer. I do cleanse and tone. I like SK-II. But I work every day and they take [my makeup] off me, then  I just wash my face with water and jump into bed. A good moisturizer's really good; I have so many moisturizers. I use a Dior one that I really like. I just started using Nip + Fab lavender body wash, there's sort of crazy stuff in it but it's really good.
Saimaa, who runs it, she's incredible and she puts me on these little pills and potions that I take now that just keep you calm, they just clean you out really. I had (a colonic) yesterday as well. I go a few times a week. They're not for everybody. I have a green juice in the morning with my powders, then I prefer a sashimi salad, I like the one from Jackie's Cafe.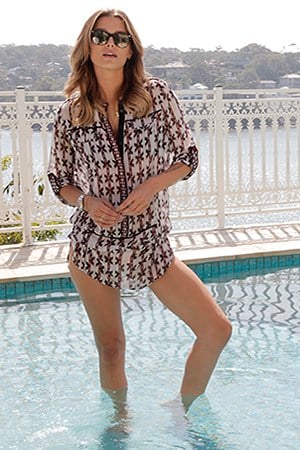 CHEYENNES SWEARS BY COCONUT OIL FOR SOFT SUMMER SKIN
TO STAY CAMERA-READY CHEYENNE COMBINES STRICT TRAINING WITH A SENSIBLE DIET.
Obviously there's the days where I want spaghetti and I can eat. I train, I have a yoga teacher, a pilates teacher and a trainer, Christian Miranda. Christian beats the shit out of me. He'll come to my house. He's like a family friend but he makes me do those burpee things that are awful, they're so rude!
It's always so nice to come home…
It's the people that make the house. All the houses in the family are quite eclectic, everyone's lived overseas and everyone's traveled so it's very worldly. There are so many bits and pieces from everywhere around the world. [My aunt and family] have been traveling since we were young, they've created their own little style, like boho chic- we called it Palm Beach Regency."
CHEYENNE'S FAMILY HOME IS WARM AND WELCOMING