From living the simple life as a schoolgirl in Melbourne, to gracing our TV screens as the winner of Australia's Next Top Model, our latest girl crush Montana Cox has proven to be Australia's next rising fashion superstar. Her achievement as a David Jones Ambassador has put Montana on the map to supermodel status, following in the footsteps of Miranda Kerr and Megan Gale. Between her overflowing schedule of photo shoots and walking the runways of the world's most coveted designers, Montana likes to keep her beauty routine simple and down to earth.
We sat down with the Aussie beauty when she was back in town (she now lives in New York) for the DJ's show to get her secrets to getting that effortless, bright-eyed look she sports so well. Luckily, she's an open book when it comes to revealing all her tricks and tips for living a supermodel lifestyle, or at least looking like you do...
"There are always pressures to be a certain kind of thing when you're a model
You go through stages in modelling because you get in a situation where you're like "why don't they want me?" but you've just got to learn, because another person might love you. That's the thing about business, not to take it personally. It's all about staying positive. Being away from your family is a hard thing. You have to just focus on yourself. Modeling definitely opens up a lot of doors. I like how it's always changing and the spontaneity of it, "oh you're going out here" or "you're flying out here tomorrow." I've been shooting a lot. It's amazing to work with really talented people. I've been sent some scripts but I don't know… It's something I'd definitely like to do. I do like presenting it's a natural thing to go into that, and then maybe head down an acting alley.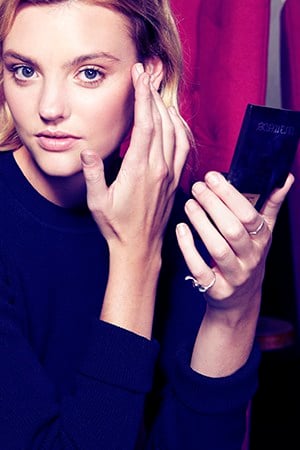 MONTANA STAYS POSITIVE AND NATURAL TO BOTH HER OUTLOOK ON LIFE AND HER APPROACH TO BEAUTY.
MONTANA WEARS JUMPER BY GIVENCHY.
Fashion Week is pretty crazy
The last one I did was pretty cool, [it was] Givenchy. It's cool when you're backstage and Kanye is there and you're like 'oh my God!' It's really exciting; it's a big build up towards that whole thing too. It's quite a difficult selection. And it's cut throat. You're running everywhere in heels. Everyone's got cars in Paris because that's pretty much the only way you can get to every casting. It's literally like sprinting and jumping; they're speeding around town. It's so insane; it's like thirty castings a day. It's like nothing you've ever dreamed of. You're running on a lot of adrenaline. You do have to keep up your energy and eat, but a lot of the time you don't have time –it's so intense. It's good nerves, butterfly nerves And when you get out on the runway you can't see anything, it's just flashing lights. It's a really cool feeling.
My mum is a hair and makeup artist
I grew up in her bathroom watching her do her thing. So beauty has always been a thing. It was handy if I was ever going anywhere then I'd be like "mum, do my makeup!" Whenever we had things my friends would come over and ask, "can your mum do my makeup?" And I guess that's why I like having plain makeup, because I've been around it so much, it's nice to have a break. I like to have just a little bit of concealer; I'm not a fan of lip-gloss or anything. I like really natural and fresh. A curl of the lashes, mascara, little bit of bronzer and that's about it. I put moisturizer on in the morning and then curl my lashes. I like long, skinny lashes I don't like full lashes. I put a bit of Tom Ford Shade & Illuminate on to contour on the sides [of my cheeks], the highlighter just down the nose and the cupid's bow and then a little bit on the chin. I like Laura Mercier foundation and also the compact duo for spots.
MONTANA'S SIMPLE MAKE UP KIT ESSENTIALS: CLEAR SKIN AND GREAT LASHES
SINCE MOVING TO NEW YORK RECENTLY, SHE'S ENJOYED EXPLORING THE CITY'S SPAS AND RESTAURANTS.
I've just got a place in Williamsburg.
It's nice to be out of the city. It gets so intense in Manhattan and there's so much going on. It's nice to get over the bridge and have a little break from all of that, and then come back into it and be like 'oh this is cool' and then get out of it again. There's this cool spa place called Aire. Then also there's these really cool Russian bathswhich I like to go to. They have freezing cold plunge pools and steam rooms. It's really cool and old school. I also like to get a nice massage in Chinatown.
I started working with David Jones
Because they were with the show [Australia's Next Top Model] and we did a lot of work with them, so I got to know a lot of people around. Then I did a few shows with them and I went into the DJs family. The fact that they're the most prestigious department store in Australia and their shows are around the world, it's great to come home and be a part of that. Part of the best of the best. They're like a family to me. I like working with them, we have a lot of fun.
AS A PROUD AMBASSADOR OF DAVID JONES, MONTANA LOVES TO FEATURE IN THEIR SHOWS.
MONTANA'S LATEST BAG PURCHASE BY CHLOE.
I live in denim jeans
I like easy going, tomboyish jeans. I just bought these, they're black skinny high waisted – that's all I wear. I live in denim jeans and these are perfect. We actually did a shoot in New York just before I came over wearing these and I put them on and I was like "oh my God", I immediately got some as soon as I got back. I just got my hands on a Valentino bag, always a nice little thing. It's black. I've also bought a little Chloe bag and it's got a little anchor. I think the Saint Laurent blazers are always a statement piece. [Other brands] I love: Nobody, Scanlan Theodore, Bassike, Jac+Jack, J Brand Jeans, Dion Lee, I like the cool cutout and geometric things, Josh Goot. Lover is probably my favourite [designer], they've always got the amazing statement pieces.
My skin is temperamental
It changes [depending] where I am, what country I'm in. You just kind of have to be in tune with it and know what's going on. When I get off the plane, my skin dries out first and then something happens, it gets really dry and then it gets oily as soon as I get off the plane. [I use] SK-II Facial Treatment Masques. I like to put on a hydrating mist like rosewater. Also, witch hazel is nice. I like Dermalogica Special Cleansing Gel and Microfoliant. SK-II is nice. La Mer have got a good moisturiser and La Prairie does some good ones as well. I really like their Advanced Marine Biology moisturiser it's probably my favourite and more for younger skin. When I wasn't modelling I didn't really care. I'd just wake up in the morning, wash my face with some water. Now I'm more about products and what's good for your skin. You have to take your makeup off and wear sunscreen because your face is your work.
SK-II AND DERMALOGICA ARE SOME OF MONTANA'S SKIN ESSENTIALS
AVEDA PRODUCTS NOURISH MONTANA'S SHOOT-TORTURED HAIR
My hair has been through a bit of a beating
Givenchy made it platinum blonde and I kept bleaching it blonde, then it went back to brown when I got back here. I went back to New York and they were like 'oh we want it kind of beach blonde.' I went to a place and they just ruined it and made it orange and I was like, "okay this isn't going to work." I like to put coconut oil in it and Aveda has got some nice products. I always use heat spray before putting it in heat. I like to just get treatments all the time in salons. It makes a difference if I've got an important job the next day I get it done so that it's looking good for the next day, at Suite Caroline in SoHo.
I'm a big eater
I love going to restaurants. I love checking out new places. I really like Café Select, it's cute. Ruby's, The Smile, Bar Pitti.  I love cooking, my favorite thing is to cook at home. I think you've got to just do the whole healthy thing, try and cut out sugar and carbs but not to an extent that it becomes too hard. It's all about moderation and exercise. My body works best when I exercise. Foods don't really change my body much. I think it's all about exercising and being physically healthy, so I like to get out a lot and do activities. I can't be in a gym, I'm not really one of those people. I like to go outside, go surfing, to the beach, be outdoors and do different things like going on hikes or trampolining to mix it up and have fun but still exercise. I have a trainer in New York his name is Josh Holland. You just need to know yourself. Know what your body needs and what it doesn't need. Just look after it."
MONTANA KEEPS HEALTHY BY BALANCING OUTDOOR ACTIVITIES AND COOKING AT HOME.