Nadia Bartel has a makeup obsession and a car overflowing with cosmetics to prove it (yes, really). The immaculately groomed, petite brunette also possesses an enviable sense of style, which she documents on her cult fashion blog, Chronicles of Nadia. Beauticate recently caught up with her at the waterfront Port Melbourne apartment she shares with her husband, Geelong AFL star, Jimmy Bartel. Here, Nadia gave us a sneak peak into her fashionable, beauty-filled life.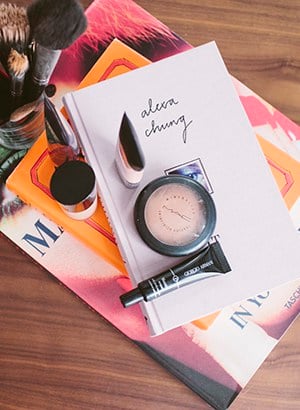 HER MAKEUP ESSENTIALS FOR ACHIEVING THE PERFECT 'BASE'.
Being photographed all the time you learn what works for you…
and what doesn't. When I was younger I used to just slap my bronzer on anywhere, but I now know where light hits the face and how to use bronzer for contouring.  I'm a fan of the M.A.C. Cosmetics Mineralize Bronzing Powder because it's not too shimmery.  I take it with me everywhere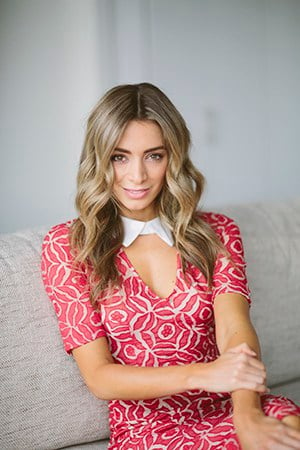 NADIA WEARS YEOJIN BAE DRESS.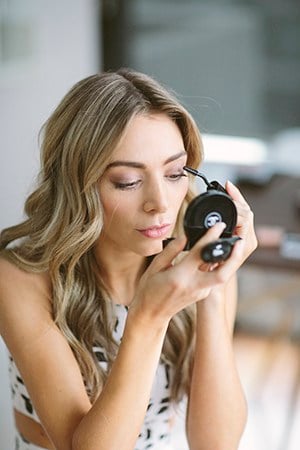 NADIA APPLIES HER LANCÔME GRANDIOSE MASCARA.
And I love M.A.C. Cosmetics long wear eye paint pots. I have a few that I layer together – a darker one which I use for the socket and lighter one to highlight.  I like warm browns and golden shades because I think they work best for my complexion. At night I really like to amp up the eyes.  I never wear eyeliner though I use a narrow brush to apply a dark powder shadow on my lash line which gives a similar effect, only softer. I've tried so many mascaras but since I discovered the Lancôme Grandiose mascarawhen I was on holiday a few months ago, I don't use anything else.  It's ridiculously amazing and by far the best mascara I've ever used.
My car is actually overflowing with beauty products…
Because Jimmy and I are always going between our two homes.  These days I try to buy two of the same product, one for when we're in Geelong and one for when we're at our place in Port Melbourne.
My mum has never been that into makeup, but she has always been very into skincare. She took me to a dermatologist when I was a teenager, so since then I've always kind of known how to best care for my skin.  I wear an SPF everyday and never put hot water directly on my face.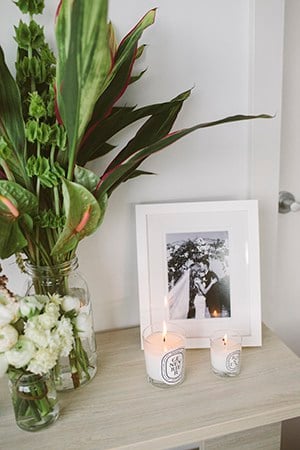 DIPTYQUE CANDLES AND WEDDING PHOTOS DECORATE HER PORT MELBOURNE HOME.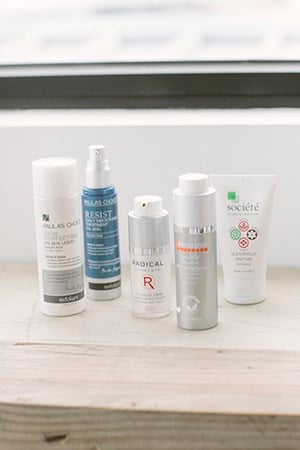 NADIA USES SKINCARE BY PAULA'S CHOICE, SOCIÉTÉ, DR DENNIS GROSS AND RADICAL.
Not a lot of people know about it in Australia, but I find their products are amazing for my skin.  I use their cleanser, BHA exfoliator and daily smoothing treatment.  I'm lucky that I've always had really clear skin, however four years ago after I came back from a holiday in Vietnam, I started to get all of these bumps along my face which eventually morphed into acne.  It was really bizarre!  My doctor put me on antibiotics as he thought it could be some kind of bacterial infection (I did get a facial while I was there) but it just got worse and worse.   I was speaking to one of the beauty editors at work who told me to try Paula's Choice.  I'd never heard of it so was pretty skeptical but I tried it I was so relieved when my skin finally cleared!  I've never looked back.
I also use Societe's Superfruit Enzyme Exfoliator and the Dr Dennis Gross Vitamin C Brightening Serum.  My eye cream is by Radical and it's prefect for me because I get quite puffy around the eyes and it is really soothing.
I get my hair cut and coloured at Uva Salon in Prahran.
Day-to-day I like style my own hair. I've been doing it for so many years now that I'm super quick at it. I use a big curling tong to add volume and movement to my hair, set it with Moroccanoil hair spray then brush out my curls to make it look more natural. I like Kevin Murphy shampoo and conditioner and Eleven Miracle hair treatment.  I don't like that feeling of product in my hair so the Eleven serum is great as it is quite lightweight but still very nourishing for my hair which is prone to dryness.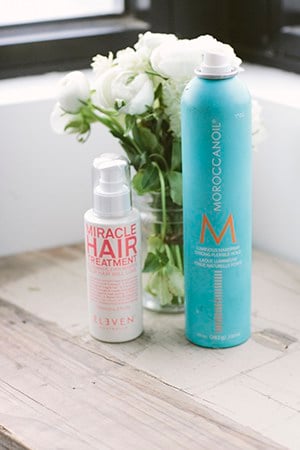 MORROCANOIL HAIRSPRAY AND ELEVEN MIRACLE TREATMENT ARE HER SECRET TO BEAUTIFUL HAIR.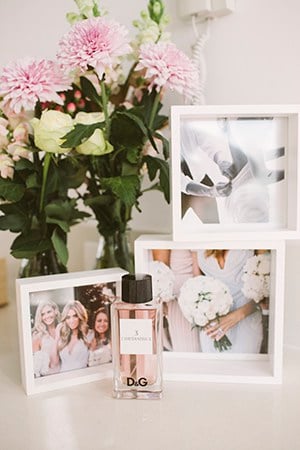 D&G'S NO.3 L'IMPERATRICE PERFUME HOLDS SPECIAL MEMORIES FOR HER.
I love fragrances and how they can evoke certain memories.
D&G no.3 L'Imperatrice is the scent I wore on my wedding day so it's such a special fragrance for me. I also wear Chanel Chance and Salvatore Ferragammo' Signorina, both are light floral scents.  I never leave the house without a fragrance on – even if I'm just going to the gym, I just don't feel dressed without it.
I do boxing and resistance training
For an hour and a half twice a week, in order to stay fit.   My trainer is amazing.  I've tried yoga a few times and but it's not right for me, I need to be doing something that is quite active otherwise I get bored.  I also love to run and do powerwalks with the girls which are fun, although we probably spend more time talking than actually exercising!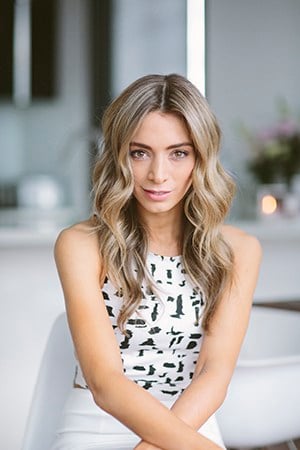 NADIA WEARS MAURIE & EVE TOP AND SKIRT