Meet Penelope Mitchell, the 23 year-old Australian actress set to hit the big time. If there's one girl who knows how to work it in front of the camera, it's her. It's not surprising, when you consider she's been performing since she could walk and acting runs in the family (her cousin is Radha Mitchell). She's from Melbourne, but the blonde beauty now calls LA home, when she's not jet setting around the US filming projects like cult TV series, The Vampire Diaries, that is.
We managed to pin Penelope down during a whirlwind trip back to Australia, where we discovered her predilection for natural skincare, love of multi-tasking beauty products and seriously impressive contouring skills
"I wear hardly any makeup when I'm not acting
Unless I really have to.  With the show that I'm working on at the moment, The Vampire Diaries, the makeup is very heavy, dark and contrasting.  That's also television, they tend to apply heavier makeup because you're shooting in studios and it's heavily lit.  So on my days off, I like to give my skin a break.
As an actor you have to be conscious that you may be poor for a very long time, which is probably why I'm so used to keeping my makeup bag pretty minimal. I travel so much for work too, which is another reason I tend to be drawn to products that have multiple uses.  I can't live without Burts Bees Tinted Lip Balm. You can put it on your lips and cheeks and it gives you a little bit of colour.
PENELOPE KEEPS HER MAKEUP MINIMAL, WITH PRODUCTS THAT HAVE MULTIPLE USES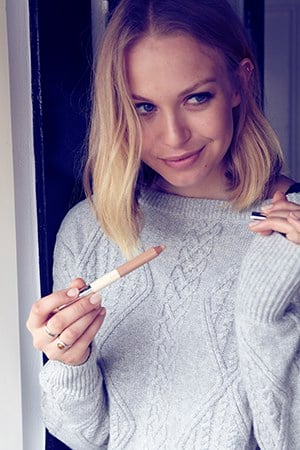 CONTOUR QUEEN: SHU UEMURA'S COVER CRAYON IS A FAVOURITE.
I love contouring
It really helps when I'm auditioning because depending on the severity of the character, I can really age myself up or down by the definition in my face and cheek structure. I have quite a young looking face so contouring can help me to look older.  I've just discovered Shu Uemura's Cover Crayon; it highlights and contours but also works as a concealer. For everyday I'd only really wear that for my base, and maybe a little of Laura Mercier Tinted Moisturiser.
I have very light eyelashes so I always wear mascara. My M.A.C. Cosmetics Haute & Naughty Lash Mascara is great because it has two different sized brushes, a thicker one on the bottom if you want to build it up and then the finer one for the corners.
SHE KEEPS HER SKINCARE ROUTINE NATURAL WITH EPICUREN'S FACIAL CREAM AND PROBIOTIC MASK.
AESOP SKINCARE AND A COLLECTION OF VINTAGE COMIC BOOKS ARE AMONG THE ACTRESS' FAVOURITE THINGS
I chopped off all my hair
About a month ago. All my life I've had long blonde hair so it's kind of exciting to have something new to play with. Lately I've been obsessing over Wen's Sweet Almond Mint Cleaning Conditioner; a two-in-one shampoo and conditioner that restores the natural pH levels in your hair. Since I started using it my hair has changed dramatically. My secret hair trick is apple cider vinegar. I rinse it through my hair every few weeks or so and because it's so acidic, it just cleans out all the excess oils.
When I was younger I once tried to chemically straighten my fringe so that it would stay back when I was doing ballet.  It was a complete disaster though and it ended up just sticking straight up, making me look like Alfalfa from that film, The Little Rascals.
I remember I would sneak it out of her ensuite and mix it with water and rose petals and try to sell it to my neighbours. I was such a thrifty little kid. I would've been six maybe and my friend and I wanted to make pocket money and we were like "no one wants to do lemonade anymore, that's so cliché, like, what the fuck", so we did Chanel and rose petals in old jam jars and made labels using crayons. I think my dad was in on it and thought it was hilarious but mum was understandably pretty pissed off."
FORGET LEMONADE, PENELOPE USED TO SELL CHANEL NO.5 CONCOCTIONS AS A KID