Corporate lawyer turns inventor of eco-friendly yoga mats, turns vlogging star? From her industrial-chic loft in Sydney which she shares with her fiancé and business partner Kane and their adorable pup Muesli, Pia told us about her struggles with veganism, how she balances a preference for all things natural with a love for products that deliver, and why she will never switch up her signature fragrance.
"I started blogging when I was still at uni and felt like I needed a creative outlet.
Once I started working full time I couldn't stop dreaming about starting my own business. One day, I was writing an article for my blog on the best yoga mats around and realised that they were mostly made of PVC. So I saw this real gap in the market for mats made from environmentally friendly materials, and that's what I set out to create. My now-fiancé Kane and I spent all our savings producing eco-friendly yoga mats and turned SLINKII from my blog into a store.
We quickly realised that social media could be an invaluable marketing tool and focused our efforts on creating consistently great content. And that's how it all began!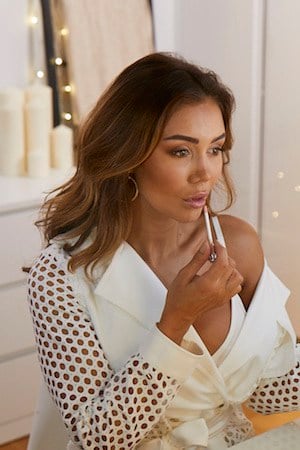 Kane and I met over email.
I was a student and working part-time as a presenter, and he was building a website for a client and needed a presenter. He tried to book me and was just the cheekiest person, so we had this funny banter over email for a couple of weeks. Eventually he said he'd love to meet over breakfast, so the next morning he flew from Sydney to the Gold Coast to have breakfast with me! You know when you speak to someone for a while, the anticipation of actually meeting is very nerve wracking… well, I walked up to him and I kind of missed the curb and stumbled into it, and he went to kiss my cheek and ended up kissing my forehead. It was so awkward!
It all worked out well though… we'll have been together eight years this month!
It makes your lips tingle. And I like that I just pop it on and then I can adjust the colour lighter or darker.
I love everything Fenty beauty.
My favourite are the Match Stix. Bamboo, Sand and Sway are a good mix for my skin tone for contouring.  My favourite illuminator at the moment are these Iconic London Illuminator drops – you can mix a tiny bit in with your foundation or just buff it in afterwards.
I'm definitely starting to experiment more with different looks and styles, but when I find a product I love, I'll keep using it forever.
I always use Armani foundation,either Maestro or Luminous Silk Foundation. The first time I ever took a photo for instagram I had the Luminous Silk on and I thought, oh my god, this looks great! So I knew that was it. Done.
In terms of hair, this Silver Bullet Curling Iron is surprisingly great. I thought it might just be a gimmick, but it's really cool. Because I like wearing extensions I rarely have my hair straight. I never want it to be super ringlety, so I'll sort of pop a curl into it and wait until it drops out a little bit, and just brush through it gently.
I am completely obsessed with companies taking a natural approach to beauty.
After all, our skin is our biggest organ so we need to be conscious about what it absorbs. And I absolutely loathe products being tested on animals.
I'm an ambassador for Manicare, and I love their makeup brushes and their lashes.
My favourite lashes ever are actually the little individual ones they make. I like the ones that are a bit piece-y. The dramatic ones never look great on me and they feel a little bit heavy. But I really like these – the Meaghan, the Jessica and the Hazel.
Growing up, my mum owned a beauty salon, but I wasn't into all of that much as a kid.
I was Dux of my school and head of the debate team, stuff like that. I wasn't really into beauty that much until uni. I loved studying law, but once I started working, especially in corporate law as a junior lawyer, no one really spoke to me and it was just piles of paperwork everyday. There was nothing creative about it, it was kind of dry and the same thing everyday. So I was a corporate lawyer for a year, and then started SLINKIIand I could finally say "I quit!"
When it comes to skincare, I really want to cut out as many chemicals as possible, so I'm always trying to find natural alternatives.
My main product is coconut oil. I use it as a cleanser (you have to make sure to wipe it off really well though), and then I use a tiny bit of it before bed as a moisturiser. I feel like I smell like a summer holiday.
In the mornings, I also use an incredible, active serum, DMK beta gel. My mum's salon stocked DMK, so I came to really love their products. I love Dior skincare too, especially their hydrating moisturiser and the pink clay mask.
Lately Kane and I have been loving the app Soothe.
It's like Uber for massages. Sometimes, especially after a long trip, there's nothing better than getting massages at our own house!  If I feel like a real pamper session, I like to go to The Darling for a facial.
I love that I get to travel and see the world with my fiancé.
It was always a dream of mine to have a career that allowed me to travel, and I pinch myself every day that we get to do it together.
Lolita Lempicka is my favourite fragrance. I've used it since I was 18. You know when you have your signature fragrance, and as soon as someone smells it they're like "oh, that's Pia!" So I don't really want to change it, because you want people to remember you.
I eat mainly plants.
There are a lot of great vegan restaurants around here, so we do Uber Eats a lot, or just make massive salads. I get a huge bowl and throw everything in it – all the colors of the rainbow. And then I make a mustard vinaigrette, and always add avocado. 
I do still eat chicken and fish, because every time I try to go vegan I find that I don't have the time to eat a well balanced diet, so I keep going back to eating things that I know work. I'm slowly eating less dairy and meat, though. I really prefer not to eat meat. When we got our miniature Schnoodle, Muesli, and you see this little animal with so much character and personality, it's like… I just can't do that anymore.
I do a lot of reformer pilates, some weights, and I run.
I do reformer pilates at One Hot Yogain Potts Point. I'm committed – I usually get up at 5:30 am for the 6 am class. I do weights at Fitness First and my cardio there too if the weather's bad. When it's good, though, I want to be outside. My favourite run is through the Domain, and then around the Opera House and through the Botanical Gardens and back; it's about 8 km. On a nice day, it's just one of those things you can do to really feel like you've woken up and are smelling the roses.
We are constantly aging, changing, and growing as people and I think if you focus on that too much you can miss the present.
The way I look now is very different to when I was a teenager, but I'm ready to look like this and I feel confident. There are so many older women who I admire and think are incredibly beautiful. And that's not necessarily based on just physical appearance but rather their air or presence. I think there is beauty in every age and I look forward to every step of the journey."
Story by Zoe Briggs, Photography by Myles Pritchard, Hair & Makeup by Pia.