With the most enviable curves, perennially honey-dipped skin and wasp-stung pouts, it's no wonder Tash Oakley and Devin Brugman have become the ultimate bikini babes. With pin-up worthy proportions and a keen eye for business, the stunning pair are the poster girls for women who boast both bosom and bum; and with incredible success. Their A Bikini A Day Blog is revered across the globe; whilst their personal Instagram accounts have amassed a combined following of almost 2 million; fuelling a #fitspo revolution worldwide.
As best friends, they share everything, from makeup to food (and even a bed at one point!) however had never shared being in front of the lens together – until now. In a Beauticate exclusive, we caught up with the beautiful besties on their recent visit to Sydney and shared laughs, beachy beauty tips and garlic prawn sandwiches (yes, they do eat!).
TASH:
"I think it takes a while to figure out how to  do your face…
Until you're in your twenties, you just do weird stuff, I don't even know why. Honestly, I think what was embarrassing was going through the awkward stage of learning how to do your make up.
As weird as it sounds, I actually use a Dove body bar to wash my face. I always have. Old school, but it always works for me and if I don't I always break out so I just stick to what I know. For daily life, I try not to pack on a load of makeup, my skin rejects it, so unless I'm going to an event or a shoot, I try not to wear makeup.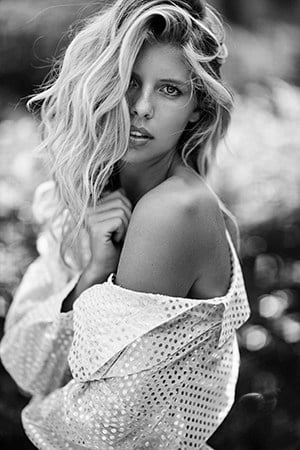 STRIKE A POSE; TASH IS EVERY BIT THE GLAMAZON WEARING ZIMMERMANN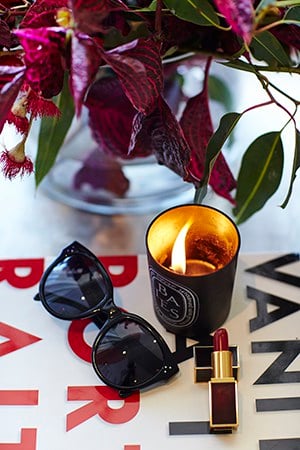 LUXE LOVE; CHIC CELINE SUNNIES, DIPTYQUE AND TOM FORD LIPPIE FOR NIGHTS OUT
I don't like lip gloss and I'll only wear lipstick every now and again…
I really like lip balm, and have my favourites that I use on a daily basis. I love the Burt's Bees tinted lip balm. If I'm going out or if I have a shoot, I do a really natural makeup look. I love the YSL Touche Eclat, with a little bronzer on the cheeks for some contouring, then some NARS blush, earthy tones for eyes, YSL mascara, and eyebrows. That's pretty much it.
One thing that's very important is to wear an SPF daily on my face…
So I'll just wear an SPF tinted moisturizer – Gee Beauty Miami Tinted Sheer Moisturizer– that's what I wear every single day. I used to just wear Kiehls Lightweight Cream every day but then I just realized how important it is to keep your skin protected and at the same time you can wear a tinted moisturizer that actually gives you a glow, so it's really beneficial in multiple ways. And because I'm fair-haired I like to do my eyebrows lightly and then just pop a little YSL Shocking mascara on, I love the smell of it. It's got perfume in it, so it smells absolutely amazing.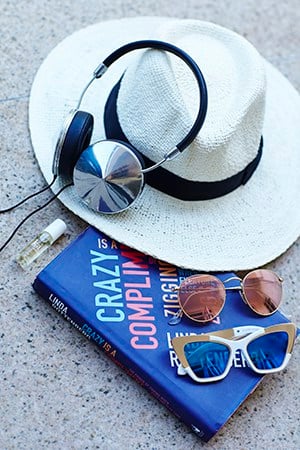 A BEACH GIRL AT HEART; A GOOD READ, A DAB OF KAI PERFUME OIL, A UNIQULO HAT AND UBER COOL SUNNIES COMPLETE THE KIT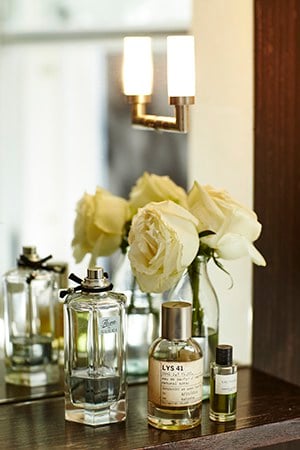 FRAGRANCE FIEND; GUCCI'S FLORA AND LE LABO'S LYS 41 ARE AMONGST THE GIRLS' SIGNATURE SCENTS
I would describe my style as beachy chic…
Which comes back to growing up in Bronte, but every school break we would be traveling. Mum would take us to Hong Kong or just somewhere really interesting and now I live in LA and back and forth in between Paris, I definitely have a chic vibe that I incorporate into my style as well, like leather jackets and denim and booties. My diet depends on where we are. Our day usually starts with a coffee or a juice or smoothie, then if we have breakfast it'll be something like a poached egg, or a kale salad or a granola bowl with fruit, yogurt and then for lunch we love salads, or tuna, something just delicious and fresh. Then for dinner our favourite meal is like trout, with mashed potatoes or vegetables and coleslaw. We love meat and veggies, or chicken and veggies but generally we eat pretty fresh. But we have an obsession with burgers. That's the one we get into trouble with a lot. In Australia our guilty pleasure is chicken schnitzel. Back in LA, I like to cook a lot. But we travel so much that when we do come home we don't even like to leave the apartment.
I slept in the same bed with Devin for four months…
I lived in Maui for two years and I started a production company there and I was doing video and photo production and was working with a lot of swimwear labels. Then I moved to LA and lived with Devin until I figured out what I was going to do, and then we just became joined at the hip, like 24/7. Then when it was finally time for me to move out we were like 'No! We're just going to have to get a place together' and Devin actually started assisting me behind the scenes of all my shoots and we were shooting the look books and behind the scenes videos for swimwear labels and soon they were gifting us swimwear and we started shooting each other. Our friends were like, 'You need to start posting these!' I will never forget the night in LA when we decided to start it. I was like 'we should call it A Bikini a day' and we started the Instagram, started the Facebook and by the next day we had thousands of followers and instantly we had brands inquiring, and it just sort of went from there. Soon I didn't have time for my production company. We got into Instagram right in the beginning, I feel like we are the original swimwear blog, which is huge, so we feel lucky to say that.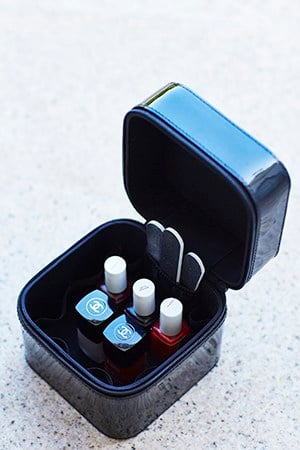 MANI MANIA; INSIDIE THE GIRLS' TRAVELLING NAIL BAR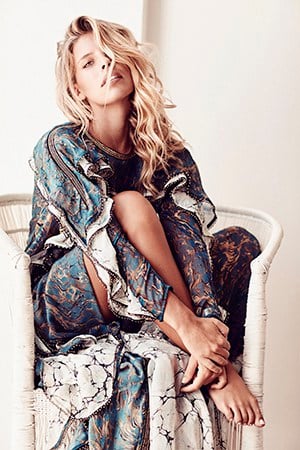 FLAWLESS IN FOLDS OF ZIMMERMANN AND BARE FEET
If there's one thing that I'm a little insecure about it's my legs…
I definitely have grown to like them more ever since we've had our blog. Our followers have been so kind to us, no one ever says anything mean to bring us down, it's really rare that they do, so it helps you to understand that you need to love who you are and rock what you've got. I feel like it's kind of a reciprocal relationship between our followers and us; we want to give them confidence and they give us confidence too. It's just a strange thing that you go through being so concerned about the way that you look.  I think the most important part is to be happy and healthy so that you know that your true self. Your mental state and your positivity is the most important thing, even over your diet and your fitness. When you have that positivity you'll end up working out because you have such a good outlook. It's funny, the first time we started shooting A Bikini a Day we'd have to shoot so many shots because Devin would be so self-conscious about her midsection… And I'd be like 'You're crazy!' and now she doesn't even think about it and we're like 'What were we tripping over?'
We literally feel the most beautiful at the beach…
Because we won't wear any makeup, just sunscreen, and our hair will be all wavy cause of the salt water. The worst part [about being on the road shooting] isn't the sun, and the boats and the wind, but the horrible shampoo and conditioner [in hotels] that makes your hair feel like a horses tail. We've never done a shoot together! This is the first time, you guys get the exclusive! We shoot each other. We don't have a team for anything, no makeup artists, photographers, editors. We just never have a chance to be in the photos together.
Everywhere we go in the world people recognize us and it literally feels like we have friends everywhere we go. We are just so thankful that our followers are so kind and so supportive, they're like our friends, and we rarely will have nasty comments and that's even crazy. It really could have gone one way or another."
SANS THE BIKINI, DEVIN AND TASH ARE STILL AS GLAMOROUS AND BEAUTIFUL AS EVER
"I get my tanned skin from my dad…
And my mum is completely fair. My father is a mix of German, Filipino and Spanish and my mum is English and Irish. I was actually born in Northern California then moved to Hawaii when I was four. The Hawaiian culture is so laid back and chill, so I definitely feel like that's a part of who I am.
I always moisturise first and wash my face. I just use the basic Cetaphil moisturizer and then I'll start with a tinted primer and then it depends if I'm going out, I like to do my eyes first because I'll wear more eye shadow. If I'm going to the beach I'll do a little concealer, eyebrows, mascara, and a tinted lip balm. And sometimes that's when we like our hair the most, when it's been drenched by the salt and water.
DOTTY DOLL; DEVIN IS STUNNING IN ONE OF HER AUSSIE FAVOURITE'S, BEC AND BRIDGE
DEVIN IS A DEVOTEE TO URBAN DECAY PALETTES
If I'm going out, it's more, but I still like to keep it really natural..
I'll do a darker powder liner, and then I'll line my lips. I like to keep my lips looking pretty natural. For foundation and concealer [I use] YSLand and then I do a little makeup setting spray. [I love] MAC for eye shadows and the Naked Urban Decay palettes, every single colour is amazing. Going back and looking at photos, even from a couple of years ago, I would do a crazy cat-eye with red lips, and I'd just look borderline drag queen! Doing colour – blue eyeshadow and a red lip is a no go! Now it's more about highlighting; highlighting your natural assets, before it was more about covering up
I have this big scar on my butt that I was so self-conscious about…
And my waist, I was self-conscious about my waist because I have a bit of a wider waist, it's just a stupid, stupid thing.  We did an article on A Bikini A Day called "Things that you shouldn't be self-conscious about"and it's you know, cellulite, scars… It's about learning to embrace your insecurities – our followers and our business has helped. It's just what you're born with so you have to learn to work with it.
BEAUTY ESSENTIALS IN DEVIN'S BAG OF CHOICE, SAINT LAURENT
BEACH-Y BESTIES; THE GIRLS SHARE MAKEUP, BOOKS AND SUNNIES
We'll be sitting on the beach and see a girl with a nice, juicy butt and hips and big boobs and we think it's the most feminine, womanly, beautiful thing.
And obviously there are women who are naturally skinny, and that's sexy too, but the girls starving themselves, it's sad. One of the main morals, and the foundations of A Bikini A Day is that women embrace their natural curves. And I think that's why a lot of our followers gravitate to us. They're inspired by us because we're just rocking it; you know I have some hip and some thigh – I think it's a good message to be sending.
We don't like to go to the gym and workout…
We like to go outside and stuff. We actually have our fitness series up on our website. We do this circuit; so we'll do a butt workout which is basically just a ten minute exercise on the floor: squats, leg lifts. Then we'll do a run down to the beach, generally if we're in LA, we try to do this wherever we are, and then we'll do a circuit that incorporates abs, arms and a little cardio. Just a little bit of everything. Even just shooting and being at the beach and climbing on rocks, our lifestyle is very active.
I'm most comfortable in jeans and a tee…I definitely have more of a relaxed look. I never wear patterns or colours, generally black, white, grey, nudes. I definitely have more of an androgynous style; I like to wear suits and pants. When I am on the beach I like to wear little shorts, tops and crochet, when I'm just at home I just like to be comfortable. This is only my second time in Australia, but I feel totally comfortable and at home here. The first time I stayed for a month and we went down to Byron, and did all the more touristy things, like saw a kangaroo."
WHILST DEVIN LOVES A GOOD TRACKSUIT, SHE OOZES GLAMOUR IN SCANLAN AND THEODORE