Active wear as a legit fashion genre is a concept long embraced by women everywhere because, ultimate comfort. It has proven itself to exist beyond a trend, instead a perennial staple in our closets. And there's a brand that's quickly taking over: First Base, founded by (aptly named) designer Ali Cotton. After eight years in the fashion industry she felt that simplicity was missing from the sport and lifestyle space, that there seemed too many in favour of flash trends over functionality. So, she filled the niche. Four years later and her designs - striking a perfect balance of back-to-basics, luxe fabrics and cool girl appeal - are leading the way in sport style. She's also a total beach babe and is never too far from the solace of the sea. So, we went to visit her Bondi home to discuss her beauty icon, the products that give her an enviable glow and the importance of taking care of your looks by working from the inside, out.
"I fell into my job.
I wanted to be a pro surfer. But I always drew, painted, crafted… and I loved fashion. Really, it's my second love next to being in the water. When my dreams of being a pro surfer were dashed – not enough talent and an injury that kept me out of the water for 5 years – I turned to fashion. I love that I'm building something bigger than myself and working with an amazing team of girls every day. It's powerful.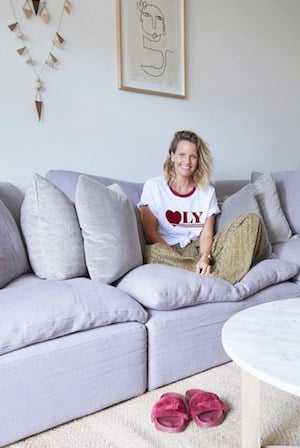 My mother has always been insanely beautiful but completely unaware. Which just makes her even more beautiful.
She has such an uncomplicated approach to beauty which I find really inspiring. I want to be just like her when I grow up. Salty and sun kissed with no makeup, fresh off the beach. Being in the water and sun makes me truly happy. Sometimes it's not perfect but that's just life and I like the freedom that comes with accepting that. You can't auto correct your skin texture in direct daylight!
Ageing is such a personal thing and I truly cast no judgement…
… on whatever path someone wants to go down, but I'm so happy to just be ageing naturally. Botox and injectables are not something that I'm personally interested in nor see value in (although, the women I know using them look damn amazing!). I see ageing as a trade-off. So my skin is not as plump or vibrant as it was 10 years ago, but I'm so much wiser and more grounded now and I'm OK with that as the trade.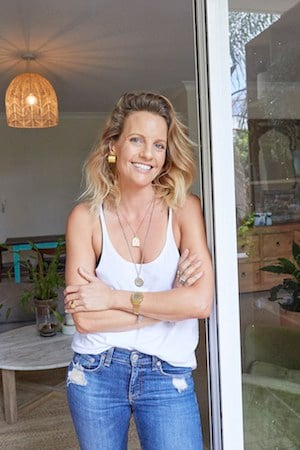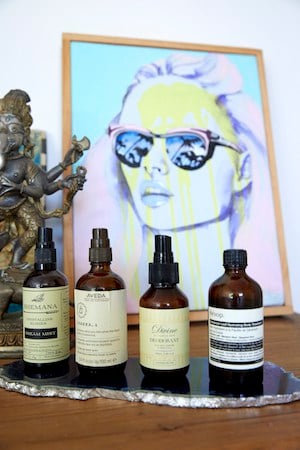 The first beauty product I ever owned was Oil of Olay moisturiser.
My mum used it and bought me a bottle as my first moisturiser. I felt so grown up. My biggest beauty faux pas was over doing the fake tan. I went through a phase in my early 20s where I clearly had lost perspective of how brown I was getting, not only from being in the sun but then fake tanning over the top. I see those photos now and wonder why none of my friends told me I was literally orange!
I'm certainly more on the minimalist side of things but I am a sucker for a new wonder product…
… that is apparently going to change my life! My process isn't super complicated and the older I get the more I find myself simplifying things. I'd just rather be at the beach or hanging out with friends than labouring over my bronzer. I typically don't have much time in the morning as I'm always rushing back from yoga or training and have 30 minutes to go from sweaty to sexy – I have to keep it relatively minimal. I do use Palmers Coconut Oil because I love everything oil and it isn't much fuss with the pump. I mix this up with the other body oils I use for my legs. I also love Kate Somerville Tanning Towelettes for when I need a bit of a colour – they don't streak and they leave me with a super natural glow.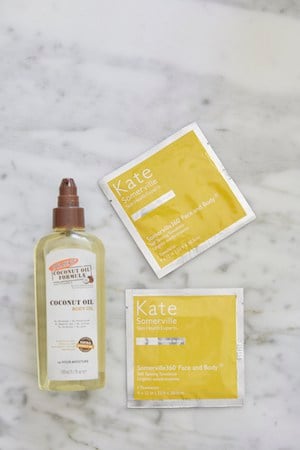 I always make time for an all over moisturiser.
I find it keeps my tan glowing and just feeds my skin. I use an oil-based cleanser in the shower and if I have time I quickly exfoliate every two or three days before I jump out. I then use Osmosis MD Repair before putting Embryolisse Lait-Creme Concentre Moisturiser on my face, followed by an organic SPF. While that is settling, I'll make a quick protein smoothie with banana and cacao, matcha, vegan protein powder and coconut water for breakfast. Back in the bathroom I'll do a quick layer of Dr Hauschka Tinted Moisturiser. If it's a hotter day, I'll use Chantecaille Future Skin – it's great coverage but still light weight. I find tinted moisturiser can leave me super shiny once the humidity is on the rise.
I have a great light deflecting product from Becca that I use under my eyes…
… to conceal my dark circles, then I add concealer where I need to (under my eyes every damn day). I use RMS Beauty Lip2Cheek on the apples of my cheeks and blend it up my cheek bone to give me some colour. I lightly feather my eyebrows with a tan pencil – I'm blonde and basically have no eyebrows but also don't like having them tinted as they go too dark and make me look crazy. If I'm tired, I avoid mascara as I have smallish eyes and too much product makes them look even smaller. I do a once over with some bronzer to give me a bit of colour but I try to keep it super light or I find that the powder just doesn't really work for me. It can really age my skin and make it look parched.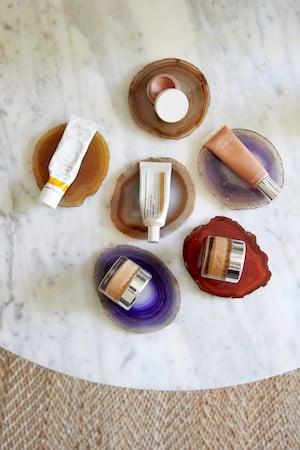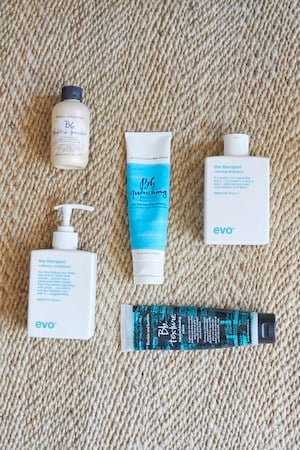 I've mastered the messy, wavy hair flick…
… so I just run with that. Although, I do love a good top knot or low pony from time to time. My hair is really wavy so I typically just finger through some product to help separate it a bit and let it dry naturally. I'm always at the beach and in the sun on my days off so it's easy for my hair to get really parched. I'm careful not to over wash or use heating tools on it, otherwise it basically turns to straw – not ideal. I use Evo The Therapist Calming Conditioner and Shampoo, Salty Dog Spray and Water Killer Dry Shampooto enhance texture and volume. I'm all about the volume. And I use Bumble and Bumble Pret-a-Powderwhen I need an extra root lift. This is my go-to.
Spending time at the beach is how I typically wind down after a long day.
That's really my answer for everything! I do a fair bit of yoga and I attempt meditation but that's a work in progress. My husband is a yoga teacher so I practice his classes at Body Mind Life in Bondi twice a week. I mix that up with three sessions of weight training a week at Base Gym with the Base Body Babes. I love these girls. They're great trainers and their style of weight training has really helped shape and redefine my body, while the yoga helps keep things long and lean. I also love to put on some music, pour myself a gin and just cook – I find that super relaxing, and when you're done you have an amazing meal.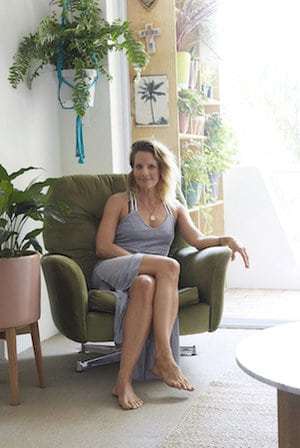 I love to cook and I love reinventing typically 'unhealthy' meals in a clean way.
Give me a recipe for a traditional lasagne and I'll make you a dairy free, gluten free, sugar free vegan version that actually tastes good. Diet is so important and it's something I do invest in. But I live by the 80/20 rule. 80% healthy, 20% vodka and cheese. I'm not vegan but I try to choose vegan options wherever I can because it just works for me. it can't be all wheat grass shots and carrot sticks, though."
Story by Rikki Hodge-Smith; Photography by Myles Pritchard