With her impressive background in immunology and microbiology, Terri Vinson is the embodiment of beauty and brains. The stylish founder and formulator of the Australian cosmeceutical range, Synergie Skin, sat down with Beauticate to give us the scoop on her professional life, chic style, and understated beauty routine. The superfood and fitness junkie harnesses a 'clean science' philosophy and creates products that boast active plant-derived extracts and absolutely no chemical nasties (win-win!).
Terri explains that this was the very gap in the market that Synergie filled – not only locally, but also globally. The company was born out of Vinson's vision to create highly active and effective cosmeceuticals, free of any potentially toxic ingredients. Now in its tenth year, Synergie Skin has exploded from a local success story to an international skincare brand. The dynamic blonde beauty invited us into her Melbourne abode to talk about all things active skincare, powerhouse superfoods, and Paris Fashion Week.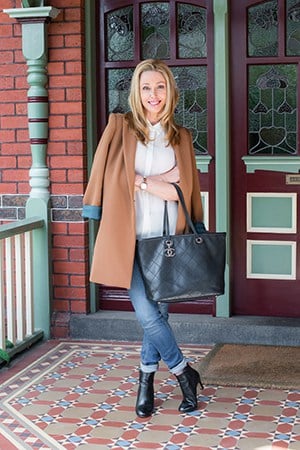 "I just got back from Paris Fashion Week
The Japanese denim brand, Aizomé1, launched their first ready-to-wear 'Envirodenim' collection (produced using organic, ethically sourced denim, free from harsh chemical dyes) and Synergie was invited to collaborate based on the strength of our "clean science" philosophy and boutique appeal. Being 100% Australian made and owned, ethically formulated and certified cruelty free, this collaboration was a match made in heaven for us. We prepped the models' skin to create a natural, glowing base using Vitamin B serum, HyDrolock, Synergie Minerals Luminiser, HydroSpritzand Lip Service.
I started my own range in my forties
I'm a scientist and majored in immunology and microbiology. I also have a DipEd in senior science and a Diploma of Formulating Chemistry.  I then started working with a cosmeceutical company as educator and formulator in my thirties. When I thought of starting Synergie Skin, I brainstormed exactly what I could offer women in terms of unique product and philosophy. I love combining my knowledge of science with my love of the beauty industry. I never dreamed that Synergie Skin would grow to become a global brand. I am so proud because this year we celebrate our 10 year anniversary!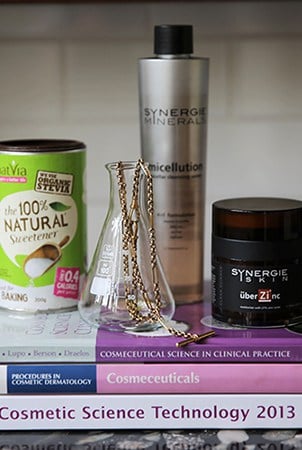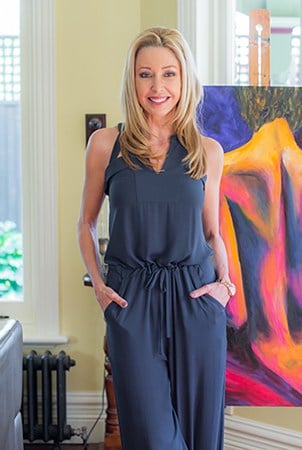 There needs to be more transparency and consumer education in the beauty industry
I believe in educating and empowering people to make their own choices about what they put on their bodies. A few times a year, we run tours of the Synergie lab and production facility for beauty students (Beauty EDU and Victoria University Dermal Therapy students) and industry colleagues to bring down the walls of secrecy in our industry.
At Synergie, we're like family…
I truly love what I do – I don't feel like I'm going to 'work' each day. My favourite parts of my work include researching at night about new ingredients and formulations, formulating in my Melbourne lab, working with my marketing, sales, logistics and accounts teams, and meeting with my clients at events.
I love taking photos.
My husband and children always say to me, 'Stop taking photos!' But they love to look at them – go figure! We love travelling and the photos in our kitchen create a post card of memories of the incredible journeys we've been on. I still print off my photos and have photo albums…not sure if anyone else does that these days? My very special aunt recently passed away very suddenly and she had a mind-blowing collection of books. So most of the books in my house are from her – she had the most incredible collection of cookbooks that remind me everything I cook of her.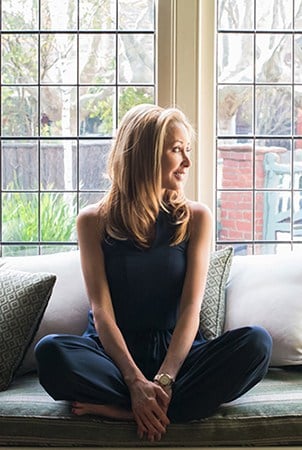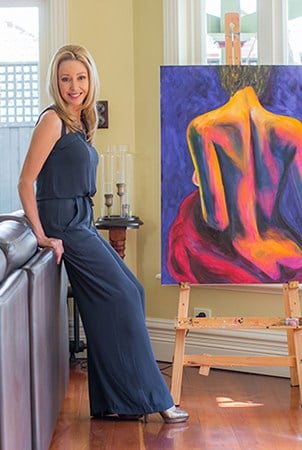 With skincare, I'm a maximalist!
I use a variety of different serums to target specific concerns. I am fortunate to be at the forefront of skincare technology so I can develop new formulations as needed. Of course, I am faithful to my own products! I use the Rejuvaderm home roller (needling device) every night before applying my serums to get better penetration of actives. I also have a bathroom FULL of hair and nail gadgets!
Diamonds really are a girl's best friend.
They make me feel so womanly. I wear a solitaire pendant, my diamond tennis bracelet and simple classic studs. For a night out, I would team this with my new favourite cocktail dress by Alexander McQueen, pair it with Jimmy Choo chantilly lace stilettos and a Swarovski crystal clutch. I like to apply a set of natural false lashes – they make your eyes really pop! I use KISS eyelashes (only opt for high quality REMY hair) and Duo eyelash adhesive.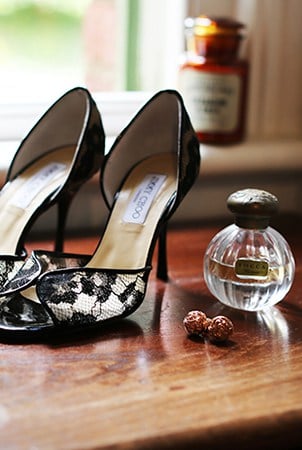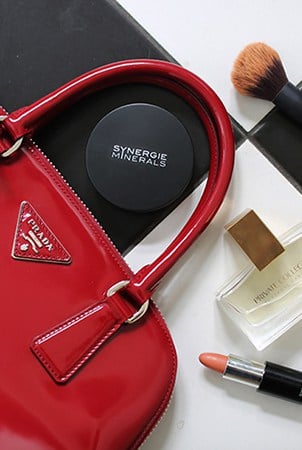 I would describe my beauty look as understated.
Always allow your natural skin tone to shine through – less is best as we age. I use a flattering, neutral colour palette and focus more attention on my eyes (avoid shimmer!). Nothing beats a good blow wave to add volume to my hair. I'd describe my personal style as simple and classic. Shop to suit your body and don't be a victim of seasonal trends.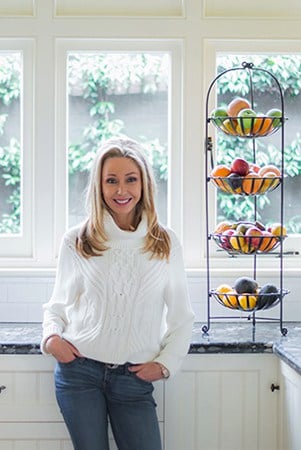 My friends and I got the latest tips on make up application. There was no internet or social media! I believe there was less pressure on school girls in the late seventies and early eighties to focus on body image and being 'perfect'. But, my biggest beauty influence is Coco Chanel. She was a trailblazer in the fashion industry and was an intuitive businesswoman with passion and tenacity. Her words resonate with me, particularly, 'Success is most often achieved by those who don't know that failure is inevitable'.
I'm a superfood and supplement junkie.
I have this signature smoothie which is packed with antioxidants, vitamins and minerals like chia, pumpkin, sunflower, flax and cacao seeds, almond milk, berries and greek yoghurt. I also use my Thermomix to make home-made FroYo – and I always give the end of my cone to my 15 year old dog, Banjo. Our fresh food is often depleted of nutrition due to over tilling soil, therefore, I believe we need to supplement our diet. My fave antioxidant is green tea and I also take curcumin as an anti-inflammatory, chlorophyll, spirulina, zinc, esterified vitamin C for immunity and antioxidant protection, omega oil blend and brahmi for memory.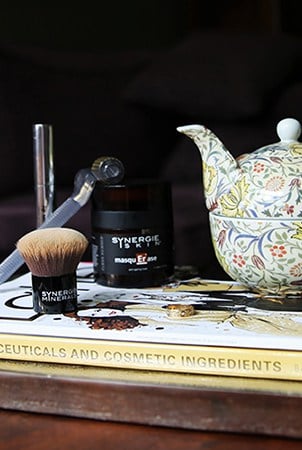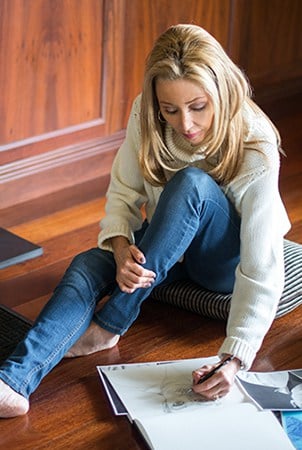 I have to give up coffee for two weeks.
I'm about to embark on a wellness retreat in LA where I will learn yoga and meditation for the first time. Apart from that, I exercise daily (20 minute interval training on my Bowflex Max trainer, 10 minute Hypervibe, 2 minute plank for core strength, 5 minutes abs plus Abtronicwaist training with CelluTite gel), try and get at least seven hours sleep every night, take supplements (especially antioxidants), and avoid sugar, processed foods and refined carbs. But, my late night treat is dark chocolate! Sugar-free with stevia, of course.
I feel most beautiful when…
I am speaking about a subject that I feel total passion about and commitment to. The truth in my heart and the positive reaction from others to my words makes me feel beautiful. Also, when painting. I love experimenting with different techniques and media and can literally lose hours in front of a canvas. It's my form of meditation.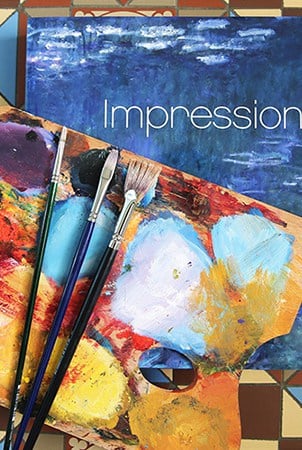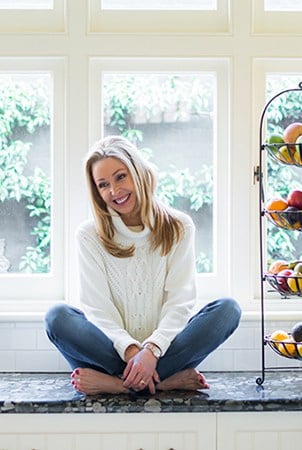 For jetlag, I recommend…
LED treatments! They're a gentle and relaxing way of improving vitality and tone to the skin. LED has a multitude of benefits for all skin types including helping reduce jetlag. Other cosmetic treatments I recommend include transdermal infusion of active ingredients using Galvanic current. It really pushes ingredient into the skin for amplified results. And clinical skin needling (aka collagen induction therapy) – it's excellent for stimulating collagen and improving fine lines and surface texture.
Interview by Sigourney. Story by Bianca Chaptini. Terri's portraits by Meagan Harding care of Style and Tonic. Still life photography Chantelle Nguyen.