It's cliché but completely correct - somehow 2019 has flashed by and we now find ourselves inexplicably in the thick of festive fever once again. And despite the stressors the silly season can bring (looking at you, frantic last minute shopping sprees), one joy we actually look forward to all year round is planning the perfect Christmas Day look. Here, we share the pieces we are shopping now for Christmas - and some goodies we'll be hoping to find under the tree...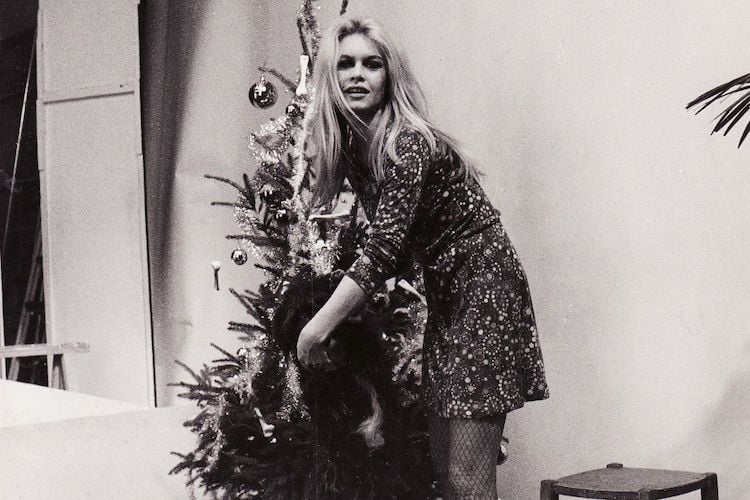 Beauticate loves this photo of Brigitte Bardot
SIGOURNEY CANTELO, EDITOR
We are having Christmas at our place this year poolside and I dare say it will be hot so I'm going to do simple entertaining: a maple glazed ham, Iggy's crusty bread, fresh prawns and a big ice bucket full of chilled Ruinart Blanc de Blanc. To keep with the breezy poolside vibe but still be in the Christmas spirit I'm going to wear this gorgeous red and white Maje dress with flat sandals (as I'll running around after the kids!!) and a generous spritz of Les Eaux De Chanel Paris-Biarritz Eau De Toilette. It's the perfect light and fresh counterpoint to what is always a festively flustered and fun day. 
ZOE BRIGGS, FEATURES WRITER
Christmas this year will be with family friends in balmy Brisbane, so keeping cool is a must. We've decided on an all-white theme, so I am already planning on Moët Ice – appropriate for both its both packaging and pizzazz – to be on hand all day. I'm very much hoping this little Morrison linen number will have been waiting for me under the tree earlier that morning, ready to pair with tailored shorts, a tan and a red pedi. The final touch? These ceramic, jewelled earrings by Mounseur – so festive, so chic.
Kristin Rawson, Style Editor
Christmas in Australia means beach days with my children enjoying the simple things – days without timelines and ice cream from the Gelato Messina van on Bondi Beach. I love the lightweight fabrics that all the designs from new label Honour Apparel are made with, particularly the Tie Me Maxi White dress. Sun protection is a must – how sweet is this Weave and Wing hat? The festive season also means lots of travel and the Chanel N°5 L'Eau Mini Twist And Spray is light and easy yet still undeniably chic – a fresh, floral delight. It really is the best time of the year.
KRISTINA ZHOU, JUNIOR WRITER
My girlfriends and I are planning a Christmas getaway to Singapore. I've been warned by friends that the weather is insufferably humid, but the tropical climate appeals to me as someone who is obsessed with capturing the feel of an endless summer. Call me crazy, but I love sweat dripping down my forehead and scorching warmth against my skin. In line with my affinity for summer, I love pastel colours and lightweight materials. This Christmas, I'm hoping for this adorable Bunny Fluffy Pink Pom Pom Hair Tie, the Michael Lo Sordo Silk-satin Gown and a spritz of hair mist scented with Chanel Chance Eau Tendre.