It's funny. I don't have particularly sensitive skin and I don't have any major allergies, but, as I've mentioned before, occasionally I get an irritated scalp. And when it comes to getting my hair coloured, I'm on fire. Like, literally. It burns. The nape of my neck itches. My scalp feels like a furnace. My face turns pink and I shift around in my seat counting down the minutes until my frazzled colourist ushers me to the nearest basin to drench my head in cool water. So. Not. Fun.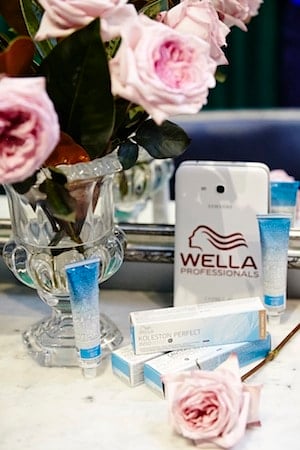 And so begins the great colour conundrum: what to do when pesky grey hairs keep mocking me with their stick-up-iness? (And what's with them being a completely different texture!?) I want my hair to look beautiful and rich, but the whole thing is just a nightmare. Lately, I've been tempted to just let it go. I'm just not enough of a dye-hard to deal with the pain.
When a press release for Wella Koleston Perfect Innosense -a new less-irritating professional colour service – pings into my inbox, my interest is piqued. Wella are known for their innovation in hair colour – and this new range actually features a breakthrough molecule called ME+. The result of over 20 years of research, Wella have actually changed the shape of the dye molecule so it no longer stimulates the T-Cells (the cells that recognise reactions)  As a result, KP Innosense can be tolerated by a broader range of people and is the first hair colour to receive the tick of approval from the European Centre for Allergy Research Foundation.
After a bit of research I'm happy to learn that top colourist to Sydney's elite and owner of La Boutique, Belinda Jeffrey, has been trialling it on her clients with great results. I've known Belinda for years and I can't wait to get back in her chair. A couple of weeks later, I head in to La Boutique for my appointment.  I download to Belinda about my dye phobia. She nods knowingly.
"I would say 70% of my clients have irritated scalps and I think that number is getting larger," she says sympathetically. "I've been doing colour for 25 years but in the last five years I've noticed a change. I don't know if it's because of our diets, or us being more aware, but our lifestyles have changed and we're trying to get a balance and we really analyse what's in our products now."
I agree.  Since having Max I've been more aware of the ingredients in my beauty routine. There was something about having a person grow inside me that made me finally sit up and actually take notice of what I was putting on my skin and hair.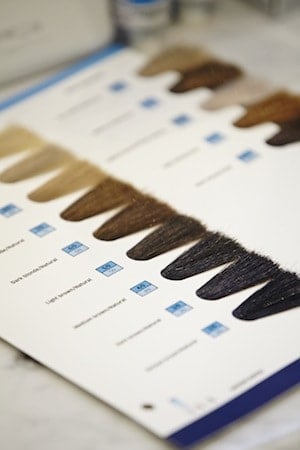 "I've been playing with the KP Innosense for a few months and the result of the colour is great," she continues, while expertly parting my hair and examining the roots. "I love that I can use this right on the scalp and it's not less likely to cause irritation. It's less damaging, there's less stressing out the hair and great coverage for people who are going grey…" she says, smiling at me, pointedly (did I imagine that?) "So what are we going to do today?"
This appointment comes a few days before a big European trip that I've been planning for months. With the creeping chill setting in around me and my fantasies about exploring the verdant coves of Lake Como, I'm definitely feeling the need for something lighter, something warmer, I tell Belinda.
"Let's do fine highlights – not bleach – the lighter blonde level, and a caramel, and a honey," she reels off confidently – partly to me, partly to an assistant who is mixing up her colours. "We'll foil it through, then I'll go through and do the roots with a nice natural warm brown and a clear gloss over the top. It will be a little bit Miranda Kerr – when she goes the lighter side of things, not quite as light as Gisele…" She pauses thoughtfully. "Maybe JLo is a good example. A brunette base, with lots of different tones of highlights through it. It will bring your skin and just give you a bit of warmth."
As Belinda starts painting the colour on and folding squares of foil around each section, I'm handed a Samsung tablet with a pair of headphones and a meditation especially created for Wella's launch of KP Innosense by Aurora Spas founder Lyndall Mitchell encouraging me to "take ten". I close my eyes and bliss out.
When I open my eyes, I suddenly realise that my scalp hasn't ignited. I've been so relaxed that I haven't given any thought to the fact that normally I'd be dousing myself with a fire extinguisher at this point. As I comfortably sit and catch up on a few emails I realise that, I'm wondrously, amazingly, completely cool with the fact that I have hair dye slathered all over my scalp. When it's time for my wash with Rodney for once I don't push any people out of the way in my rush to get to the basin.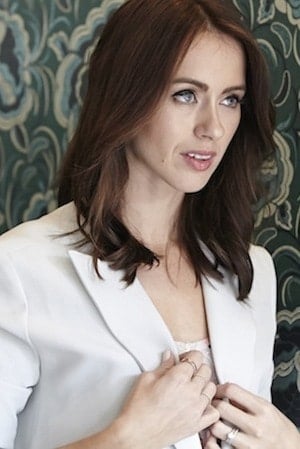 After a quick trim and blowdry with senior hairstylist, Jesse, I admire my new colour. It's glorious. The perfect mix of brown lusciousness with heavenly golden highlights. The colours are glossy, like an oozy, gooey Messina chocolate gelato with swirls of biscuit and salted caramel and cappuccino cream. The best part? There's no accompanying fire and brimstone this time. Just a burning desire for gelato. But who needs Messina when you're going to Italy?
Wella Professionals KP Innosense is available at Wella salons nationwide, talk to your colourist for more information or go to http://www.wella.com/professional/en-US/salon-finder
Photography by Daniel Gurton. Hair by Belinda Jeffrey and Jesse Furlan; Makeup by Nicole Abela; Styling by Lydia Jane Saunders. Sigourney wears Maticevski Jacket and Kaliver top. Sponsored by Wella.