Here in the Beauticate office we certainly know our teas – our dedicated, carefully curated tea drawer is testament to the fact. Of course, being in the business of beauty, our favourite blends are those that keep skin glowing and smell beautiful while helping to combat skin-sabotaging sugar cravings. In a bid to edit our collection down to only the best performing brews, we poured our top picks into the new Wedgwood Tea Garden Collection – a stunning fine bone china tea set with four different prints inspired by flora, fauna and fruit. Drinking tea from a treasured teacup (with matching saucer, of course) elevates a daily habit into a considered ritual. Not only is there something about delicate china that just makes the tea taste better, a good set is fabulous desk fodder. Here, our edit of the best beauty and health teas you need to try now.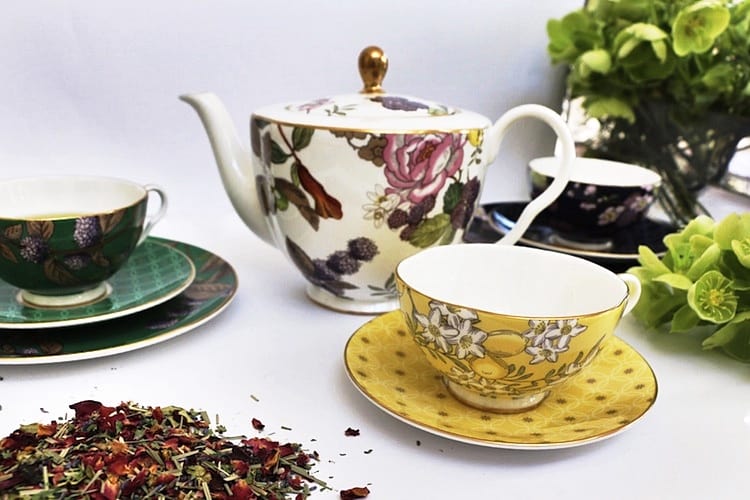 IT'S ALWAYS TIME FOR TEA WITH THE BEAUTIFUL WEDGWOOD TEA GARDEN COLLECTION
THE SKIN DEFENCE TEA
The Wedgwood Tea Garden Green Tea & Mint Three Piece Set is the perfect partner for green tea. The most potent of the green tea family is the Japanese varietal Matcha. Often made into a dissolvable stone-ground powder rather than in a bag or in leaves – Matcha Maiden Matcha Green Tea Powder is helps take care of the weather-ravaged skin, and is also believed to help prevent illness and boost memory and concentration.
Serve with a side of: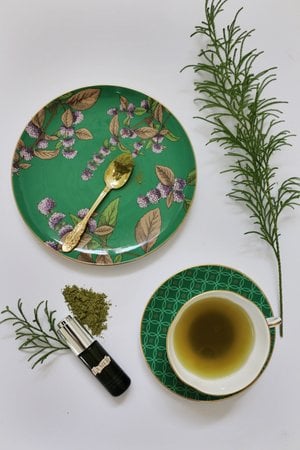 THE PERFUME-LOVERS TEA
As pretty as a fist full of garden roses – the Raspberry 3 Piece Set features a stunning floral design that just begs to be filled with a suitably feminine tea. We love Petal, a fragrant, calming and relaxing blend by herbalist Penelope Sachs. The nearly-too-pretty-drink blend of rose petals, lavender and rosehips soothe, while lemongrass refreshes and adds an exotic scent, leaving you feeling a little like you're sipping a bottle of perfume (in the nicest possible way.)
Serve with a side of: