When The Mulia offered me a stay at their luxurious resort in Nusa Dua, Bali, I agreed - on one proviso. That they also host one of my loyal Beauticate readers and a friend. After all, it's unfair for me to have all the fun. Here, my experience at the epic property… this is one competition everyone will want to win.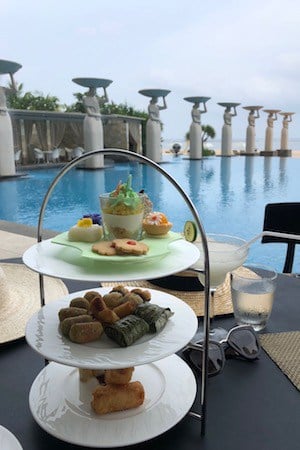 COMPLIMENTARY AFTERNOON TEA AT THE MULIA
Now, there are resorts. And then there are mega opulent uber-resorts.
The Mulia is one of these.  In 2014 it was voted No 1 Beach Resort in the World by the readers of Conde Nast Traveller and it is mammoth in it's sprawl. No expense was spared in its build, which features 745 rooms over 32 hectares. It's owned by a company in Jakarta that also produces marble and tiles, and it certainly shows.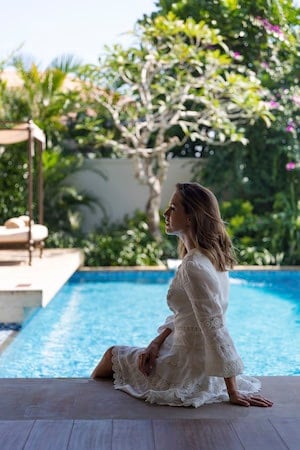 IN MY LUXE VILLA WEARING ZIMMERMAN
The resort is a gleaming advertisement for sleek stone finishes with epic lobbies…
…gargantuan pools (featuring the iconic statues of women baring offerings) and expansively tiled decors. The resort occupies a private stretch of beach in Nusa Dua off one of the famous surf breaks. As a result, it's also extremely safe and gentle, perfect for little ones or timid swimmers.
WEARING FELLA SWIMSUIT FALLEN BROKEN STREET HAT
Private cabanas line the pool swathed with billowing curtains.
There are three levels of accom: The Mulia Resort, which, with its enormous pool, kids club and splash pool is great for families. The Mulia, which is high end and exclusive – complete with poolside cabanas, opulent finishes and a butler service. And The Villas – perched on the hilltop, these are the ultimate in seclusion and sophistication. I'm staying at The Mulia for two nights then transferring to The Villas for another two. (Cue pinch-me moment.)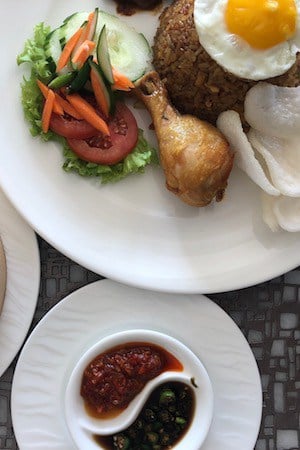 THE MULIA'S GLAM VERSION OF NASI GORENG
The first thing I do is order a Nasi Goreng – Indonesian fried rice with egg…
The food is pretty spectacular. We're talking indulgent and expansive buffets and a la carte featuring cuisine from all over the world. Their restaurant Soleil actually hosts a famous Sunday brunch that attracts hordes of hungry locals and visitors thanks to bottomless plates and free flowing drinks in a stunning setting.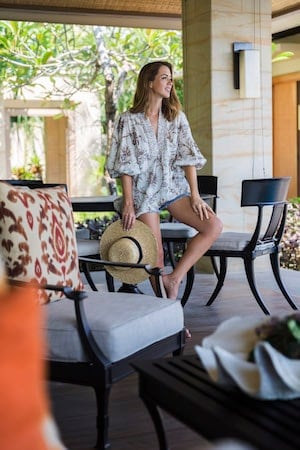 IKAT CUSHIONS IN THE VILLA. WEARING ZIMMERMANN
My room at The Mulia is elegant and enormous.
There are luxe finishes and decor and a balcony with its own jacuzzi and view over the pool to the beach beyond.
Special mention must also be given to the Toto toilets which feature throughout the resort. If you've never experienced the Japanese bottom-washing toilets it's certainly a…refreshing experience. I'll never forget the surprised scream from a Soleil brunch patron in the cubicle next door as she had her first experience with Toto!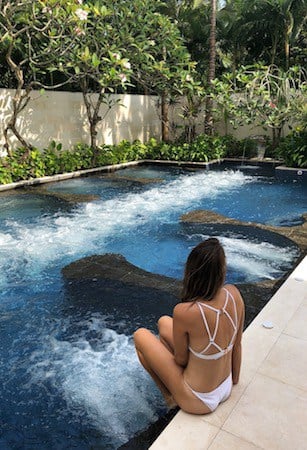 THE SPA FEATURES INCREDIBLE HYDROTHERAPY POOLS
The spa is world class with a hydrotherapy pool, steam and ice rooms.
On day three it's time to move rooms, but alas, I haven't had time to pack. Not to worry, my butler has it sorted, he will pack and unpack my bags for me, so I can spend more time poolside.
And that I do – the Mulia has several rows of private cabanas – with wide sun-drenched day beds, chilled water and fruit skewers on offer. And s the Beauticate office gets a pretty idyllic facelift for the day.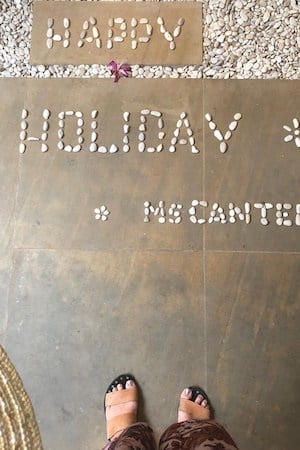 THOUGHTFUL TOUCHES MAKE YOU FEEL AT HOME
My first impression of the Villa is one to remember
– and is indicative of the level of detail that Mulia staff go to. At the front door on the floor, white pebbles spell out "Happy Holiday Ms Cantelo".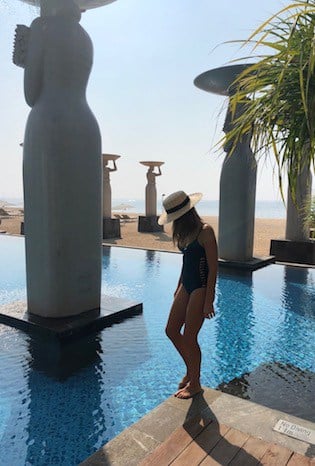 THE POOL IS THE PERFECT TEMPERATURE
I open carved beige doors into a manicured tropical garden.
Enormous white flagstones mark out my path to an outdoor living room, with a deep couch, a stunning dining table all around an extra long plunge pool – complete with a wave machine to make it into a lap pool.
I have not one, but two day beds and the lush garden comes complete with fragrant frangipanis and electric pink bougainvillea. Inside it's more refined furniture, a roomy lounge room, another one of those heavenly beds, a dressing room with walk in wardrobe and finally, the crème de la crème –an enormous spa bath.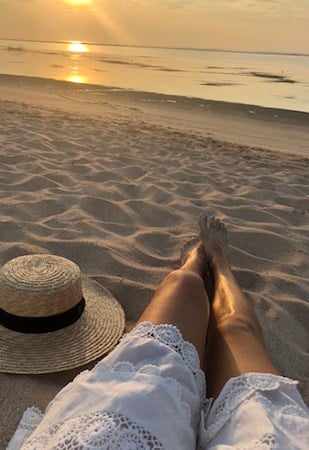 The three hour time difference makes waking at sunrise a breeze – and well worth it for this view…
By day four, I've eaten so much food that even a daily gym or yoga session shows no signs of combatting it. I've tried every Asian breakfast on the menu: Korean, Chinese, Japanese and Indonesian and have pushed my villa's WIFI to it's absolute limits attempting to work and Skype the family. Sadly, it's time to go home.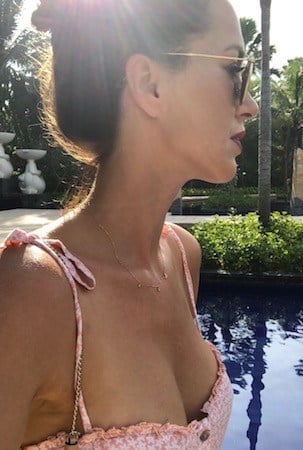 But not before a quick drive by of a dance party…
Seriously! The afternoon I leave The Mulia is launching its new Cafe Mambo Ibiza – hosted by the legendary Ibiza DJs. As I sip a Mojito and take a lap around, it's hard to believe that pool, currently filled with inflatables and tanned, beautiful people, is usually a chilled out resort pool. It's morphed successfully into a clubbing hotspot – showing yet another side to this multifaceted super resort. And that's really the point – no matter what you're into, The Mulia have got you covered. Now that's what you want when you're on holidays.
Story by Sigourney Cantelo