My scalp has caused me no end of trouble. For my entire adult life I've suffered with an itchy, dry and irritated scalp. Sometimes it would get so bad it felt like my scalp was on fire. I never know exactly what causes it as it randomly seems to flare up when I'm extra stressed or when there's a change in weather. And I know I'm not alone – whenever I bemoan my issues in the hairdressers chair others will confess the same trauma.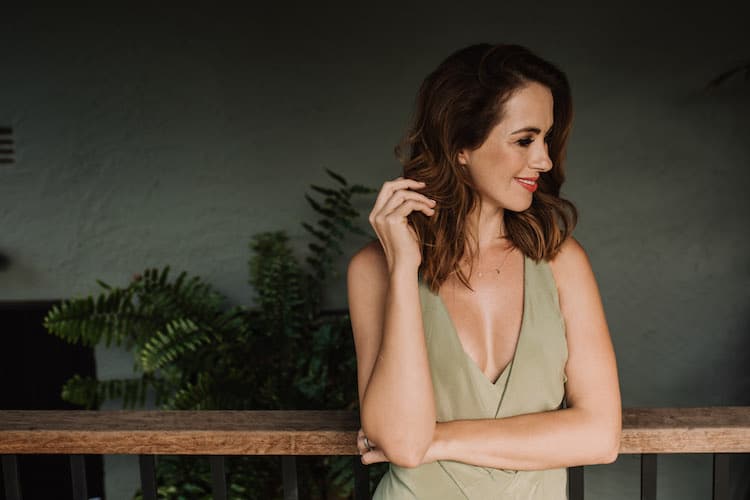 It got to the point where I couldn't use any regular shampoos as they would send my scalp into itch-mode – it got so bad sometimes it would result in red sores. Even the most gentle, sulphate-free formulas gave me grief.
It must be hereditary as my mum suffers from it too (and now poor Lulu is showing signs). Over the years mum and I managed it with different things – from a cortisone lotion we bought in bulk from the US to a rotating roster of specialised shampoos. We're talking coal tar, selenium sulphide, zinc pyrithione, and how they stink! (Not to mention all those ugly bottles in your shower.) The combo of harsh shampoos was positively wrenching the colour out of my hair, I could practically see it washing down the drain.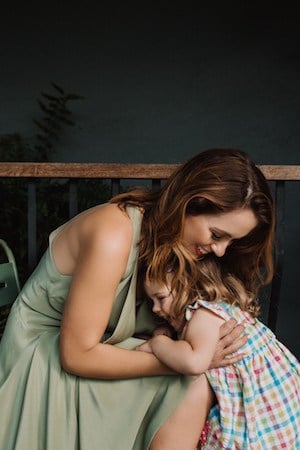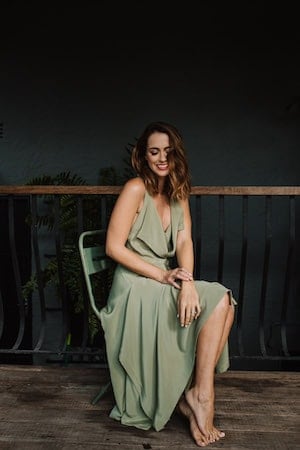 Then, one day, mum called me breathlessly and said, "Sig, I've got it. I've found a product that fixes my scalp! It's called MooGoo Shampoo. You have to get it." I headed straight to the chemist and bought the bumper bottle home with high hopes. The Moogoo shampoo contains a very mild blend of coconut and glucose-derived cleansers specifically designed for people with sensitive scalps. I jumped in the shower and pumped out the beautiful softly-fragranced (it smells a little like milk bottle lollies) and…
Halle-moo-ing-lujah, she was right! In the weeks that followed I also tried the Moogoo Scalp Cream, which was specifically formulated for cradle cap in infants and seborrheic dermatitis in adults. The actives? Olive oil and coconut oil. I was hooked. Finally the fire was out. A few years later and I'm still using them. My scalp usually flares up if I use another shampoo but I return to the MooGoo Shampoo and it all calms down.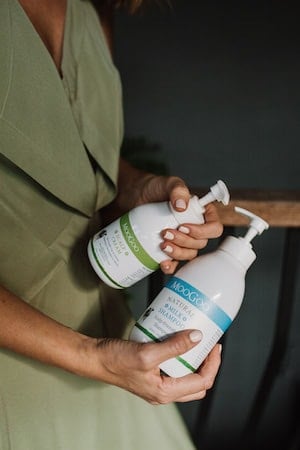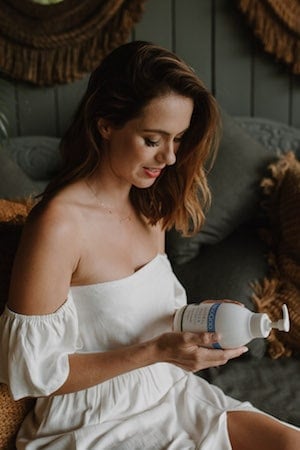 Shop: get 25% of all MooGoo Scalp range simply enter the code MOOGOOSCALPLOVE
I was intrigued. Some more research into the company unearthed dozens of testimonials online, with people claiming Moogoo had changed their lives – from scalp psoriasis to eczema all over their body. I couldn't believe I'd never heard of this little Queensland brand that was getting rave reviews across the world. I called MooGoo HQ on the Gold Coast and had a lengthy chat to their marketing manager Megan, who told me the story behind the moogoo shampoo, which is really sweet.
Back in 2005, the founder – Craig Jones – noticed that his mum, who suffered from psoriasis, had been using a greasy white cream that was originally formulated for use on cows udders to keep them in good condition for milking. But it was way too thick and greasy. Being on a break from his job as an RAAF pilot, Craig decided to create a nicer-to-use formulation. He did some research into natural ingredients and started freestyling on his mum's kitchen stove. The result? The brands original Udder Cream, and still a keystone of the brand. His wife nicknamed it MooGoo and the name stuck.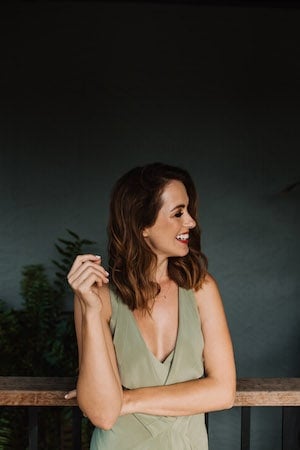 Since then, the brand has grown in leaps and bounds, and ships their skin-rescuing bounty all over the world. I also really love that their company ethos is rock solid. They frequently choose to put safe ingredients and the environment over profit and have added over 40 products to their growing range including natural toothpastes, deodorants and sunscreens. (I'll tell you about some of my other favourites in the coming months…)
I told the team that I loved the Moogoo products so much, I wanted to share them with my readers. And so – in the generous spirit of the brand, they're offering our readers 25% off all scalp products – just use the code MOOGOOSCALPLOVE when checking out. Even if you don't have scalp issues the Moogoo Shampoo and Moogoo Scalp Cream are beautiful products to use on the whole family that contain safe ingredients that aren't harmful to the earth or humans and the best bit? They leave my hair feeling beautiful. Which is more than you can ask of any hair product, really.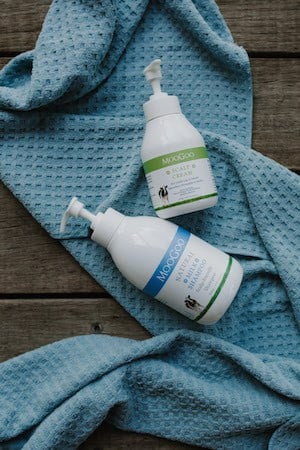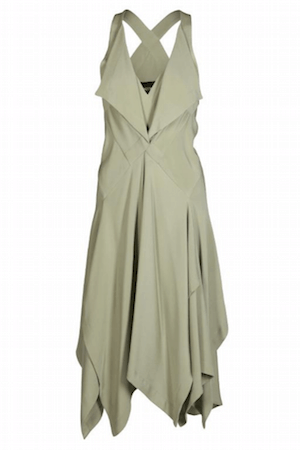 DRESS BY KIT X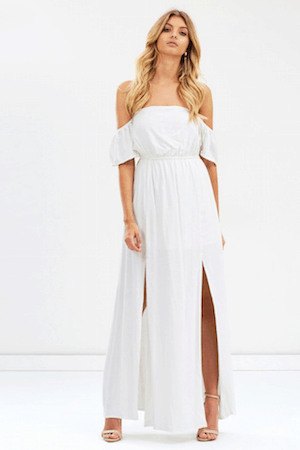 WHITE DRESS BY ATMOS & HERE
Story by Sigourney Cantelo. Photography by Alice Mahran. Hair and makeup by Yolanda Lukowski. Shot on Location at the beautiful La Piscine – a holiday home available for rent through Contemporary Hotels.
In Association with MooGoo.