When the team at Minenssey called me to let me know they had partnered with fashion designer Michael Lo Sordo for Fashion Week, I couldn't have been happier for the brand. It was a marketing coup and a total no-brainer – Lo Sordo's luxurious designs couldn't have found a more appropriate partner in Minenssey, or a better prep for the models' skin.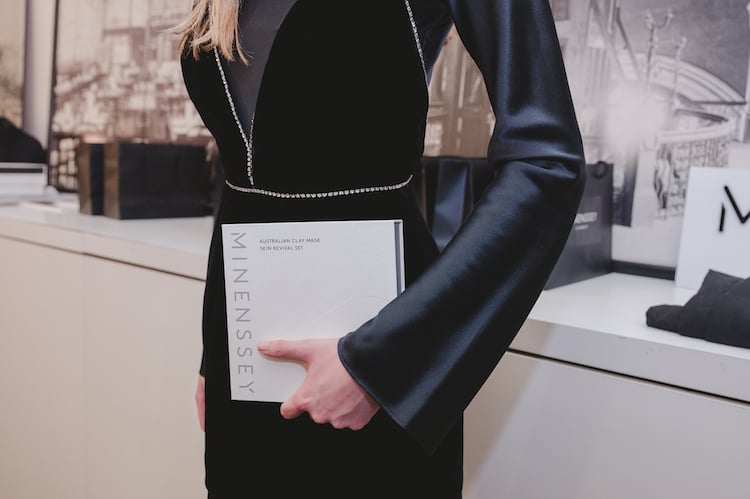 They had two questions for me: Would I mind going backstage at the show to report on the looks, and would I have time to go in for a fitting to be dressed for the show? Um…let me think about that for a minute.
A week later I front up to sleek PR agency Marie-Claude Mallat who look after Michael Lo Sordo. PR rep Hannah walks me through two colourful racks loaded with incredible Lo Sordo outfits to choose from. I'm torn between a sharply tailored black trouser jumpsuit, and a purple silk camisole and matching pants, so Hannah sweetly lets me take both of them, along with a Balmain blazer sourced from one of their other clients, Vestiaire Collective.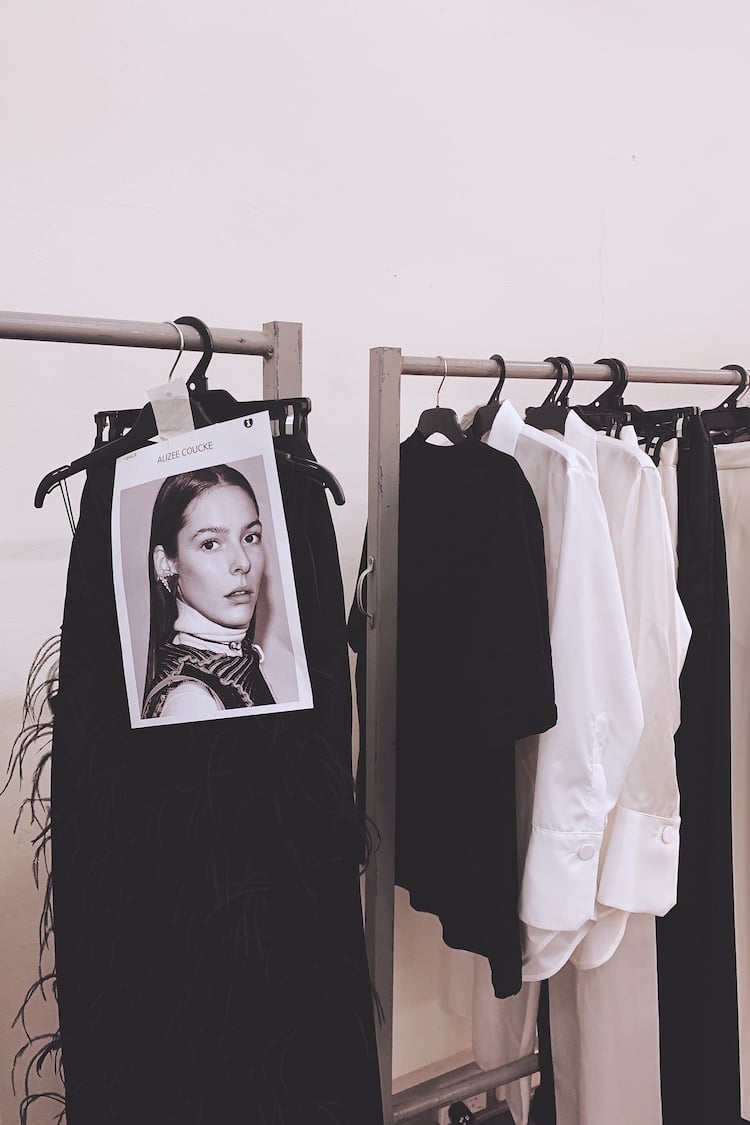 Game night arrives and after a full day of traipsing around at Fashion Week I race home for a quick change and skin reboot. Naturally I do a cleanse and paint on the Minenssey Rejuvenating Mask around my eyes and cheeks (my favourite for putting a spark back into skin. And the rose scent is so calming), while focusing the purifying Deep Cleansing Mask on my T-zone to make sure I stay shine-free for the evening. My hair and makeup artist Jess Diez does my hair while we wait for the mask to do its thing.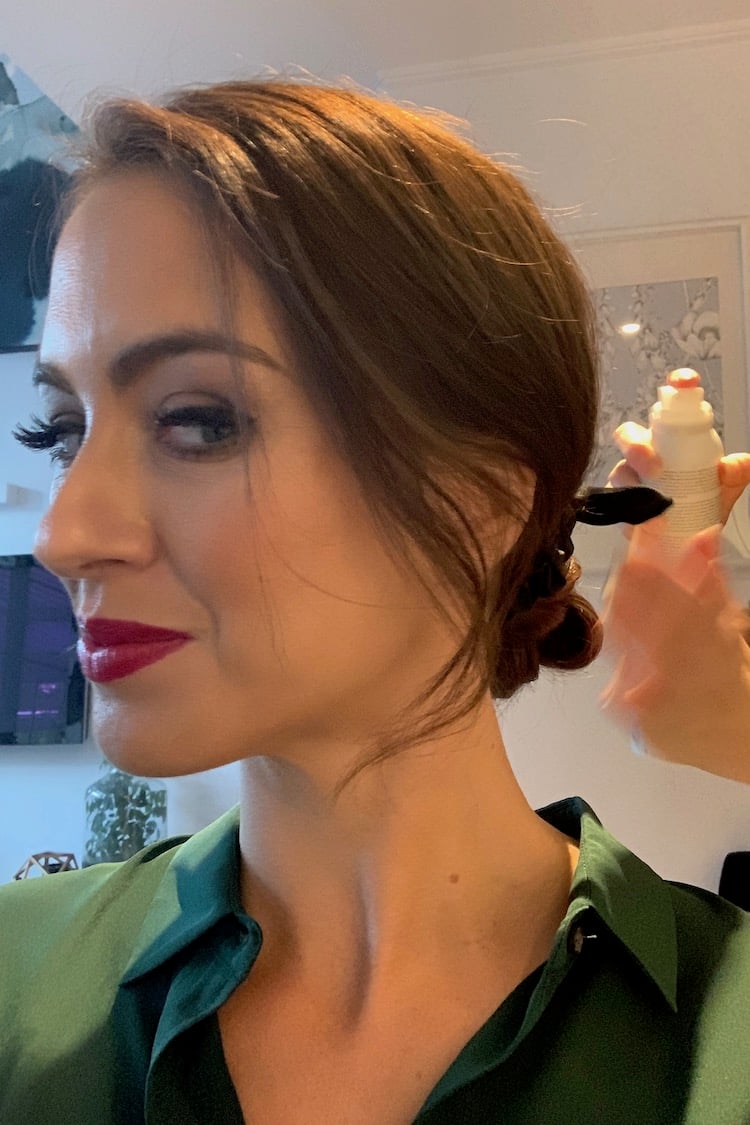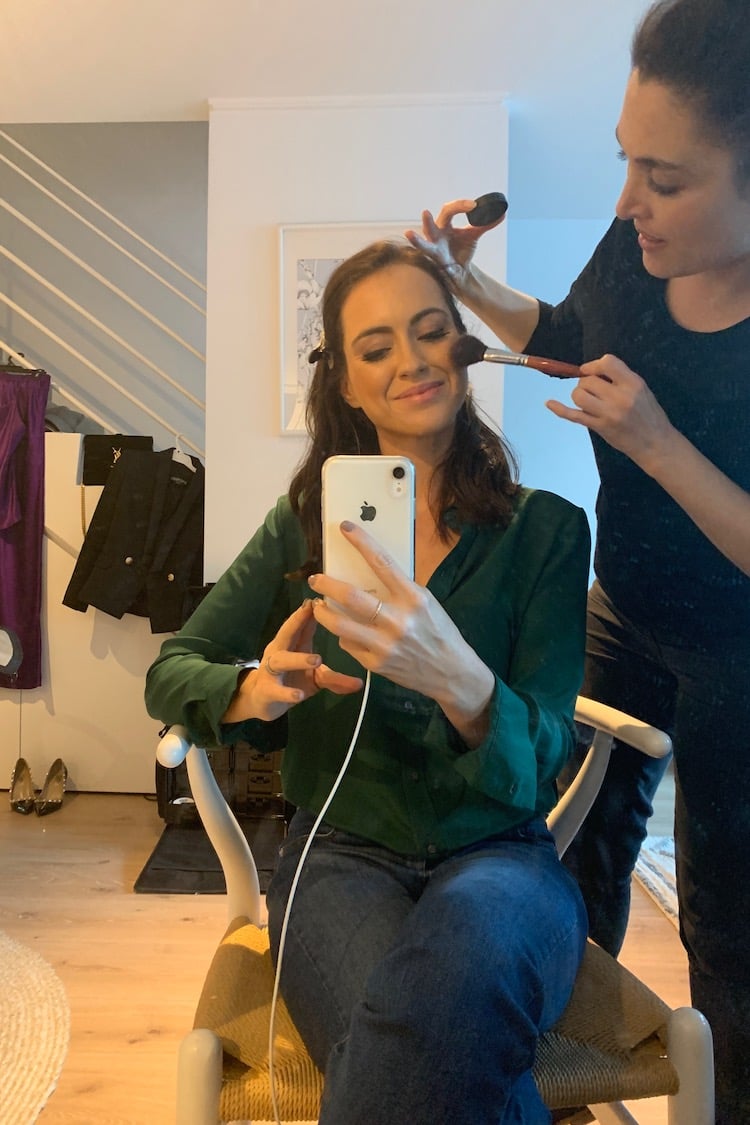 She sweeps my hair up into a sleek chignon and secures it with a velvet bow. I've decided to go with the purple silk Lo Sordo outfit – so the look is a bit eighties power glam. We pop a couple of drops of the Flannel Flower Absolute on before my foundation to give it a bit more luminosity – it's ideal for long-lasting hydration.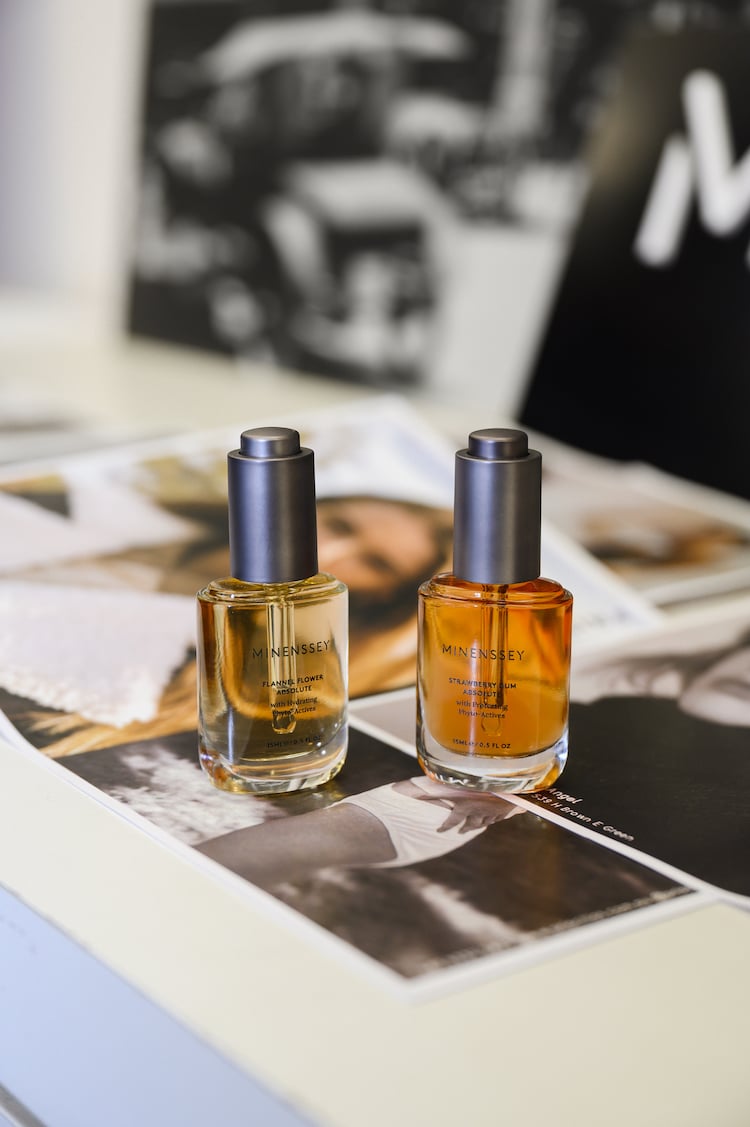 And then it's into the car and off to Reign Champagne Bar at the QVB – the stunning setting for the show. I peek in on my way upstairs and the venue's perimeter has been lined with white chairs, each holding a black Minenssey bag containing the new Clay Mask Skin Revival Set containing all four of the masks (designed to be used over three weeks to mirror the skin's natural regeneration cycle) and an Absolute for the fashion crew to take home. It's the ultimate product positioning and is perfectly at home with the monochrome branding.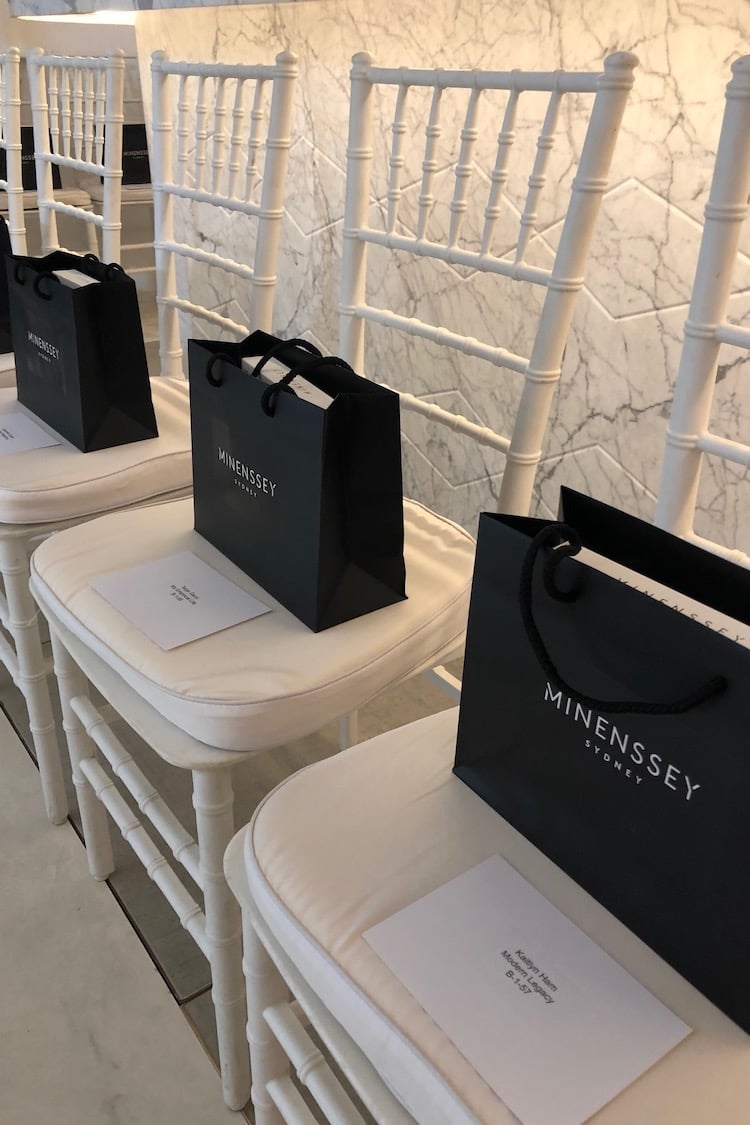 Makeup artist extraordinaire Victoria Baron is backstage, working her magic on the models, prepping their skin with Absolutes for a much needed Fashion Week hydration top-up. One model races in – flustered and late from her prior show. Her forehead is shiny and her cheeks are red, which I suspect is an irritation from too much makeup. She looks exhausted. Vic's team massage in a few drops of Flannel Flower Absolute – ten minutes later the redness has gone, her skin is dewy and looks rebalanced and happy. This is definitely a product I'll be using to nourish my skin pre-makeup for glowing skin all winter.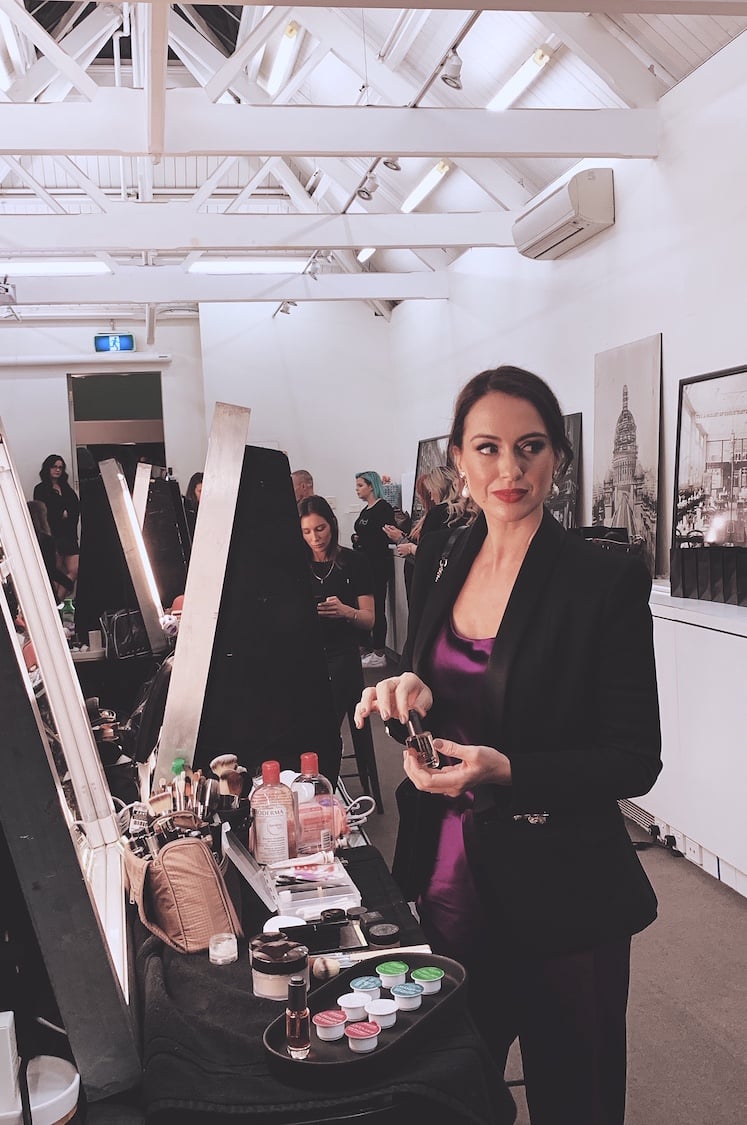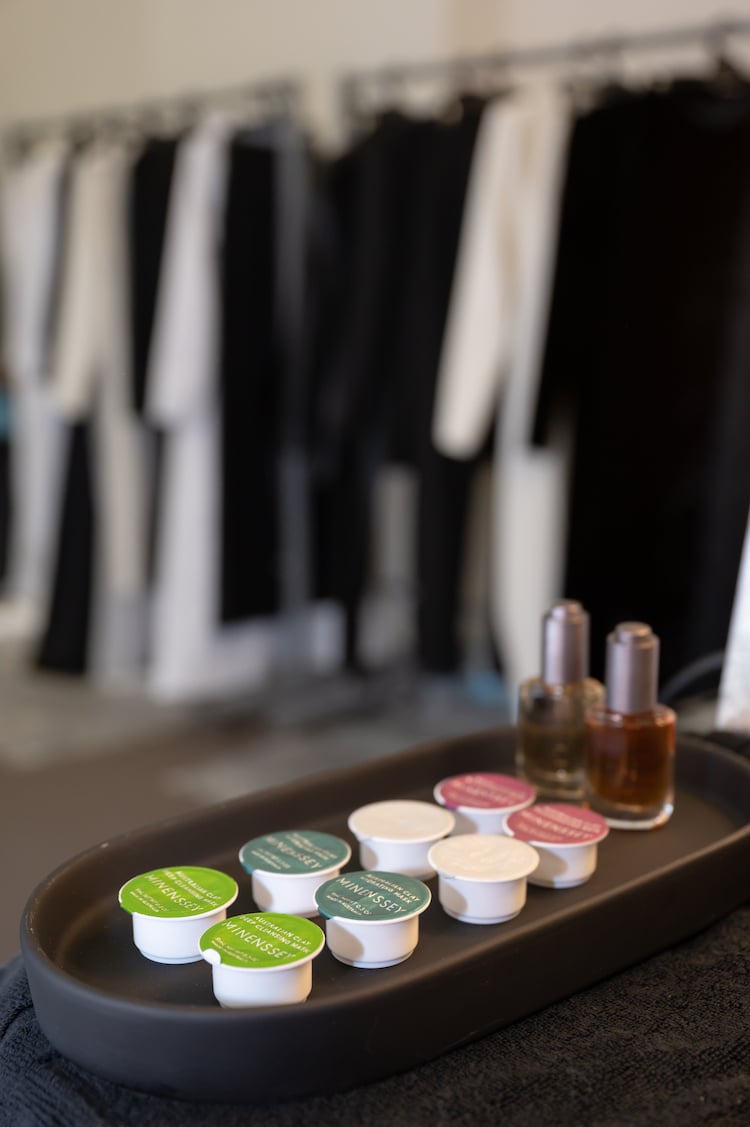 As I tour around the models while chatting to them about the product, they're all super excited to try it and comment on the clever single-use pods and beautiful aromas. I also give a few of the girls Absolutes to take home, explaining that these potent botanical extracts should be used after cleansing and before serums so their skin can absorb as much of the pure plant nutrients as possible. After all the masks are removed Vic actually mixes a drop of Absolute with Clé De Peau foundation to create a beautifully dewy and hydrated complexion – another backstage hack I'll be borrowing.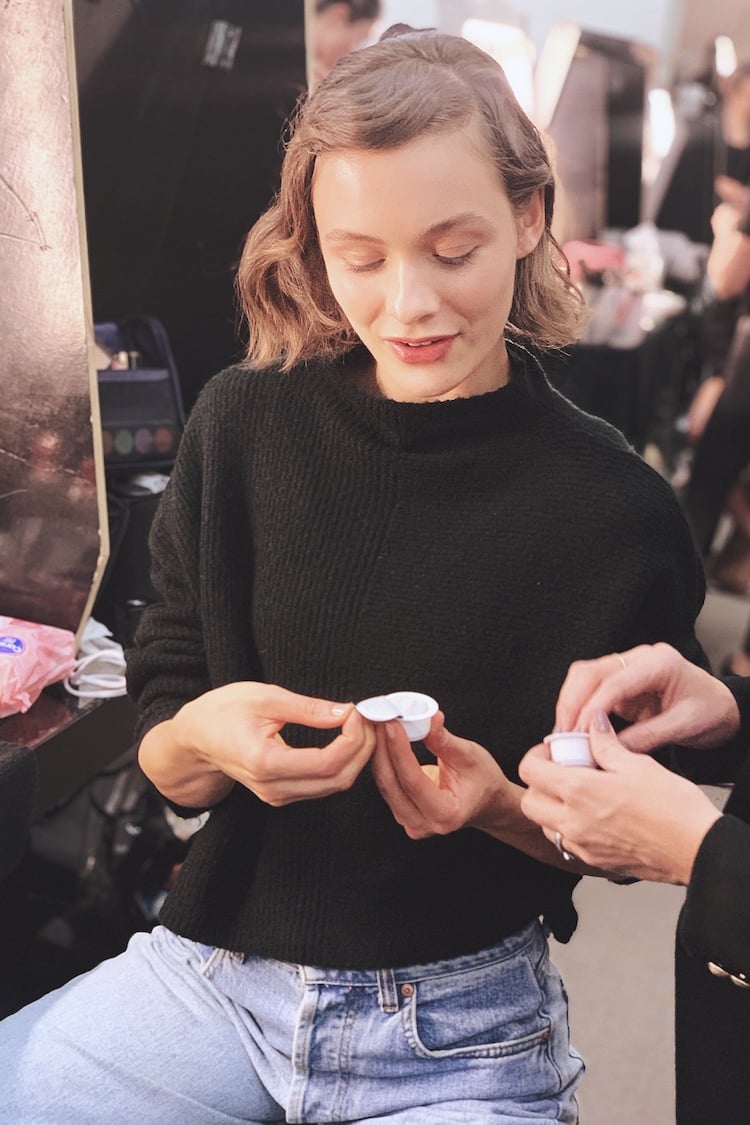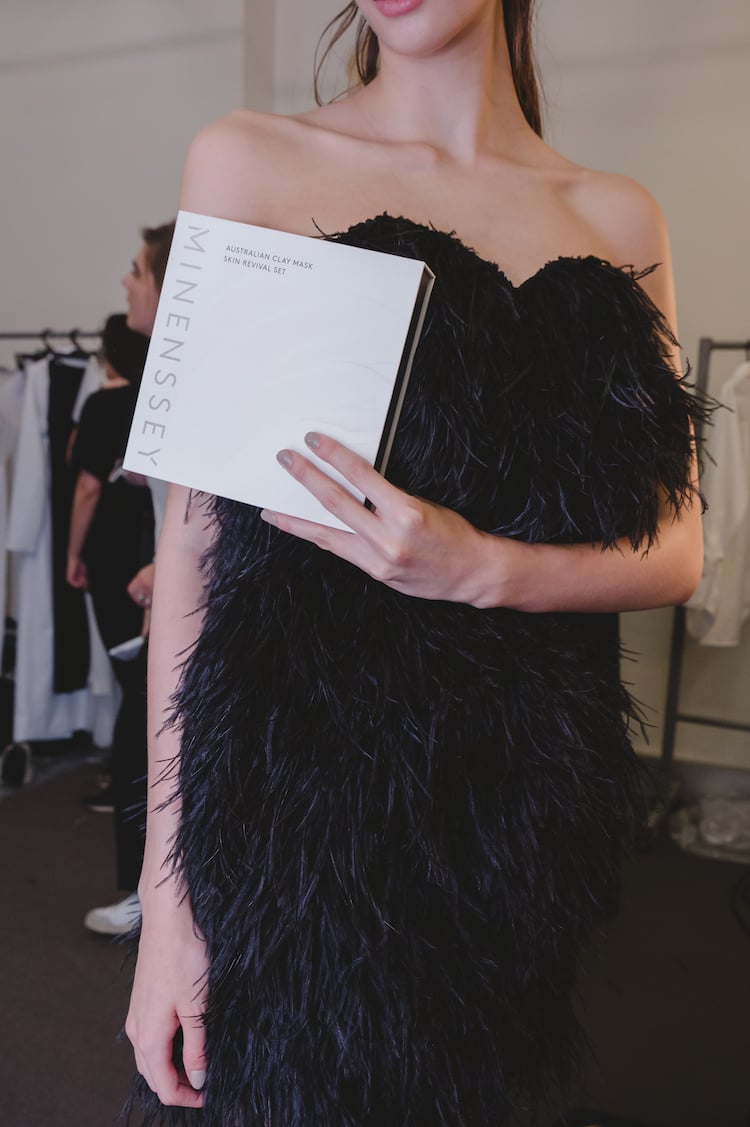 I linger over the clothing racks as I head out to take my seat. Just like with the Minenssey branding, everything is in crisp tones of black and white. There are luxurious fabrications: silks, feathers and beading worked back with sharp suiting. I want to buy it all immediately (occupational hazard!), but now all that's left to do is to take my seat beside Minenssey founder Cheryl and enjoy the show.