One of Australia's most adored dayspas, Aurora, originally opened in 1997 but moved to its current St. Kilda location in 2000. Located in the hip Prince Of Wales Hotel, the spa has managed to keep up its flawless reputation and even with minimal updates to the décor, it has kept its sense of fresh, cutting-edge cool that was a drawcard when it first opened.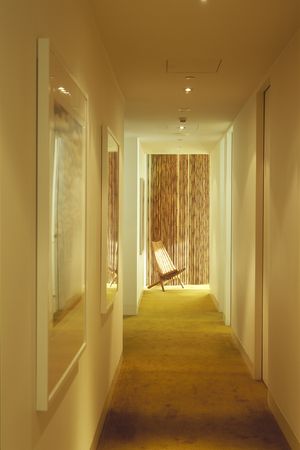 THE DAYSPA IS LIGHT AND BRIGHT
Walking through the dark and broody lobby of the Price and up a black cement staircase, I have a sense of shedding the urban doldrums. The day outside is typically bleak for Melbourne, and I can't wait to step into the cloistered confines of the spa. The reception area is hidden behind a glass wall of rushing water that advertises Aurora Spa, and again, I get the feeling of transformation, a moving through the elements, as I step inside the brightly lit space.
My therapist, Penelope, leads me into a change room where I'm given a white waffle cotton robe and some slippers to change into. I note the cute little locker key rings are duck-shaped nailbrushes, a quirky element to keep your keys close by. Once changed, it's into the chill out lounge, which enjoys views over St. Kilda towards Melbourne's CBD.  Carved wooden shutters add a sculptural artsy vibe to the view. Sleek leather chairs invite sleepy pre and post-treatment lingering and inspirational books scattered on the tables leave you feeling uplifted and ready to face the world again. I sip an Aurora signature blend tea – a mix of chamomile, spearmint and lemon balm – and count down the seconds to my treatment.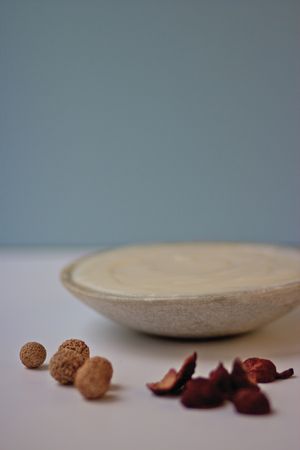 THE SPA USES ITS OWN RANGE ASPAR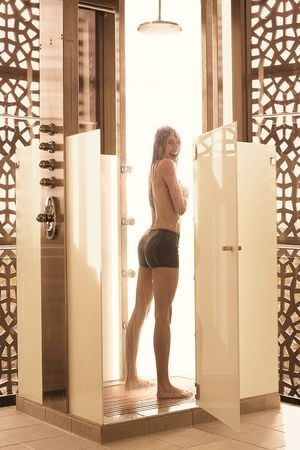 SHOWERS LOOK OUT TO THE DECK
Once inside the treatment room and nestled into the cushy bed, Penelope begins the massage, her hands moving around my body rhythmically. I soon zone out completely and actually fall asleep – which happens rarely for me, during a beauty treatment. What must be an hour later she gently squeezes my arm to tell me that she'll wait for me outside. Apart from my neck and back feeling much better than when I walked in, I have vague memories of sensorial deliciousness and a complete and overwhelming sense of calm and wellbeing. I levitate back out to the chill out room and spend a good twenty minutes sipping tea and radiating happiness.
Aurora is the perfect spot to escape the grind and completely check out of life for a while. The treatments range from the sublime (The famous Kitya Karnu Signature treatment takes place in the steam room and involves a full body scrub, a hair mask and cold stone rebalancing ritual) to the ridiculously relaxing (manicures and pedicures are given in lazy boy chairs that recline fully so you can doze and wake up with fresh tips).  They also offer popular cosmeceutical facials with Kerstin Florian as well as incredible body treatments using their own range of products, ASPAR, that utilises delectable-smelling Australian Native ingredients. As I leave, I'm told that there's actually another Aurora Spa located in the Palazzo Versace Hotel on The Gold Coast – and as I head out, fully revived, into the grey Melbourne Day, I mentally add it to my ever-growing beauty bucket list. The Aurora experience is definitely one worth seeking out.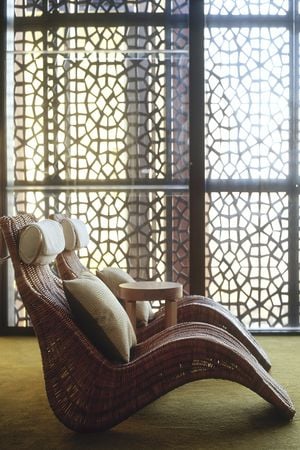 COUNTLESS OPTIONS FOR REST AND REFLECTION