Located in the lovely, ladylike hotel The Langham is the equally refined Chuan Dayspa. The Chuan Spas are the beauty signature of The Langham hotels worldwide and are synonymous with efficacious and time-revered treatments with a modern Chinese twist.
I'm in Melbourne on business with my colleague Analise and we've decided to stay at the Langham in Southbank. The grand hotel in the popular and convenient Southbank precinct has a reputation for exceptional service. I've been keen to try their Chuan Spa, as I've heard they're particularly good at massage – my beauty treatment of choice. I'm always seeking out a good backrub and with my pregnancy at 35 weeks, I'm feeling achier than ever.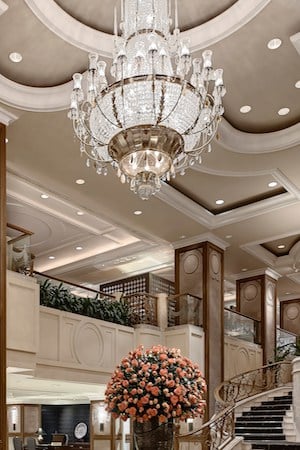 GLITTERING CHANDELIERS ADORN THE HOTEL FOYER
Stepping into the hotel from the ground floor I immediately notice a delicious rose fragrance, that seems to be everywhere without being overpowering. The attention paid to the oft-neglected olfactory sense is one of my favourite things about luxury hotels – it's all terribly polite. As if to emphasize the message, there are towering vases of roses and lilies greeting us as we step inside the marble entryway. Glittering chandeliers sparkle overhead and mirrored surfaces make the most of the light.
Once we emerge from the lift, the spa has a decidedly different vibe. Inside it's all deep mahogany, russet and jade tones offset with gentle lighting. After donning our fluffy robes and Sensi reflexology sandals Analise and I retire to the relaxation room to wait for our treatment. She is having the spa's famous Jing Luo, which is a 90-minute reflexology treatment that combines hot stones and Chinese herbs, which is meant to balance your energy (chi) and strengthen the immune system. Sadly I'm unable to have it during pregnancy as certain reflexology points could induce labour, so I tell her that I want a full report at the other end.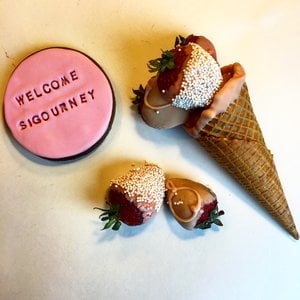 SIGOURNEY WAS WELCOMED WITH SOME DELICIOUS GOODIES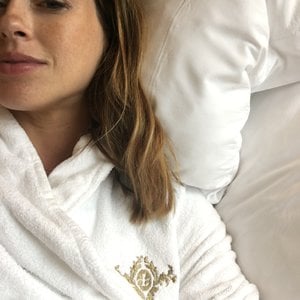 SIGOURNEY ENJOYING HER SPA TREATMENT IN STYLE
Around the corner is the spectacular Jacuzzi pool which is open to guests of the spa. Most visitors enjoy a massage and then hang out in the spas and steam rooms post-treatment. The Langham offer a pool membership which includes complimentary water, an icy pole and fresh towels and there are also gift vouchers available through langhamgifts.com. My therapist Rani is a beautiful girl with almond eyes and a soft, gentle voice. I can immediately tell she has that special healing gift of touch that some therapists have.
When we enter the treatment room and I catch sight of the bed I almost hug Rani – they have set it up with a special pregnancy pillow with a hole for your stomach, that allows you to lie face down. I can't tell you how amazing it is to lie on your tummy in those last weeks of pregnancy.
As soon as she lays her hands on my shoulders I can tell I'm in for a treat. Over the next 90 minutes she diligently addresses multiple areas of tension in my neck, shoulders, hips and lower back, using a deliciously heated Salus aromatherapy-free body oil that's safe for pregnancy. The time goes by in a flash, but I know I'm suitably comatosed when I struggle to get off the bed.
After about five minutes of psyching myself up, I groggily stumble out to the relaxation room and sit there in a blissful contented stupor. Rani hands me a strawberry-spiked water and I sip it gratefully. Analise looks similarly stunned when she staggers onto the bed next to me. She says that it was amazing having all that attention paid to her feet – and as an avid high heel wearer, it's an even greater treat. We agree that we're not sure how we're going to make it to our next meeting, but thankfully we don't have to go far, we're catching up over high tea in the Aria restaurant on level 1.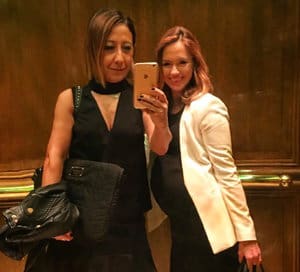 ANALISE AND SIGOURNEY ENJOYING THEM POST PAMPER FEELS
After a leisurely meeting fuelled by delicate chocolate tarts, macaroons and aromatic tea, we retire to our rooms to dress for dinner. I take in the magnificent Yarra river view from my window, and, as the day dims, Melbourne is spread out before me glittering in all her splendour.  As we head out to explore the cool hidden laneways for dinner, I can't shake that sense of relaxed contentedness. A good massage makes everything better. I'll certainly be booking in again at the Chuan Spa.
CONTACT
Level 9, 1 Southgate Avenue, Southbank
Melbourne, Victoria 3006, Australia
(03) 8696 8111
Review by Sigourney Cantelo