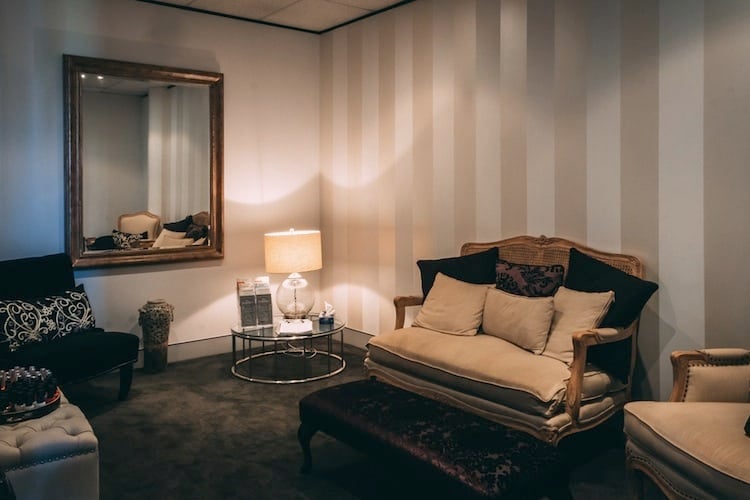 Tucked into a plaza off the busy Central Coast Highway in Erina is an institution devoted to downtime that has been tending to the local ladies' collective dermis for over 14 years. With its French inspired interiors and glittering chandeliers, Five Star Day Spa takes its luxe namesake seriously, but the thing they're really serious about here is skin.
I've chosen a pretty interesting day to try and check out of life and into a spa. I'm staying at a girlfriend's beach house in nearby Copacabana and both the kids have gastro. After briefing the babysitter, I sneak off, trying to shake my mother-guilt on the windy coastal drive.
However, when I step into the dimly-lit Five Star Day Spa with its inky walls and warm, smiling therapists, I start to feel the stress of the morning ebb away.  Owner Nicole Spargo (seriously, with a name like that, what else was she going to do?) takes me through to the relaxation room and gives me a cup of T2 Strawberries and Cream Tea, while telling me her story. She was an account manager in the beauty industry before taking over the spa from its previous owner. The first thing she did was bring Ultraceuticals on board as the professional range for facials, as she was so convinced of its efficacy.
"It's such a beautiful Australian made skincare line and it works really well," she says passionately. "Before I worked for Ultraceuticals, I came from another skincare line and I was seeing what the industry was wanting… clients are wanting fast results and Ultraceuticals are providing that."
She quickly tweaked the treatment menu, adding high performance add-ons to the signature facials, including microdermabrasion, LED light, Peels and A-zyme treatments to the roster. There's also a very whiz bang ultra sonophoresis machine, which is a low frequency ultrasound tool used to increase product penetration (it's apparently 1000 x more effectively than straight massage).
Today I'm having a Signature Ultraceuticals Facial minus any of the aforementioned super duper machinery as my skin is recovering from a laser treatment I had the other day. I don't mind, I'm just happy not to have someone throwing up on me.
As I step through to the opulent treatment room and sink onto the bed, I succumb happily to a mesmerizing sequence of silky lotions, warm compresses and hypnotic facial massage. When I'm roused from my stupor an hour later my skin feels like it's been reborn, and my mood has been well and truly restored in the process.
As I head out past the eight busy treatment rooms I make a note to self to come back and experience some of the other treatments on offer including mani-pedis, body scrubs, massage and maybe even a dual steam and vichy in the wet room Nicole is installing. Maybe I'll save that one for a weekend without the kids.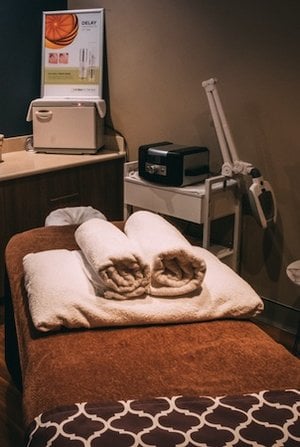 CONTACT:
148 Central Coast Highway
1a, Fountain Plaza
Erina NSW 2250
Review by Sigourney Cantelo