Set in the heart of Hobart city centre at 38 Elizabeth Street, the Savoy Day Spa boasts a heated ozone-treated pool, large traditional Swedish stone massage room, therapeutic steam room and two spa tubs in which to submerge one's stressed self. It was only renovated towards the end of 2014 so the facilities still feel very new and shiny.
The USP at the Savoy Spa is the fact visitors can enjoy a dip in the pool pre or post-treatments since this is all-inclusive. Another temptation is that those who turn up on the day without a booking can gain admittance to the facilities with a casual pass costing $35.
One treatment that's worth mentioning – especially for those with a sweet tooth – is the World of Chocolates Massage. A Kona coffee body scrub, chocolate body wrap, white chocolate moisturising treatment and chocolate spice relaxation massage can all be indulged in here, without gaining a single calorie.
The Ultimate Spa Indulgence Package includes a luxurious full body Caribbean therapy Scrub, one hour relaxation massage and a Botanical Kinetics express facial. You can then sit back and allow the therapist to indulge in a little facial touch-up with the very effective natural mineral make-up.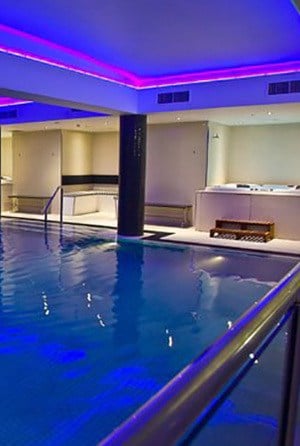 On arrival at the Savoy Day Spa you'll receive an exclusive blend of 'comforting' tea which you can sip while checking in and during a consultation with your therapist. Prepare for your treatment with a relaxing dip in the pool beforehand.
The Savoy Day Spa uses Aveda products and tailor the blend to each individual's needs. Sixty minutes of the Salon's Signature Massage (or 90 if you prefer) involves the use of lovely soothing therapeutic heat packs, a mixture of natural plant-based essential oils and a spot of Chakra tapping.
A nice variation on a stone massage is the Herb and Spice infused compress balls. These are gently steamed and then the therapist glides them over your body for a full 60 minutes of bliss.
Treatments are very much tailored towards pregnancy too with five different programs, covering every trimester, such as the natural Volcanic Pumice Polish in the first, second and third trimester, to the healing top-to-toe Radiant Recovery in the fourth trimester.
There are double treatment rooms and plenty of choice for couples if you fancy taking along a partner or friend. Do try the hot stone sauna and Swedish massage or the tingling and refreshing full body scrub and massage in the Mint Spa.
And, after your treatment, if you fancy honing your makeup application techniques then the Salon offers individual one-hour tutorials for $99, as well as brow and lash tints, so you can return to the world with your best face forward.
Review by Jill Sandringham