A calm and sleek oasis in the heart of East Sydney, Vaia Beauty offers a range of skin and wellness modalities under the one lofty terraced roof – from herbal health consults to infra red sauna sessions alongside customised facials and body treatments. The creation of experienced herbalist and skin sorceress Vaia Pappas, the clinic specialises in skin health and takes a uniquely holistic view of beauty therapy.
Stepping into the fresh white space, I'm instantly greeted with a hug from Vaia. I haven't seen her for a few years but I've never forgotten her facial massage. I first went to see Vaia in her tiny single-treatment roomed salon in Surry Hills over ten years ago. Her recent move into this stunning interior-designed building complete with marble bench tops, earthy finishes and Vaia's own artworks, has clearly been a labour of love. There are even plans to open a crèche here so mums can squeeze some pampering in and keep bubs close by.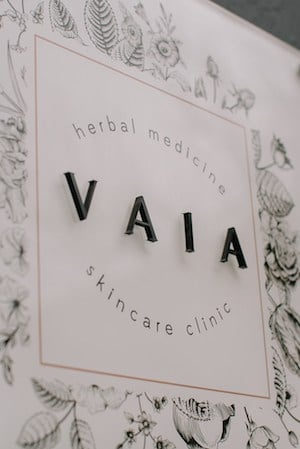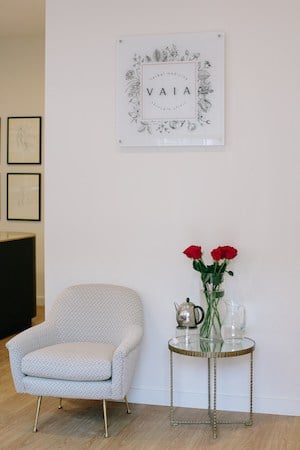 We head upstairs into Vaia's facial room – which feels a little like being welcomed into her home. There are bunches of fresh spring blooms and crystals arranged in clusters. A writing desk looks out to a balcony heaving with potted plants and there's a little bookcase packed with health and beauty tomes.
Today I'm booked in for the Ultraceuticals Signature Facial with a side of LED light. I nestle into the cushy treatment bed and we catch up on the last ten years while Vaia cleanses and massages my skin with expert strokes.
"The goal is pure relaxation today," she says soothingly when I ask about her philosophy, as she takes the massage down to my neck and shoulders. "But I guess it's just about really understanding and hearing a client's needs – understanding and guiding them. And delivering targeted skin results in the most natural way possible."
Vaia has developed a loyal customer base over 20 years in the industry thanks to an ability to diagnose and treat skin conditions from the inside out. Some of her best work has been treating acne, psoriasis, and rosacea – "I've even helped people fall pregnant who haven't been able to before," she adds mysteriously.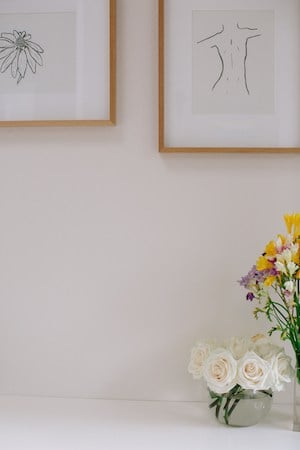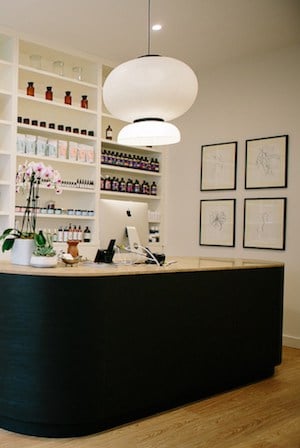 She orders pathology and analyses it to address underlying health issues then hand mixes liquid herbal formulas and prescribes appropriate skincare. She stocks her own products alongside active Australian range Ultraceuticals "I love that they use high-grade cosmetic ingredients and create potent formulations," she says as she applies a mask then massages my hands and feet with the Ultraceuticals Body Retexturising Complex. I start to drift off, time stands still and the minutes slip by in a haze.
When the sublime facial is finished, Vaia positions the LED light over my skin then kindly offers to repaint my chipped nails for me. There's a hilarious moment when we realize my nails are still wet and she will have to dress me. I feel like I'm five again but somehow it's not embarrassing.
There's something very nurturing about Vaia –part Greek mama, part witchdoctor, she has that ancient gift of the healer – which is a rare thing these days. I love that you can have a wellness consult with Vaia, but also get your beauty maintenance seen to at the same time – the salon also offers waxing, tinting, nails and tans. I vow to return soon to try a course of Infrared sauna sessions  – just sitting in it for forty minutes apparently burns 600 calories – winning!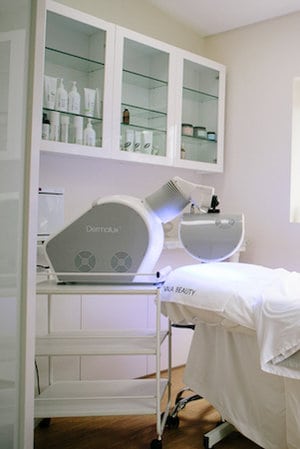 Downstairs at the counter Vaia loads me up with some glutathione to spray under my tongue (to help my liver detox) and some stock powder to make bone broth ("It's full of gelatin and collagen so it's great for your skin and your gut, it's the ultimate beauty pill," she raves).
And, as I step back out into the world, I'm aware that in the last hour and a half, I've been transformed not just on a physical level, but on a spiritual and emotional one as well. It's not every day you can say that about a facial.
Review by Sigourney Cantelo.
CONTACT:
Vaia Beauty
093807588
32B Burton st Darlinghurst NSW 2010
Instagram and Facebook: @vaiabeauty