In an office building tucked away from the cafes and shops of bustling Subiaco sits Academy Face and Body. Lead by internationally renowned cosmetic surgeon, Dr Jayson Oates, Academy is the destination for those seeking beautifully discreet aesthetic services. On offer – a full range of cosmetic, paramedical and aesthetic face and body treatments: from LED and needling to laser and dermaplaning.
The first thing that strikes me as I step into the space is the clinic's warm and welcoming atmosphere. I'm met by a smiling reception team and then am greeted again – with genuine smiles, no less – by each person who walks through the waiting room. The reception is sleek and modern, dotted with minimal furniture, neutral tones and fresh flowers. Along one wall skincare from Ultraceuticals and UltraMD, along with mineral makeup are displayed temptingly.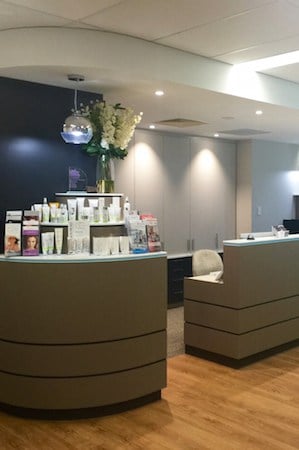 After meeting my dermal therapist, Claire Ross, it becomes clear I've met a fellow skin nerd who has a genuine passion for her work. She welcomes me into her treatment suite and asks me about my skin. I explain that being in my mid-30s I miss the natural oomph that beautiful, fresh young skin has. She nods knowingly then tucks me into the suite's plush treatment bed. After a giving my skin a good cleanse and examining it under the light, she declares that with a bit of high tech skin TLC she can bring me – and my visage – back from the brink.
Working over my face with the confidence of someone who seriously knows their craft, she starts with an Ultra Lactic Acid 30% peel to break up congestion and remove dead skin cells. I experience a mild tingle but nothing unpleasant (perhaps thanks to the high tech skin cooling machine Claire wields). Next she works in a vitamin serum using a sonophoresis machine to ensure all the important ingredients penetrate as far as possible into the deeper layers of my skin. This is followed by a blissful 20 minutes of LED light therapy to increase blood flow for maximum glow, replenish skin cells and boost post-peel recovery. As I soak up the rays, Claire explains the ethos of Academy.
"As much as we are a results-focused clinic with a great reputation for results, we know that a huge part of any successful treatment outcome is a patient who feels listened to and really well cared for," she says earnestly. "It's about more than just the treatments – there's a real passion here that means we don't just perform a treatment and then say good-bye. We provide information and support every step of the way so that our patients feel their concerns are really being heard and addressed."
I have to agree, I do feel heard and, well, it's nice. It's less sales spin, more care and compassion. Claire completes my treatment with some sunscreen, gently massaging my face.
And as I step out into the sunny afternoon I'm armed not only with a new eye cream and Vitamin C serum to trial at home, but a face that looks and feels fresher than it has in a long time. Frankly, I can't wait for my next appointment.
By Amy Pepper.