Tucked away in leafy suburban Subiaco, WA Assure Cosmetic Centre offers its clients an understated and discreet treatment experience, with a comprehensive range of surgical and non-surgical face and body treatments. The practice boasts six surgeons, cosmetic nurses and two specialist dermal therapists – a dedicated team to cover every foreseeable skincare need, ranging from peels and paramedical facials to injectables and surgical rejuvenation.
My visit to Assure begins on a hot and sunny summer afternoon; immediately upon walking through the clinic's doors I feel a sense of cool calm wash over me. Minimalist and white-toned, the clinic's interior is, well, clinical, but not uninviting – instead of being off-putting, it instills a sense of confidence that this is a place where the experts really know their stuff. Fresh flowers and comfortable furniture dot the client waiting area; the two immaculate young women who greet me at reception are welcoming and warm. The clinic stocks medical grade skincare from international brands like SkinCeuticals, their glossy packaging displayed behind glass along one wall.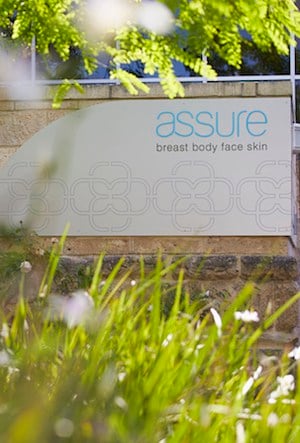 After a brief wait I'm introduced to my dermal therapist, Anna Robinson, who has worked with the Assure team since 2009. Anna chats to me while she leads me to her treatment room – again, instead of being off putting, the room's functional, clinical design gives the impression that it's a space focused on results; this is where serious skin miracles occur. Its immediately evident that I'm in incredibly expert hands: Anna assesses my skin in detail, making notes and asking questions as her hands work over my face, neck and décolletage. Her touch is firm and knowledgeable, but never rough, and as she talks its clear that she has a deep passion for her work.
With my own impending nuptials I explain to Anna my desire for photo-perfect skin –  which is why I booked in to try the centre's famous Skinceuticals New York Facial. Anna explains that the facial is perfect for a big event like a wedding or birthday as it uses a combination microdermabrasion, a peel, mask and LED light therapy to address multiple concerns at once including skin tone and texture, fine lines and dullness. "The results are immediately noticeable and should continue to improve for two to three weeks after treatment," she says. It sounds like my skin will be glowing well into my honeymoon.
As results-driven as it is, the treatment feels all too brief – cocooned on a plush, contoured treatment bed under beautifully thick cotton blankets I quickly drift into a relaxed state of calm, despite the multi-step treatment being performed on my face. Anna continues talking as she works, assuring me of the why's and how's of each step of the treatment and what the results will be. (Read the full review on my treatment here.)
Anna finishes my treatment by applying serum and a sunscreen, gently pressing my shoulders to let me know we've come to the end. I rouse myself and take a moment to observe my skin in the large mirror on one wall of the room – my face is glowing and I smile at how much better I feel after some high tech skin TLC. Before heading home, I take some time to chat to Anna again about the clinic's multi-dimensional team and what their broad skillset means for her clients.
"There is such a benefit to working in a team with medical professionals, because I can supplement my treatments and product recommendations with amazing, high performance additions such as prescription-only Vitamin A that my clients would otherwise have to go to a GP for," Anna says. "The fact that we are able to offer a complete service in that way means we're delivering a better all-round result, far better treatment outcomes, without any additional effort for our clients." Booked for a follow up appointment, I leave the cool calm of Assure and head out into the warm afternoon sun feeling relaxed, refreshed, and with significantly better skin.
Review by Amy Mattes-Harris