Situated centrally on Sydney's Clarence Street, Clear Skincare Clinic's flagship city branch – and one of 40 clinics around Australia – is like a haven of calm amid the frenetic CBD pace. Like all their clinics, the bright, white-walled space feels welcoming and clean, without being overly clinical or soulless. It's comforting to know that the standard of treatment is in line with the company ethos; the staff are trained and wielding some of the best machines the medical industry has to offer.
Stepping in from the soupy 35-degree day outside, I'm instantly soothed by the ambient temperature inside. The French-inspired interior is sleek and modern – from the fresh blonde wood floors to the white carved gloss chandelier that hangs above the reception desk.
I take a seat in an elegant sea foam linen chair and fill out my consultation form.
Off to the side, a digital skin bar invites you to sit down, take a quiz on an iPad and learn about your skin. Education rates highly at Cleaskincare Clinics, which were founded in 1995 by Dr Phillipa McCaffery.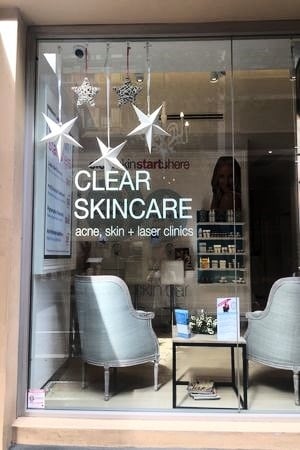 THE CLINIC IS LOCATED IN THE HEART OF THE CBD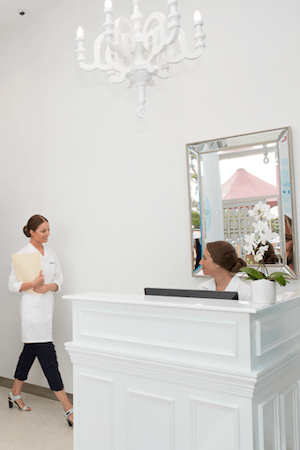 THE LIGHT, BRIGHT INTERIOR IS WELCOMING
Dr McCaffery is widely respected in the medical community for her work and research into women's health – in particular adult acne. She also pioneered the use of lasers in Australia in the nineties and quickly expanded her repertoire into treatments that deal with the most common skin gripes – wrinkles, pimples, freckles and, of course, what I'm here to address today – hair.
Since then the doctor has built an empire with her clinics, operating high performance treatments Australia wide, using targeted services like Dr McCaffery's SGA Treatment (read Sigourney's review here) and IPL for Pigmentation (also reviewed here) alongside a product line she developed to support the professional treatments she uses. Hard working and efficacious, the line is based on ingredients that are proven in dermatology circles to work, such as retinol, AHA's and hyaluronic acid.
After being introduced to my therapist, Eeavan. I step into a crisp, white treatment room. After a quick chat about my skin goals (get rid of the hair under my arms) she gives me a gown and steps out of the room. I've been advised to shave the area before I come and once I've donned some funky glasses, I lie back on the bed, arms gingerly behind my head exposing my bare underarms. Eeavan wipes off any deodorant that might be lurking there and marks up the area with a highlighter pen before wielding the laser piece.
I note that she's using the Candela Gentlelase, which I've had before – it's very effective and has a cooling tip on it to help with the discomfort. I'm also happy to see they use an additional cooling device called a 'zimmer' which chills the area even more.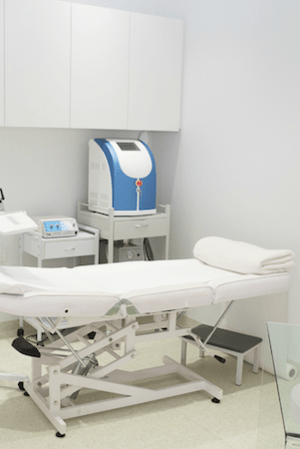 CLEARSKINCARE CLIINC USE CUTTING EDGE TECHNLOLOGY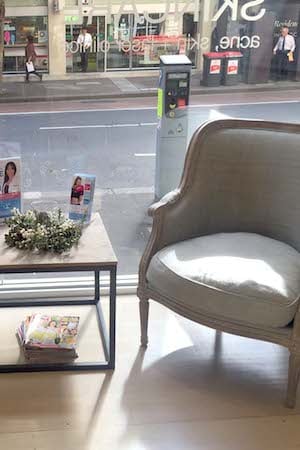 IT'S FILLED WITH MODERN FRENCH DECOR
Then it's zap time. Once she starts moving the head swiftly in sections across my underarms, I'm relieved to notice it feels a lot less painful than the last treatment I had. It's over within ten minutes, Eeavan applies a cooling gel and then gives me an after care pack that includes post-laser gel, exfoliating cloth and Microdermabrasion cream with glycolic acid. Since I've had some hair removal before, I'll only need another 6-8 treatments spaced over six week periods to get rid of the hair and then possibly a maintenance treatment every six months or so. I can't believe how quick and painless it was – it's certainly come a long way in the last few years since I had my last treatment. I'll certainly be coming back for my next session – they offer a really reasonable price of only $19 per treatment if purchased in a pack of five. I'm tempted to try out their other offerings like IPL and SGA, too. The best bit? I get back to my desk within the lunch hour, with no one the wiser about my little bit of daytime beauty maintenance.