Think you're not a meditation person? The rather divine Jacqui Lewis just might change your mind. As founder of The Broad Place with her husband Arran, Jac helps others on a path to understanding the self and leading a more connected life (and stay tuned for exciting news to come about her brand new project, Enhance - a meditation and education experience you can customise to do your own way, at your own pace). If you need proof that what she does works, look no further than these pictures – her grace and joy radiate out of every one. Or just ask the love of her life, Toofy, featured in a few of them, who she adopted as a neglected senior pup and who she dotes on. Her huge heart just might be her best feature, but we'd be remiss not to mention her aesthetic approach. Both in her peaceful, eco-chic Palm Beach home where we caught up with her, and in her wardrobe, she favours the simplicity of Japanese design while also loving a shiny hero piece. Plus, she truly loves all things beauty and tells us she simply cannot be trusted in a duty free makeup aisle. What can we say? A true girl's girl, for the modern age.
"I first started meditating 20 years ago, when it was very weird and untrendy to meditate.
I tried almost everything but nothing really stuck. Then over a decade ago I learned Vedic Meditation, a formal mantra-based practice, and it changed my life. I know everyone says 'this thing changed my life', but for me it very much did as I not only transformed myself, but it also changed my entire purpose in the world. Before, it was to help brands communicate the essence of themselves. Now it's to help individuals understand their true selves and align with that. We do this through meditation and education, translating ancient wisdom for modern living. In essence, we simply share what we know works with our students, in workplaces, on retreats and through our online portal The Classroom. Our work is an intersection between what we have been as creatives our whole lives and what we believe in, along with education and self development. We believe everyone has the capacity to live their highest grade life – it's just a matter of realigning thinking, and letting go of what's not working, in order that we move into a more creative, conscious way of life.
My mum taught me early on to never go to bed without cleaning your face and to always follow a protocol to allow your skin its best shot.
She has immaculate skin and looks incredible in her early 60s, so that really drove it home. She instilled in me that minimalism, care and love are everything. I think rituals in all areas of our life are powerful, so when I go through my routines I try to be really present in them, rather than just slap stuff on in a hurry. Indulgence and care create important foundations. On a practical level, I cleanse, tone, and then moisturise morning and night. I throw serums into the mix and sometimes use a derma roller at night which is like a new, fun toy. I always forget to exfoliate and I never wear eye cream. But having super dry skin, the best thing I can do is drink two litres of water a day which I always do – I'm terrified of being dehydrated.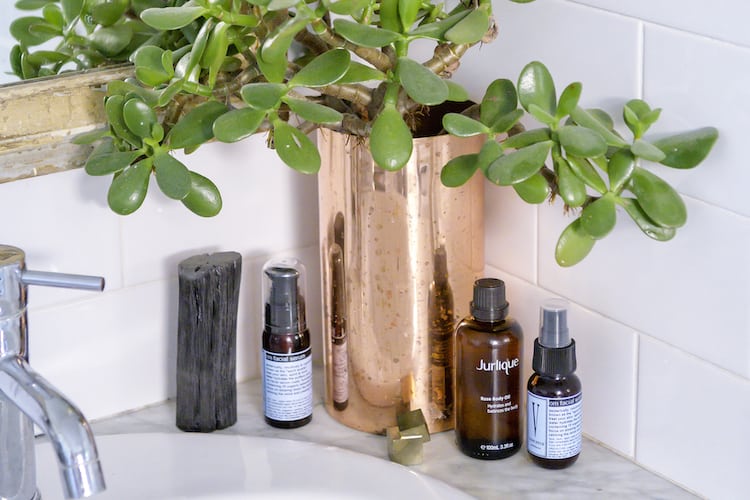 "VENUSTUS HAS THE MOST FABULOUS SPRAYS AND OILS AND I LOVE THEM ALL. I ALSO GET LOTS OF CRYSTALS FROM JEANNIE (THE OWNER) TOO – SHE'S INCREDIBLE. I LIKE ADDING JURLIQUE ROSE BODY OIL TO MY BATHS."
COPPER VASE FROM THE BROAD PLACE
My mum has been a huge influence on me in every way, as has Jani, the mum of a friend of mine who was like a second mother. She taught me to step into my power as a woman.
Jani has always been really exotic, with kohl-rimmed eyes, long skirts and big hair. She introduced me to my obsession with robes and most of the time around the house wore a beautiful vintage piece of fabric as a sarong with bangles jangling. She always had beautiful eye makeup and even though she has known me since I was 10 and seen me go through some interesting beauty phases, she has always been very complimentary of me no matter what makeup I had going on at the time.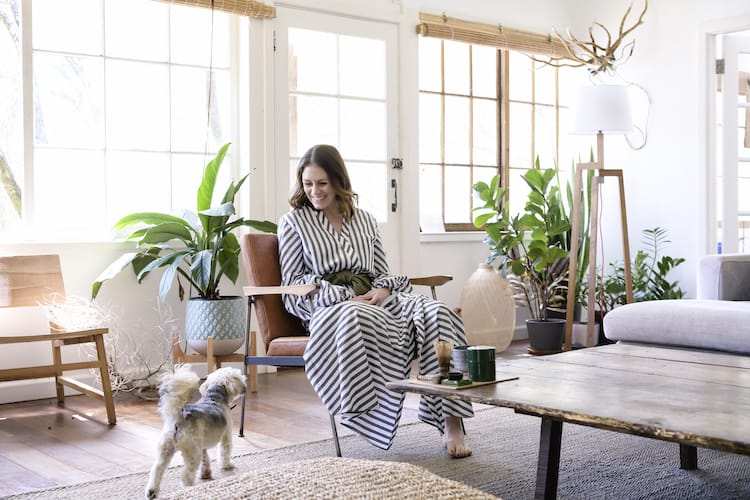 "TOOFY'S 13 YEARS OLD AND WE ONLY ADOPTED HIM SIX MONTHS AGO. HE WAS TERRIBLY NEGLECTED AND ABUSED, AND STILL HAS NO TEETH (HENCE THE NAME!). I'VE NEVER LOVED AN ANIMAL MORE. HE'S SO KIND AND GRATEFUL AND CARING, HE ABSOLUTELY PULLS ME APART."
I have the strongest memory of my parents taking me on a special day out to the city from our house in Palm beach. They had made me an appointment at the Clinique counter at David Jones.
The ladies there taught me how to apply makeup relevant to a 13-14 year old, and how to use the special brushes and everything. And then mum and dad bought me everything I tried on! I have never felt so glamorous. I think I fell in love with glossy compacts and big brushes in that moment.
My overall beauty approach is minimal, and I like to work with my features, not against them.
I have huge eyes and long eyelashes but thin lips, so I just try play to my strengths. I wasn't always so inclined, though. I had a real nightclub phase and got really into clubbing, DJs and dancing. It was the '90s, so think white eyeliner, lanolin lips and anything waterproof. I wore glitter on my eyes a lot. I also used to iron my hair on an ironing board, as GHDs weren't invented yet. I had no problem translating this look from 'day to night', which, because I was in high school, meant I frequently sported this get-up in the school yard. I can't believe I got away with it! And in all honesty, it's a blessing social media wasn't around to document that phase, as it was hideous.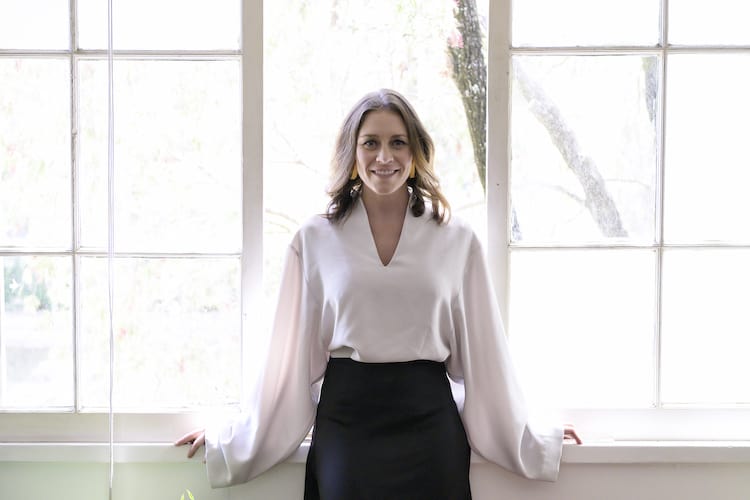 My personal style I would describe as all 'over the shop' (some might call it 'diverse', haha!). Every day I seem to have a different look.
I have lots of Japanese pieces (kimonos, huge wide leg pants, crisp white shirts), and then some bolder modern pieces (black silk skirts by Totême or Pleats Please by Issey Miyake, bold block coloured Acne), some super dressed up pieces (Ellery glitter skirts or Johanna Ortiz ruffled tops), and then casual pieces (linen Bassike pants and simple dresses like Smock), which I wear when working from home. I love Dries Van Noten, Blue Blue, Kapital, Acne, Henrik Vibskov, and Totême at the moment. My latest favourite pieces are a tomato red linen dress from an Indian designer, and my kimono from Henrik Vibskov. I also just saw all the toiles for my friend Heidi's new brand Art Club and they will be my next purchases once they are made.
Like my clothing, my beauty look changes all the time depending on where I am and how I am feeling.
If it's summer in Palm Beach where we live, and I am working from home, I wear nothing but moisturiser, but if I am in London in winter, I love an eyeliner and bright lip. I like NARS for makeup, Chanel for bits and pieces, Venustus and Sodashi for skincare and Aesop for body. I love perusing and buying makeup more than wearing it, and have to be disciplined. One trip to Mecca and I convince myself I am a different person and need stuff I simply won't wear. I also travel four to five months of the year, and being bored in airports is a dangerous beauty zone for me.
"I USE THESE BRUSHES FOR PAINTING. I ABSOLUTELY LOVE IT AND MAKE SURE TO ALWAYS TRAVEL WITH THEM TOO".
My friend Nancy always blends different lipsticks and glosses so I have been trying that. It's much more fun than just one colour, so now what I wear is different all the time! In truth I talk so much that most of my lip colour comes off pretty quickly, so I don't get too obsessed with it.
I rarely use foundation on my whole face, but apply YSL Touche Éclat under my eyes and a little Chanel Lift Lumière foundation around my nose and cheeks. I use a Stila liquid eyeliner to apply a flick to the edge of my eyes and mascara always. I love mascara and am currently using a Chanel one. Blush is really important to me as I have pale skin and like a glow. I have so many different ones and use whatever will go with that day's lip colour.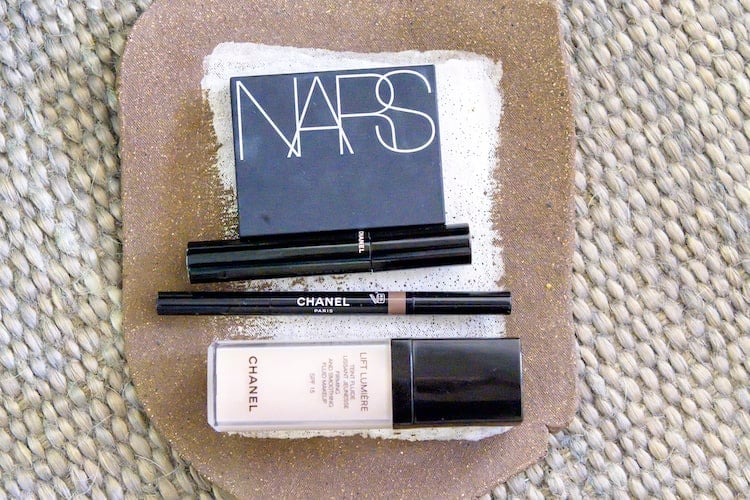 I have keratin treatments on my hair, as without it I look like Kramer from Seinfeld.
I see Lili Hopkins in Sydney who I absolutely love as she's so realistic about what's manageable. I have a huge natural grey streak in my hair, and she and I both love it and always find ways to highlight it. I am slowing going grey all over, and just embracing it.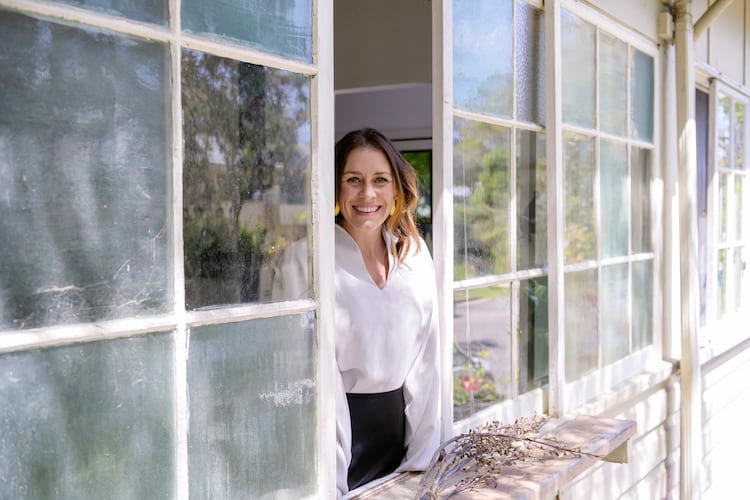 Qigong, karate, meditation, reading (I devour books and sometimes have as many as 12 on the go at once) and being in the ocean are my key forms of relaxation.
Oh, and Netflix. But I have an obsessive personality so I have to self-enforce Netflix bans a lot.
I absolutely love treatments at Venustus in Paddington. If you want unbelievable care with a spiritual tilt and a holistic approach to taking care of yourself, this is your place. And locally Emily at Beaches Beauty in Avalon is my go-to. I'll book all sorts of things, and she is so great I think she could tickle my arm for an hour and it would feel luxurious.
"I USE THESE BRUSHES FOR PAINTING. I ABSOLUTELY LOVE IT AND MAKE SURE TO ALWAYS TRAVEL WITH THEM TOO".
I eat incredibly well. I don't follow any specific protocol, but eat seasonally, mostly at home, and indulge at every opportunity.
We use lots of Japanese ingredients; rice, wakame, and miso. Fresh locally grown vegetables we get at our growers markets. Plus tempeh, grilled fish, a little shellfish. We focus on excellent quality with everything, and staples include extra virgin olive oils, anchovies, pickles, mustards, ferments, and salted butter, which we really don't hold back on.
I walk most days, swim when it's warm, and stretch every day. I practice karate when I'm not travelling, and am fascinated with meridians and energy so Qigong is important to me. I'm also a very hyperactive person, so slowing down and focusing on small movements is very good for me.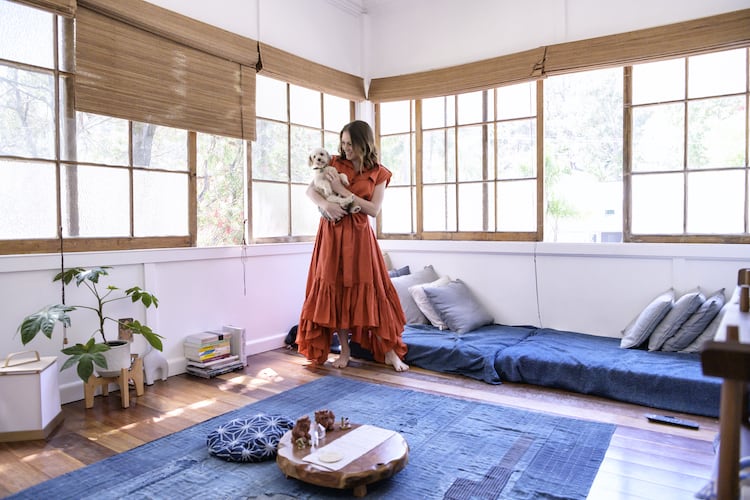 I see various healers and teachers around the world to keep my mind-body connection in alignment and my oesteopath in Avalon, Francois at the Avalon Wholistic Medical & Dental Centre, helps me immensely.
I spend a lot of time sitting to write and teach, which gets my body pretty out of whack and he always sorts me out. He's a trained Pilates instructor and studied karate for years, so he really knows the body.
Nic Laidlaw at Balanced Studio is unreal and my karate Sensei at Shorinkan School in Collaroy, Mark Greville, is a god. Super tough, brilliant, authentic and so gentle all at once.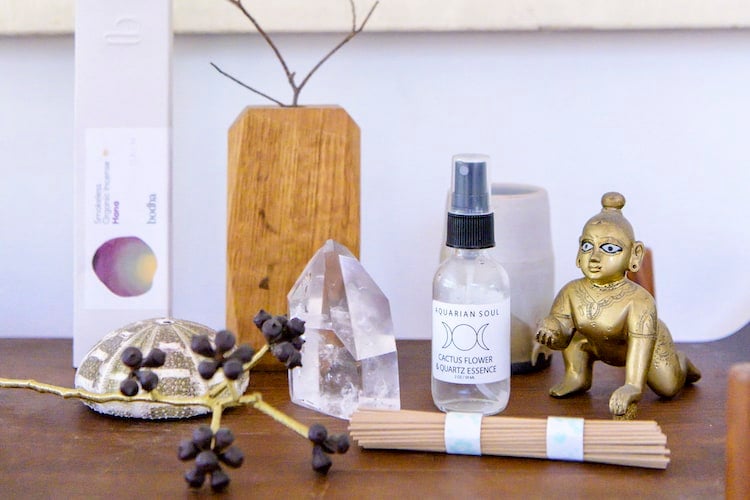 I don't love the current pressures to be perfect all the time and halt the ageing process. What I do love is that, through social media, I think more and more people are accepting that it's okay to experiment and be different, and you can find a likeminded group of people anywhere.
My daughter shows me the most incredible pictures of people in the trans community and how they are expressing themselves and finding their tribe. This didn't exist when I was young, and my brother who is gay was teased endlessly for trying out foundation or mascara. Now expressing yourself however you wish is more and more celebrated and I am loving that. Queer Eye's Jonathan Van Ness, who I think is utterly fabulous, is really pioneering a movement of acceptance, too.
I love getting older. I absolutely love it.
With ageing comes wisdom and life experience, and as I age so does my daughter, and I get to pass down my learned truths to her. This is a gift, and I look forward to getting older all the time. All the funny discoveries I make as I get older help me realise how much I burned through my twenties and remind my to be totally present to life now."