The phrase 'living your best life' might have become an Instagram cliché, but kikki.K founder Kristina Karlsson turns that on its head with her wholesome positivity. Hearing about her thoughtful approach to creating the home and work environments she has always wanted is truly a bit of chicken soup for the soul, and a great reminder that it's important to apply the tenacity which we often bring to our work to our personal lives. As if that's not appealing enough, there's Kristina's love for her fellow Swedes, which extends to her chic clothing, minimalist interiors and clean skincare.
I have loved stationery ever since I can remember.
I always looked forward to the start of a new school year surrounded by new notebooks, pencils and folders – and the promise of organisation and joy they bring everyday. And it has always been a dream of mine to own my own business. I guess the first indication I had of my entrepreneurial instinct was at the age of ten, when I used to ride my bike around the snow-covered streets in my neighbourhood, selling Christmas books door-to-door. There was a rewards program involved in selling these books, and I was completely driven by it; I had a clear vision of being able to win my own TV. I decided that I would do whatever it took, and finally I did win that TV for my efforts. This little venture taught me that it is possible to achieve something when you really want to. It also taught me that you can make money and earn the things you want by doing something that you enjoy.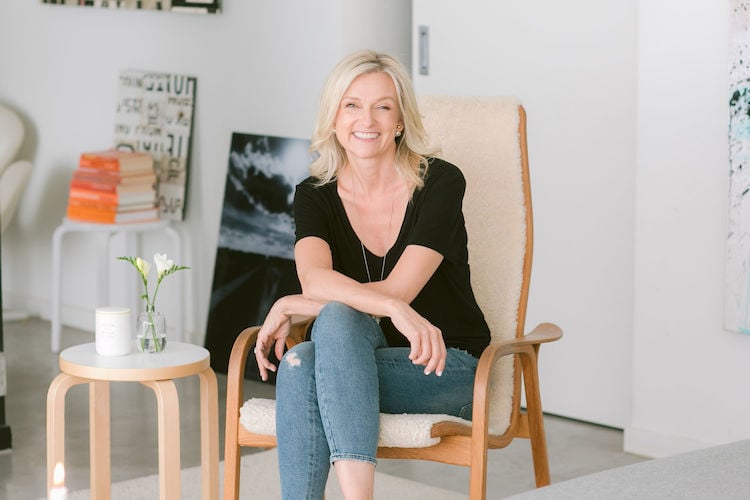 Once I had moved from Sweden to Australia to be with my partner, Paul, I was not sure what I wanted to do next.
I lay awake in bed one night, and Paul prompted me to get out a pen and notepad and write down a list of what was important – this was the first time I put my dreams on paper. This list, which I now call my '3 am List' included things like 'I want to drive to work on a Monday morning feeling happy', 'I want to do something that connects me to Sweden and design', and 'I want to make $500 a week'. This list really helped guide my thinking, but it wasn't until I went to set up my home office and couldn't find the beautiful stationery and workspace essentials I had grown used to in Sweden that an idea really sparked.
My mother always taught me to keep things natural and simple when it came to makeup and skincare.
As I didn't have a lot of money, I relied on samples from a beauty mail order company. I learned a lot about beauty and makeup from my childhood friend, Malin, who had a big sister that we were inspired by. This is when blue eye shadow and perms were a thing, so not so natural!
Despite some teenage detours, I have largely followed my mother's advice that it is just as important to look after my overall health – so that I feel well – as it is to look well.
Without a doubt, Jo Horgan from Mecca is my strongest beauty influence.
Jo not only influences me to use amazing products, but she is also a big inspiration for what she has achieved in the retail and business world. I also admire Gwyneth Paltrow and her natural way of being. I love her GOOP products and her passion for a healthy lifestyle.
My personal style is all about functional, simple Scandinavian style.
I mainly wear clothes from Scandinavian designers like Rodebjer, Ganni, Samsoe & Samsoe and Acne. My wardrobe is largely black and I go for simple, comfortable clothes.
My home also reflects my love for Scandinavian design – my all-time favourite designer is Arne Jacobsen and I have quite a few chairs and lights of his. Less is more for me, so a few beautiful pieces along with lots of candles and green plants is all I need. Being an avid reader I also have loads of books in my home, which are both useful and nice to look at.
Every day I try to wake up at 5 am and it's made a huge impact on my life.
Getting up early gives me time to think, read, write, be inspired and exercise… and I can do it all before the rest of the family wakes and the normal day-to-day starts. I always start the day with a glass of warm water with fresh lemon and ginger, and then a glass of water with Organic Daily Greens & Radiant Reds by Bio Blends.
I like to exercise and keep fit. I find it helps to clear my head and remain focused.
I do some kind of exercise every morning. I enjoy doing yoga and Pilates, as they are both great for the body and the mind, and I also like running and going for long walks in nature. My favourite yoga teachers are Masha from Happy Melon, and Dustin Brown at Warrior One Yoga studio. I find my day flows much better if I have done some kind of movement first thing.
I'm a real foodie – I love discovering delicious, healthy recipes, and just flicking through beautiful cookbooks.
A typical day for me starts with a green smoothie from Urban Projuice in Albert Park on the way to work. It includes celery, spinach, banana, pineapple, dates and almond milk, topped with chia seeds and buckwheat. I then stop at my favourite coffee place, The Guilty Moose, for a coffee.
Lunch is often my favourite soup (lentils and veggies) and dinner is usually a soup or barbecued salmon with steamed cauliflower, broccolini, or green beans, always with French butter and salt. I love soup and vegetables, so that's what I tend to eat most of.
I try to get facials when I can, especially when I travel as it helps with the jetlag and looking less tired.
It's fantastic to spend a day at Aurora Spa in Melbourne to have their amazing body steam treatment, massages and facials. I can spend the day there with my notebook and pen and always come up with lots of ideas, being in such a beautiful and calm space.
In Falkenberg, Sweden, I visit my friend Sandra who gives the best two hour massage in the world! I also like to spend a day at Asia Spa in Varberg, Sweden. It's the most amazing spa and is where I came up with the idea of writing my first book, Your Dream Life Starts Here – it's amazing what a bit of self care can do for your creativity.
My dream is to live until I'm 120, so I try to be as healthy as possible in every way, so that I can live that long!
I feel my best when I live a holistic life, which for me means great sleep, exercise, a healthy diet and spending time with loved ones and people who are inspiring. I try to always follow routines that I know will help me live my dream life, and that includes reading (always!) and spending time in nature. Most of all, spending time with my family is an invaluable way for me to relax and recharge – I am so grateful to have them.