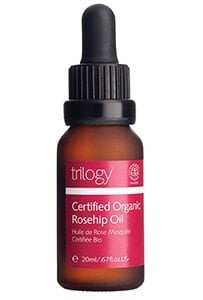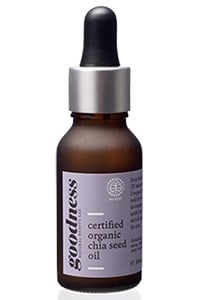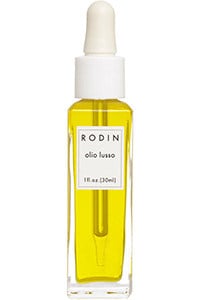 A: Facial oils are gaining widespread attention this winter and for good reason. They're hydrating, lightweight, long-lasting and combat the drying elements of the cooler months. Natural plant and nut based oils can also be considered food for the skin as they also contain a host of nutrients. Opt for velvety formulas derived from either a blend of oils, or a single-origin product like argan, avocado, jojoba or rosehip oil. These are naturally packed with antioxidants and will create a protective barrier for your skin against damaging external factors.
A front runner in the oil race is rosehip oil, it combines nourishing fatty acids with super antioxidants, lycopene and phytosterol. For those prone to scarring, rosehip oil is scientifically proven to eliminate acne marks and hyper-pigmentation, along with evening out skin tone, rebalancing skin and restoring a healthy complexion. Australian made Kosmea Certified Organic Rosehip Oil and New Zealand born Trilogy Rose Hip Oil are both top sellers because they are both are both deeply moisturising, yet fast to absorb, meaning no greasy-residue. Samantha Harris, Matilda Dods and Lindy Klim are also huge fans of Trilogy, whilst Felicia Oreb and Bianca Cheah use Kosmea in their beauty kits.
For a facial oil with organic superfood ingredients opt for the Chia Seed Oil by Goodness. The lightweight chia formula has a nutty scent and the perfect ratio of omega 3 and omega 6, B-vitamins, amino acids, minerals and antioxidants. Pair a light-weight facial oil like this with either a retinol cream or an alpha hydroxy acid for gratifying results.
Australian brand Subtle Energies uses aromatherapy and ancient Indian Ayurvedic principles to concoct the most heavenly scented Facial Blend oil. It contains a rare form of Jasmine called Mogra along with sandalwood and Indian Rose and can be used in place of your daily moisturiser.
Two more cult favourites worth mentioning: both Sunday Riley Juno Hydroactive Cellular Face Oil (available from Mecca Cosmetica is naturally high in retinol and Vitamin C, so boasts anti-aging properties, too) and Rodin's Facial Oil also rate consistently high on beauty must-have lists worldwide. Rodin's sublime jasmine-scented super blend of botanical oils like Argan, Rosehip, Sweet Almond and Jojoba leaves skin springy and glowing and is a total indulgence to use.
When it comes to applying it, it depends on how much time you have and how much moisture your skin needs. It can be too greasy to use your face cream and facial oil together so you need to space out the application. Try applying your facial oil straight after cleansing – on damp skin – this will lock the moisture from rinsing and prevent water loss from the skin. Leave it to penetrate for at least half an hour before applying moisturiser (that's if you still feel you need it – some people replace their night cream with facial oil.) Alternatively cleanse and moisturize as usual and then apply the oil it right before bed, at least half an hour after your nightly cleansing and moisturizing routine, once those products have had time to penetrate. Although many suppliers will suggest applying their facial oils morning and night, it can be tricky unless you have enough time to allow it to penetrate before applying makeup, so only use it in the morning if you can factor in that time. Depending on the dropper, two to three drops or a drop the size of your pinky nail should be enough to cover your face. If you have left overs rub it into your décolletage and the backs of your hands.
Answered by Claudia De Berardinis.
Do you use facial oil? What's your favourite one?