From its roots 30,000 years ago in Georgia until now, we have long used linen for a variety of purposes (sartorial or otherwise). Made from the superfood flaxseed plant, this natural textile is the fabric your wardrobe needs this summer. A spring/summer and resort favourite, this season brings an endless supply of styles, shapes and colours, offering a rare combination of panache and comfort to your wardrobe. At Beauticate, linen is our definite go-to as things heat up – here, our guide to staying cool for every occasion…
LUXE LUNCHING
Stepping out for a ladies' luncheon by the sea on a sparkling, sun-filled Sunday, what could be more fitting than a stone-hued linen jumpsuit? It offers the best of both worlds: both polished and relaxed, you'll never feel under or overdressed. Sir the Label's Kai Halter Jumpsuit needs little accessorising; it shows off your back and accentuates your waist line, but not so much you'll be uncomfortable post-oysters and champagne. As you dine by daylight, a chic oversized raffia hat provides the perfect mix of statement, sun-protection and style. For hat connoisseurs, this Sarah J Curtis offering is a dream; think Positano meets St Tropez, sipping on bubbles beachside on a spring meets summer day. Finish the look with a pair of espadrille wedges – that is, until you're ready to kick them off and opt for a barefoot stroll along the sand.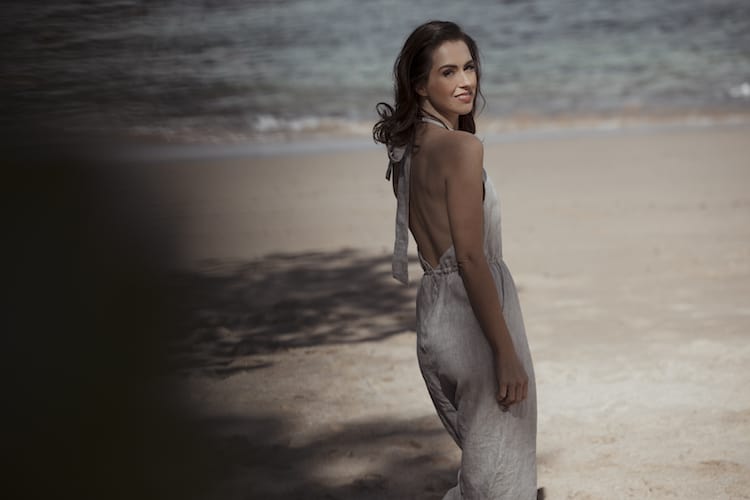 WORKWEAR WONDERS
Working in the sweltering heat calls for a linen duo that will last from rush-hour, to the office, through to evening wanders down by the beach. A resort-inspired set may be just the ticket to motivate you to make it through to that upcoming summer vacay. Pair Sir the Label's Kai Tie Culotte with one of their black linen button up shirts, tucked in to show off the Japanese-inspired tie-up detail on the culottes. Style with some black sandals or slides for a versatile outfit that could see you a million miles away on a tropical island – or, more likely, gazing longingly out your office window as you count down the days until the Christmas break.
Beauty note:
Offset neutral tones with a bold red nail courtesy of OPI's Big Apple Red. Striking, yet timeless.
MARKET MEANDERS
Coastal markets showcasing handmade delights, rare finds and local souvenirs, on a spectacularly bright and fresh day – there's nothing dreamier. And the perfect ensemble for meandering through the markets? This Sarah J Curtis Dress Me Up Cami matched with Akin by Ginger & Smart's Unison Pants, of course. With beautiful tie-up straps, this classic black linen cami is a must-have staple, not only reserved for resort dressing. Tucked into this pair of super-soft classic striped three-quarter pants, this outfit is topped off (quite literally) with one of Sarah J Curtis' iconic boater hats. The classic scalloped Summer Love Boater makes for a more low-key, slightly less dramatic coverage than some of her other hats – which is ideal, as you do need to be able whisk your way through stalls to nab that perfect market buy.