It's Breast Cancer Awareness Month and we're noticing a bevy of pink products crossing our desk, helping to raise much needed money and awareness for breast cancer research. Here, our roundup of the pink products we're loving this October - so you can treat yourself to gorgeous beauty prods while doing some major good. Oh, and we've also spied a beautiful new range of swimwear, designed with women who've had mastectomies in mind - to say we're impressed is an understatement.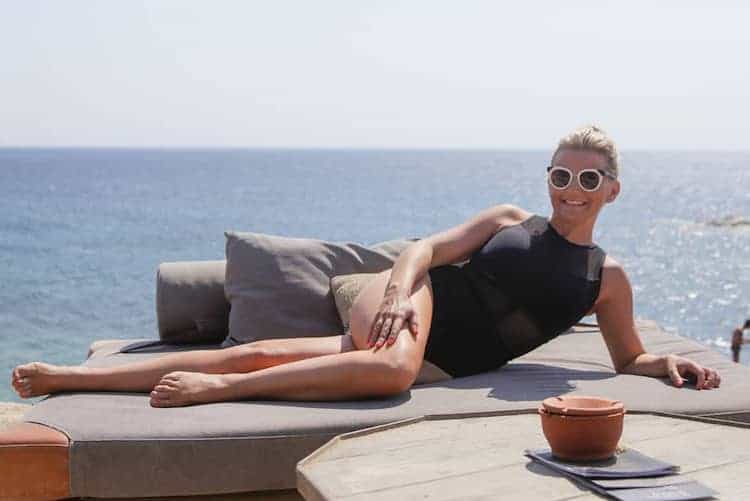 IMAGE: INSTAGRAM @JETSSWIMWEAR
DIVE IN
It takes an Aussie brand to get an
item as quintessentially Australian as
a pair of swimmers and to revamp it
for women who have undergone
mastectomies – and that's exactly
what Jets have done. Available in a
range of ultra chic colours and
silhouettes, these gorgeous one-
pieces offer extra support and
internal pockets for prostheses to be
worn, without being in the least bit
obvious. And for all online orders in
October, 5% of sales go to the
McGrath Foundation. Top marks,
Jets.
HEAVY METAL
Over the past few years, a lot of us
have been thinking about changing
out our conventional deodorants for
more natural options – especially
given aluminium in anti-perspirants
has been linked to a higher risk of
breast cancer. So what better time to
make the switch than this month,
with Black Chicken offering a
bumper-sized version of their cult
Axilla Deodorant Paste? It's free from
aluminium (as well as a slew of other
nasties) and $2 from every sale goes
to fund breast cancer research. Win,
win.
BATHING BEAUTY
We're always in awe of the work that
Pink Hope do around educating
women about their risk of developing
breast and ovarian cancer. So we
were excited to see them team up
with Salt By Hendrix to release a
dreamy spa set, boasting a gorgeous
bath soak, lip tint and clay mask.
Profits from the sale go to fund Pink
Hope's invaluable initiatives, so you
can indulge while supporting a
worthy cause too.
OUR LIPS ARE SEALED
We're pretty smitten with this Lulu
Guinness x ghd offering, and the fact
that $20 from each sale goes to the
National Breast Cancer Foundation
means it's a sure thing we're adding
this to our wish lists this October.
Adorned with the quirky British
designer's iconic lips design, the gold
styler boasts dual-heat technology, to
protect hair from damage and leave
strands looking smooth and sleek.
What's not to love?