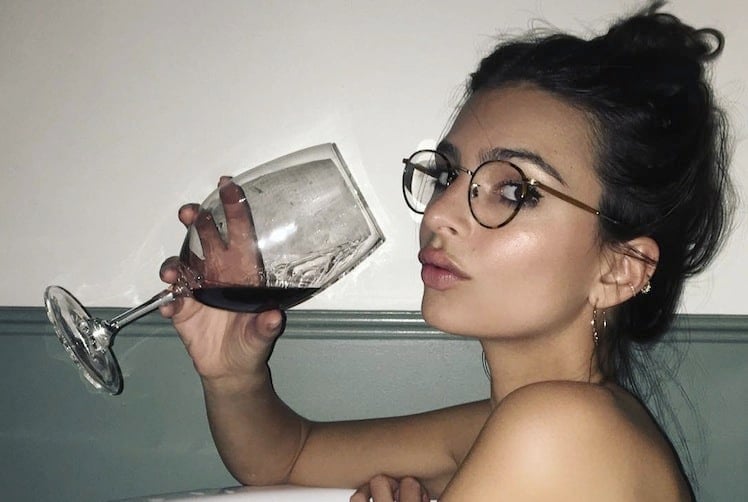 Goodbye Frosé, Goodbye Red, A New Wine is turning the antioxidant game on its head… Emily Ratajkowski can't believe it either. Image: Instagram @emrata
We don't need an excuse to drink a glass (or three) at the end of a long week. But, we're always on the lookout for complexion-forgiving beverages and (after countless hours at a bodega with a patient sommelier) we think we've found it. Cue the latest underground movement for vino aficionados: orange wine. It's been found to offer a plethora of health benefits that white and red wine simply can't offer. Ultra refreshing, slightly citric and romantically rustic in aroma, orange wine is formulated using white wine grapes that are infused with fermented orange peels.
Aside from the apricot-esque colour, orange wine has ridiculous health benefits – which gives it a yes from us. Firstly, a single glass offers two key antioxidants (tyrosol and hydroxytyrsol) known for flushing the system of toxins and fighting off free radicals. And if your digestion is an issue, orange wine is said to actually ease certain digestive disorders like indigestion and constipation, making for a perfect companion at any meal (even a sneaky brunch beverage, on a special occasion of course). It also has less sugar than its red and white counterparts, so your skin will be oh-so grateful. Last, but definitely not least, it packs a punch in skin-boosting Vitamin C, which plays a significant role in boosting skin's collagen and brightens your skin. Try to opt for an organic brand with no added preservatives. Now, you just need to call your girlfriends and let your taste buds tingle, guilt-free. You're welcome!
Story by Claudia De Berardinis