Just a short stroll from Sydney's iconic Bondi Beach is the award-wining Tan Temple on Curlewis Street Bondi. Recently refurbished, the boutique setting of soft blues and rich greys is the perfect setting for a bespoke bronzing parlour.
Stepping in to the new guest lounge I clock an impressive Aqua Bumps photograph of an underwater bikini-girl, which looks like it was specially commissioned for the space.  This is where the fun begins; a bottle of Veuve Clicquot is on-ice, complimentary bubbles are a special bonus for group bookings. Today I'm meeting with owner and head "Tan Goddess" Jacci Haslam.
Jacci is warm and friendly and I'm immediately at ease.  We have a quick consultation to determine my skin type and she listens carefully to what colour I have in mind. "It's important to make sure the customers idea of dark is the same as our idea of dark," Jacci says. "In the end most clients really want a natural colour, not a body builder tan." Tan Temple pride themselves on getting this right, so much so they have a satisfaction money-back guarantee, not a big risk when you have won Best Spray Tan Salon in Australia in 2012 and 2015.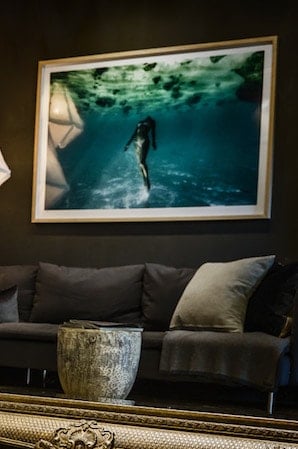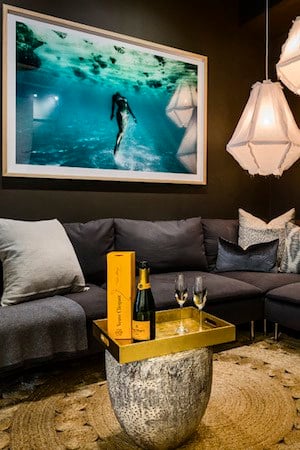 Tan Temple offers several tanning brands and can even custom blend with 100 possible colour combinations. They also offer 2 hour and 8 hour tans and a mobile tan service. At this very moment a Hollywood A-lister is getting a spray tan at his hotel, (yes tanning the blokes is a growing business – about 5% of their clients are men). The most popular – and what we agree will be best for me – is Sunescape "Weekend in Bondi". Before arrival I had been briefed to exfoliate, and have no moisturiser or deodorant on; the number one cause for unsightly patchy underarms. Jacci recognises that going for a spray tan can be an intimidating experience for some clients. Standing in a paper g-string (or nothing) may not be appealing for the first timer, which is why she takes so much care hiring friendly but discreet staff, "we want to make women happy" she says. The champagne also helps.
The application is done with a superfine airbrush mist so there is no drying time. Jacci expertly has me tweak and turn to cover all areas. Special attention is paid to my hands and feet and she checks in to makes sure I want my face as dark as my body.  The smallest roller brush is then used as a soft buff over my tan. I'm reminded to shower in the next two to three hours and Jacci advises for the first shower not to use any products on my hair or skin, just gently smooth the tan off with my hands.  The tan will continue to develop over the next 8 hours and moisturising twice a day will see it last up to ten days.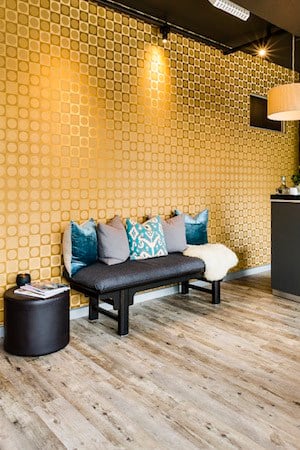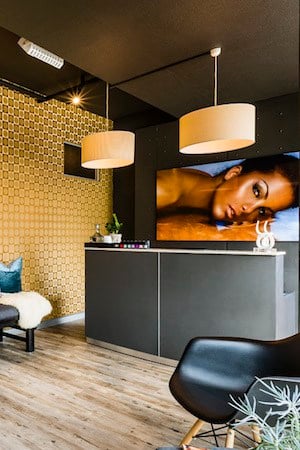 I'm farewelled with Tan Temples Tan Commandments – vital advice on getting the best out of your tan. Jacci also treats me to Sunescape Hydrating Body Butter which I want eat, it smells so good, and Tan Temples own Tan Removing Soap, specially developed by Jacci to remove at-home tanning disasters or prep your skin pre-tan. Jacci touches base the following day to check in on my tan and five days in it's still flawless. There's no patchiness or streaking and the colour is golden, without looking fake. I can honestly say the best application and colour I have had.  Bring on Summer, I'm ready.
Review by Alexis Gilmer