Conveniently located on buzzing Victoria Street, in the heart of the Darlinghurst café culture, The Nail Lab is a luxe and hygenic version of the corner nail bar. With chic interiors and pristine service tools, The Nail Lab manages to encapsulate luxury and convenience all into one flawless 25-minute manicure (or more if you have the time!).
Little touches including the ability to pay with credit cards that are saved on file (to prevent smudging) and client files to note your favourite shades, are what set them apart. Quality and speed don't often come hand in hand, but this place is one exception to that rule.
The fact that there was only one timeslot left when I called (several months out) to make a booking for my bridesmaids and I to get our nails done the day before my wedding, gave me some indication of just how the amazing the experience was going to be. And I was right.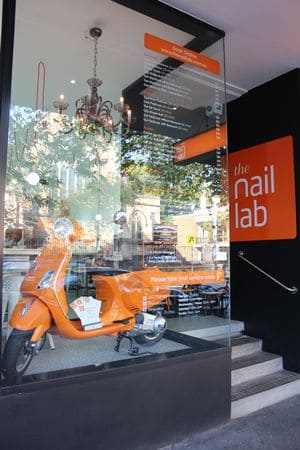 HAVING CREDIT CARDS ON FILE MEANS YOU WON'T SMUDGE YOUR NAILS TRYING TO PAY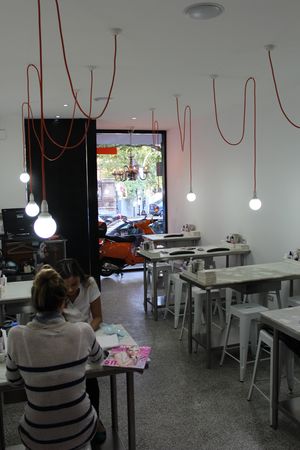 THE INDUSTRIAL STYLE SPACE PUTS ALL THE FOCUS FIRMLY ON THE HANDS
Upon arrival, it wasn't easy to decide on a treatment from the extensive menu. There's a gargantuan array of colours to choose from as well as decided on the formulation – including shellac, acrylic and good old plain and simple polish. We went for polish and one of my bridesmaids also opted for the 'Luxe Pedicure' which includes an exfoliating scrub, hydrating leg mask and a foot and leg massage – the look on her face told me it was a completely blissful experience.
Everyone was delighted with how our nails came out, except for a small lapse when I suffered a 'zilla' moment and decided that the nail colour I had picked was too chalky against one of my bridesmaid's skin tone. Scott, the owner, handled the situation with absolute charm and grace, and arranged for her nails to be redone in a matter of moments, at no extra charge.
It is an experience like that, along with the team of gorgeous, professional nail artists, that means whenever I decide to indulge in a mani-pedi, the Nail Lab will always be my first port of call… (in fact I may have just stopped to make a booking while writing this).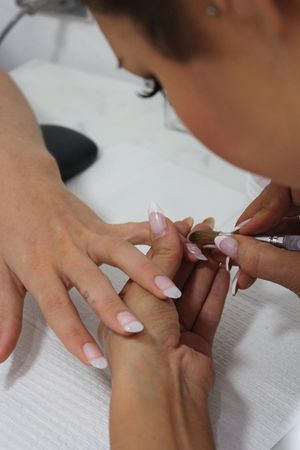 FOR THOSE THAT ARE TIME POOR, EXPRESS MANIS ARE A GREAT OPTION