The Parlour Room is bright and poppy salon in Clovelly that is fast becoming the go-to nail, brow and tanning hotspot for Sydney's social set. The boutique beauty destination, with its trademark tropical yellow wallpaper, is part of a new wave of highly visible, social-media-savvy salons that are gathering a loyal following on Instagram.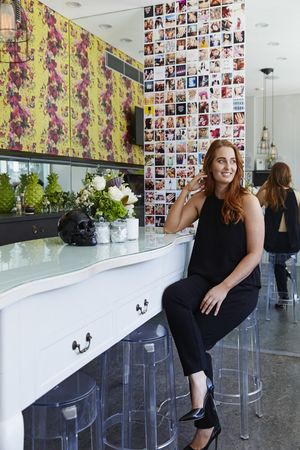 OWNER NATALIE IS AT HOME IN THE SALON
"Everything is through Instagram. We get so many bookings from it," confirms The Parlour Room owner Natalie Papadopolous as she welcomes me in and introduces me to Heather who will be doing my pedicure. I take a seat on the banquette and watch as the busy salon welcomes a stream of upbeat customers.
"Testament to their social media prowess is the Instagram wall, which takes up pride of place alongside the communal manicure table. The wall is chock-a-block with selfies from the Parlour Room's gorgeous clients – among which are many high profile models and bloggers – all posing proudly with their bright glossy manicures and flawless self tans.
Natalie, a gorgeous redhead with a wealth of experience in the beauty industry, opened her salon three years ago after working for key players in the beauty industry. Nat, who used to do all her girlfriends makeup before they went out on a Saturday night, wanted to recreate that social, supportive atmosphere in a salon, and to create a place where clients felt comfortable and celebrated their beauty in a non-judgemental space.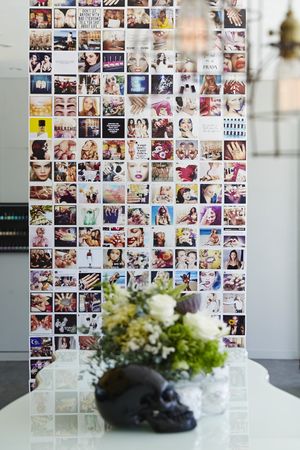 THE INSTAGRAM WALL OF SELFIES
THE INSTAGRAM WALL OF SELFIES
"I love bringing a group of girls together, to make them feel really beautiful and happy about themselves," she says.
She's definitely succeeded. On this particular day, I note several of the city's most glamorous young things prepping for events they're attending that evening, as they put important decisions like nail shades and tanning formulas up for discussion. Within minutes we're rating the various merits of each as if we're old friends. Nat believes it's this buzz and atmosphere that keeps people coming back.
"People don't know each other but they say they feel so comfortable talking to each other," she says. "We also treat every client like a celebrity. We take time to make sure the treatment's perfect, that we get every hair during a wax or if it's raining we escort them to their car with an umbrella."
With my punchy coral pedicure complete (and my feet looking about a thousand times better), I take a quick tour. The five room salon features fresh, colourful décor, a chic black bathroom, and gorgeous flowers from local florist Rheannon Lee. I note appreciatively that the two tanning rooms also have high-powered extractor fans (to protect your lungs from the fumes) and Nat tells me proudly that the spray tan machines are powered by the same system they use to spray cars. I also love that they use sticky feet to ensure you don't get self tan on the bottom of your feet. Little details like this are essential for a good quality spray tan.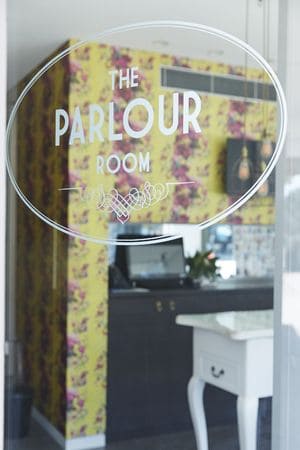 THE SALON IS ALWAYS BUZZING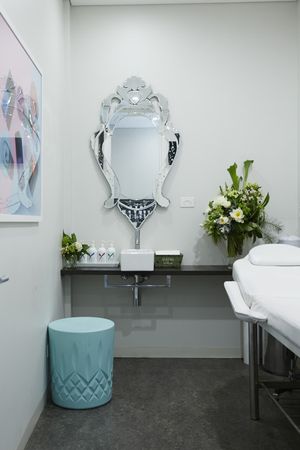 DETAILS MAKE THE TREATMENT ROOMS FEEL LIKE HOME
In addition to stocking Techno Tan, J Bronze & Sunescapefor tanning, Curtis Collection for makeup and Skinstitut skincare, Natalie has also created her own line of nail polish called COAT and she and her staff were asked by Bec & Bridge to do nails for their Fashion Week Show. The range of polishes are bright and feature on trend nail shades which Natalie refines each season with feedback from her loyal clientele.
"Above anything, we specialise in customer service," points out Natalie. "All of our Parlour Girls are welcoming, caring & perfectionists that also happen to be the best at what they do. We make beauty fun rather than a chore you need to tick of a list. People get a feel for this instantly and I think it makes them actually look forward to coming back."
I concur and am already planning my return – a spray tan, this time, and a mani!
Review by Sigourney Cantelo
EXCLUSIVE OFFER
20% off on your next visit.  Reference code: Beauticate