Settled on the corner of leafy Riley Street in Surry Hills sits Barney Martin Salon. With over 25 years in the business, Barney has created a salon that has style, quirk, and exudes an understated glamour that ensures you'll never want to leave- if only to show off your shiny blow dry. Passing on his creative finesse and expertise to his staff, a trip to Barney Martin will undoubtedly leave you feeling like a calmer version of yourself- only with amazing hair.
If the neon lights glowing in the window aren't enough to bring you in, the delightful turquoise door will. The salon, while 10 years old, has been newly renovated into a space that is equal parts vibrant and calming. The playlist floating in the background is like something from a roof top bar in New York and the monochrome backdrop of whites, marble and silver accents plays host to vibrant pops of colour in the form of gorgeous blooms and amazing artworks.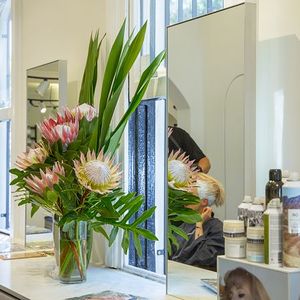 BEAUTIFUL NATIVES COMPLEMENT THE COLOUR SCHEME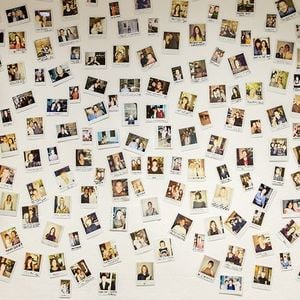 A COLLAGE OF CURRENT AND PAST CLIENTS IS SPREAD ACROSS THE WALLS
The eclectic backdrop of Surry Hills dictates a diverse mix of clientele, both young and old.  My colourist Steph explains that one day she will be asked for classic highlights, and the next a head of pastel colour. Barney Martin himself regularly looks after the locks of blogger and sportswear designer babe Pia Muehlenbeck, as well as Ronan Keating, and was the man behind Zoe Foster Blake's amazing bob (and hubby Hamish) before they relocated to Melbourne.
Even though I am 10 minutes early for my 5pm appointment, I'm immediately taken to a chair and shown the drinks menu- while a glass of champagne or Pimms and lemonade from the bar is tempting (yes, there is a mini bar in the salon), I opt for a pot of green tea. When I comment that it tastes a little different to usual, the staff inform me it has popcorn in it. And if having popcorn in your tea isn't enough, they even have it freshly made ready to be eaten in small movie-style boxes on the counters!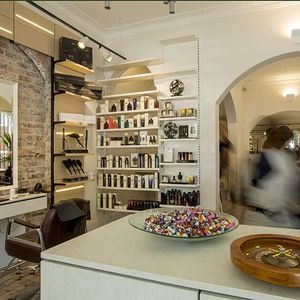 CLIENTS ARE TREATED TO A SELECTION OF TEAS OR CHAMPAGNE FROM THE BAR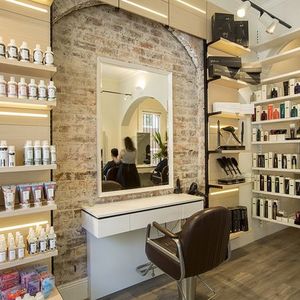 EXPOSED BRICK GIVES THE SALON A LOOK OF EDGINESS
To revive my faded, brassy balayage, my senior stylist and colourist Steph and I decide on Wella Free Lights, a form of bleach that doesn't bleed or transfer onto the surrounding hair (rejoice!). Steph paints them on free handedly, like an artist. Developing time whips past as I flip through the latest glossy magazines. The basin room is a quirky space that is covered from floor to ceiling in client polaroid selfies –  a quirky way to display the salon work.
The salon uses only the finest products on the shelves, including Oribe and R&Co and Wella for colour. I test out the latest in hair, Olaplex, as Steph explains to me, "It's not just for blondes, but for anyone with damage as it repairs weakened bonds". She says it's become a bit of a signature treatment for them as of late, and I can see why- after a dry off with a Parlux and a few skillfully placed curls using GHD curve, I'm left with bouncy, strong and perfectly-coloured strands.
With his eponymous salon, Barney has truly created a space where you can switch off and trust that you – and your hair – are in the best hands.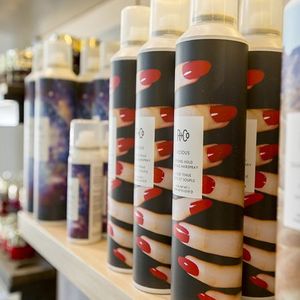 THEY  LOVE ORIBE AND R&CO PRODUCTS