Hidden away down Punch Lane in the bustling CBD of Melbourne is a vastly beautiful industrial style space home to fashions favourite hair salon, Edwards and Co. Dreamed up by one of Sydney's most celebrated hair colourists and stylists, Jaye Edwards, the salon is becoming one of the city's most popular destinations for a colour, cut, blow dry and style. A collaborative open studio space houses some of the countries best talent, allowing freelance stylists to cut and colour as they please without all the unnecessary extras. Edwards obviously did something right as streams of fashion savvy professionals, models and influences push open the doors each day to get their shiny locks cared for by the fine array of expert hands before them.
Being recently awarded the winner of the Salon Business of the Year Award at the 2017 Australian Hair Fashion Awards, It seemed like it was time for me to check it out and get my unruly hair tamed with a sun kissed glow and soft tousled waves – Edwards and Co's signature look. Walking into the studio filled with soft natural light, whitewashed walls and sections of exposed brick its hard not to feel like your in another world away from the busy Melbourne streets. Being a business owner who frequently travels between all five of his salons I was lucky enough to catch Jaye while he was in town and get treated by the man himself!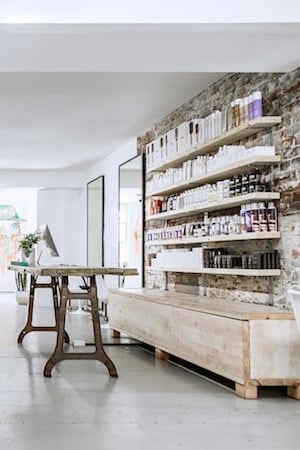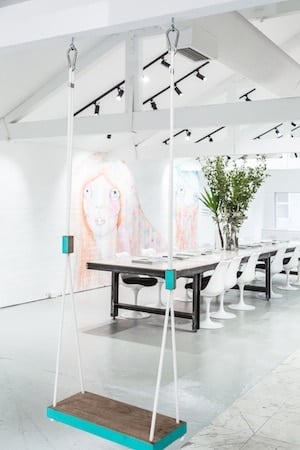 After being seated at the huge communal table between foiled up beauties flicking through glossy magazines or tapping away on laptops, I was offered a pot of delicious fruity tea in a gorgeous ceramic teapot with a matching mug and saucer. Once settled, Jaye and I discussed how my glowy sun-kissed look will be achieved through a rich mahogany base paired with a chestnut honey balayage and an array of soft highlights. Gently and efficiently he paints it on as we chat about our weekly musings and thoughts. Soon Jaye leaves me at the table to get on with my work and I am relieved I don't have to look at my headful of foils in a salon mirror as per the hair experiences I'm used to.
Time flies by and soon I am lead past vibrant coloured artworks and teal blue ceiling-hung swings to the basin to be glossed and to be treated with what i must say was an amazing head massage. To finish up its time to sit myself in one of the gorgeous white tulip chairs positioned in front of a large metal-rimmed mirror. In terms of products, collaborating with the likes of Christophe Robin, Kevin Murphy and Oribe, there's almost too much to choose from when it comes to styling mists, serums and volumisers. However, once blow dried and while brushing out my immaculate waves, Jaye opts for Kevin Murphy's hair resort spray to give texture paired with the shimmer shine as a finishing mist to further revive my now glowing mop. Not only is the colour amazing but now my entire look is just to die for, as I attempt to remember all the steps so i can get this look everyday!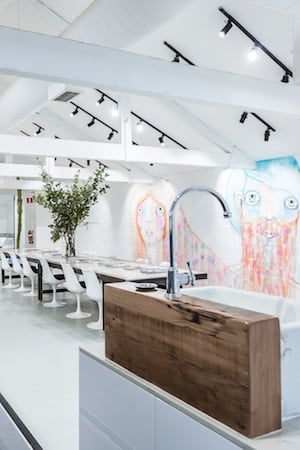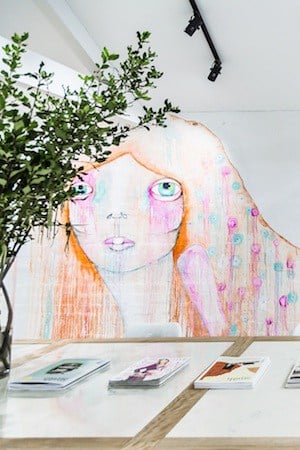 It's obvious I will be returning. In six weeks to be exact, which is the required time period for a follow up, and you wouldn't want to miss it. It's almost dangerous to have my hair done by Jaye as I wouldn't want to have it any other way. My hair has been transformed into a shiny, rich deep colour with softly painted sun kissed tones overlayed on top, perfected with Edwards signature waves. With such high quality, an amazing inviting and collaborative atmosphere in a bright minimalist space I suggest it be added to everyone's beauty bucket lists pronto!
CONTACT:
Edwards & Co.
1/22 Punch Lane
Melbourne
VIC 3000