Nestled in the retail mecca of Chatswood Chase, Aveda salon Luc Espace is a little sanctuary. The salon is, like many good things in life, dark and handsome with deep wooden interiors and sleek but minimal finishes. Known for their colour work and amazing up styles, Luc Espace plays host to a loyal fan base of well-heeled North Shore clientele, while its convenient location means they are also inundated with walk-in shoppers who see a bustling salon and crave a taste of the action.
Today I'm booked in for an afternoon wash and blow dry, and I rush in flustered at having been caught in the rain outside. I'm introduced to a polite and warm stylist, Mitch. He takes my coat and bag, storing them neatly before seating me with a steaming glass of Aveda herbal tea. With hints of peppermint and licorice, it's sweet enough to curb pre-dinner sugar cravings. An eclectic playlist sets the tone and I feel the lingering stress of the working week begin to ebb away.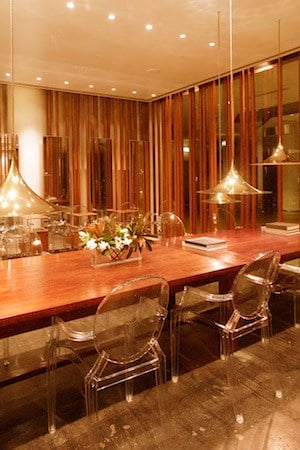 THERE'S NO SHORTAGE OF CHIC AMBIANCE IN THE MODERN BUT COSY SALON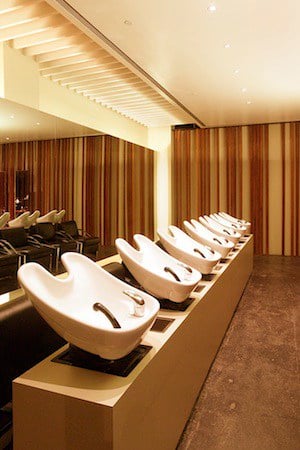 THE HAIR WASHING RITUAL OF A SALON VISIT IS A SENSORY DELIGHT AT LUC ESPACE
Mitch explains that the intention of the Aveda experience is to completely switch off and de-stress, even if only for a few hours. All of their services begin with an Aveda Stress-Relieving Ritual, which involves a neck and scalp massage using an aromatic composition oil. After sampling a few scents, I opt for the Shampure aroma – Aveda' s signature blend of 25 pure flower and plant essences. Cue closed eyes and some deep breathing, I'm then blissfully taken to the basin for a wash and treatment to reinvigorate my dry, over-processed ends. The treatment is, of course, accompanied by a heavenly head massage and I'm delighted as another stylist, Lucy, takes a seat next to me and begins an amazing hand massage. As if I wasn't already in heaven, a warm towel is placed over my locks to really work the treatment in.
After a few serene minutes I meet with my stylist James to discuss the more important things in life; namely, how I would like my blow dry. Big, bouncy with a little movement is the decision to give my fine hair some oomph. Prepping with Aveda Smooth Infusion Style-Prep and my personal favourite, Aveda Thickening Tonic, James gets to work, operating the hairdryer like an artist. Some 15 minutes and a few tonged curls later, my hair is full, voluminous and utterly glam. James spritzes the Aveda Shampure Dry Shampoo through for longevity (you squeeze the bottle to dispense product, no eco-freaky aerosol in sight) and Air Control Hairspray for hold. It feels criminal to go home with such great hair so I get to texting and make some impromptu dinner plans with the girls.
EVERY INCH OF THE SALON IS A THOUGHT-OUT DESIGN WITH THE CUSTOMER IN MIND
For a complete mind and body sensory experience, you can't go past the lush scents and gentle techniques you'll find at Luc Espace.
CONTACT INFORMATION:
Shop 100, Level 1
Chatswood Chase
Chatswood 2067
(02) 9410 1033
www.tribelifestyle.com.au/luc-space
Complimentary botanical therapy treatment with your first hair cut or colour service. Valued at $25. *Offer limited to one per customer. Not in conjunction with any other offer. Not redeemable for cash or product.
Review by Emily Algar