Being perennially well groomed while being eco-aware is no mean feat. Most salons and spas unfortunately put the environment pretty low on their list. Mineral Lifestyle Hair Spa in Paddington is different. Tucked inside the retro chic Verona cinema complex in Paddington, the space is specifically designed to be carbon and gender neutral. Oh, and beautiful. With earthy wood tones throughout, mirrored walls and flattering lighting it's the perfect backdrop to Aveda services for which they are a flagship Spa and Salon.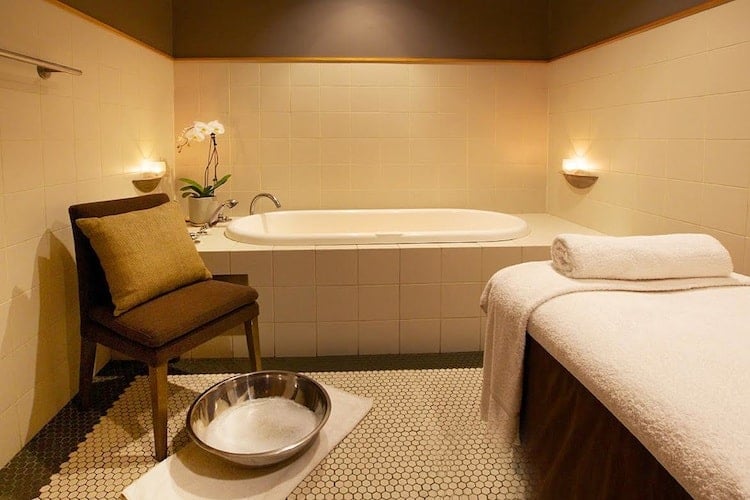 Dedication to creating a calm ambiance throughout, with muted tones and zen lighting, sets this spa apart from the rest.
Upon arrival I am offered a glass of Aveda tea; a refreshing mix of licorice root and peppermint, which I sip while filling out a chart of my skin's needs. I'm shown to my room where I put on a luxe robe and then meet my therapist. She asks me to sit down and gently begins a soothing foot scrub before asking me to smell my way through an array of beautifully scented Aveda oils. I'm asked to chose the oil I find the most relaxing – this will be used in my treatment. After cleansing my skin, I'm ready for an Aveda Perfecting Plant Peel Facial.
After years on Roacatane, I've always had quite sensitive skin and would ordinarily not sign myself up for a peel. However, the thought of a deep cleanse and rejuvenating my skin fresh for the weekend seems the perfect end to my week. The treatment begins with the Aveda Botanical Kinetics Cleanser  and Aveda Botanical Kinetics Skin Firming/Toning Agent Mist they smell so heavenly I mentally add to cart.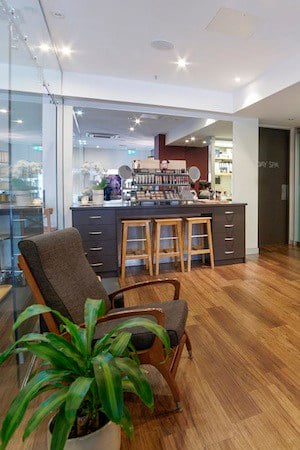 After my skin is  prepped, the peel is applied and a hot towel is wrapped around my face. I can feel the requisite tingle of the peel doing its work while I'm treated to a foot massage. Just before I slip into sleep, the treatment finishes gently with the Aveda Botanical Kinetics Soft Creme. Coming back to the real world after such a relaxing treatment is no easy task.
Back in the salon, it's time to move onto hair. I've recently cut all mine off in a bit of a 'Bingle bob' – a blunt, no-fuss cut. In keeping with their attention to detail and environmentally conscious stance, all at the salon's magazines are digitally available on iPads, which I flick through casually. My hairstylist and I discuss what she will be doing with my hair and we decide on some 'effortless' waves. Well they're effortless on my behalf, at least! Before my wash, I'm treated to a shoulder massage with Aveda's Blue Oil – a blend of peppermint and blue chamomile oil designed to help focus and relax. I have dyed blonde hair so I'm always looking for ways to rehydrate the drying effects of bleach, so take mental notes to start using the Aveda Damage Remedy Shampoo, Conditioner and Daily Hair Repair, a leave-in conditioner,  they use on me.
Once I'm in the chair it's on to taming my thick tresses. When it's finished I run my fingers through my hair and can instantly feel the softening effects of the treatment. To finish my pampering experience, I leave the salon with a light touch of Aveda mineral makeup and feel ready to take on the rest of my Friday. Mineral Lifestyle Hair Spa is the perfect sanctuary I never knew about; it's refreshing to see a business be so environmentally aware and it has given me a huge incentive to return.
SPECIAL OFFER
Complimentary botanical therapy treatment with your first hair cut or colour service. Valued at $25. *Offer limited to one per customer. Not in conjunction with any other offer. Not redeemable for cash or product.