Taking up residence in a hip pocket of Surry Hills in the area's busy Commonwealth Street, Anthony Nader's hair salon Raw is positively buzzing. A member of Australian hairdressing royalty, Nader and his salon have picked up numerous awards in recent years, including Australian Hairdresser of the Year.
The salon is comfortable and resembles a smart loft-style apartment in Tribeca, New York where Nader himself lives six months of the year. This tress-tamer to the stars (he's looked after everyone from Gisele Bundchen to Nicole Richie) can also be found regularly taking up residence backstage in fashion catwalk shows in New York, London and Milan.
The rustic and industrial look of the salon's smart interior is all dark wood panels and deliberately exposed wooden frames, brick walls and low-hanging pendants. There is an industrial, unfinished air about the place that makes a refreshing change from the glitz and bling of other top salons. And, well, it's an appropriate look for a salon named Raw, after all.
Despite the relaxed look of the interior, don't be fooled into believing you will get anything less than an upmarket service here. For, after being charmingly greeted by the receptionist and ushered into a plush leather chair I was instantly offered tea (organic; and a variety of creeds and colours), coffee (latte, cappuccino – you name it) and even a glass of champagne.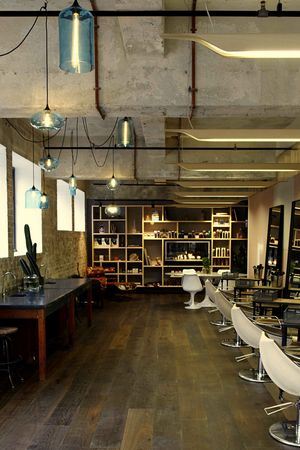 Half a glass of bubbly down and I came face-to-face (in the mirror) with the salon's lovely Stella. She's worked there seven years now and certainly knows her stuff. She took me to the "relaxation pod" for my wash – a soundproofed room at the back of the salon where an earthly form of heaven is located – they have full reclining massage chairs imported from Japan that take a simple wash to another level entirely.
So, after a swift soaking of my naturally untameable tresses (with Anthony Nader shampoo and conditioner, of course) and a tip from the assistant to always make the last rinse cold'ish in order to close the cuticles and make the hair stack on my head more manageable) it was time to visit the loo (or rather the shrine to Madonna – Nader is a huge fan).
So anyway, interiors aside, how was my hair? Well let's just say, the salon is now a set of GHD hair straighteners down and I've already booked my next appointment.
Review by Jill Sandringham