It would be easy to imagine that the National Manager of PR for the legendary Tiffany & Co. is as spotlessly elegant as the brand itself. And Kate Bucceri doesn't disappoint. When sitting down with us in her stylishly understated harbourside home, we were happy to learn that she also isn't afraid of hard work or real talk, and even has the odd quirk or two. She reveals that pesky teenage breakouts were the catalyst for her adult skin care obsession, that every day she heads into work wearing lipstick on her eyes and that rather than thanking a fast metabolism or green juice for her slender frame, she balances red wine and her Italian husband's homemade fare with gym sessions. She almost had us considering her a more-glowing-than-usual version of normal. That is, until she brought out the jewels.
"I am all about trying anything once – I am addicted to researching what is new and what other people find works for them. This is really how I find my favourite brands.
Once I find something I love and that works for me I am all about sharing the love with my friends too, so it works both ways. I am also very regimented – I like to say in the best possible way. For example, I have never gone a day without doing my full skin care routine in the morning and at night – including applying body moisturiser. That includes times I am travelling or sick. I now just see it as part of my routine like brushing my teeth. I feel like consistency is really important for your skin; there is no point putting on products if you are only going to do it sporadically.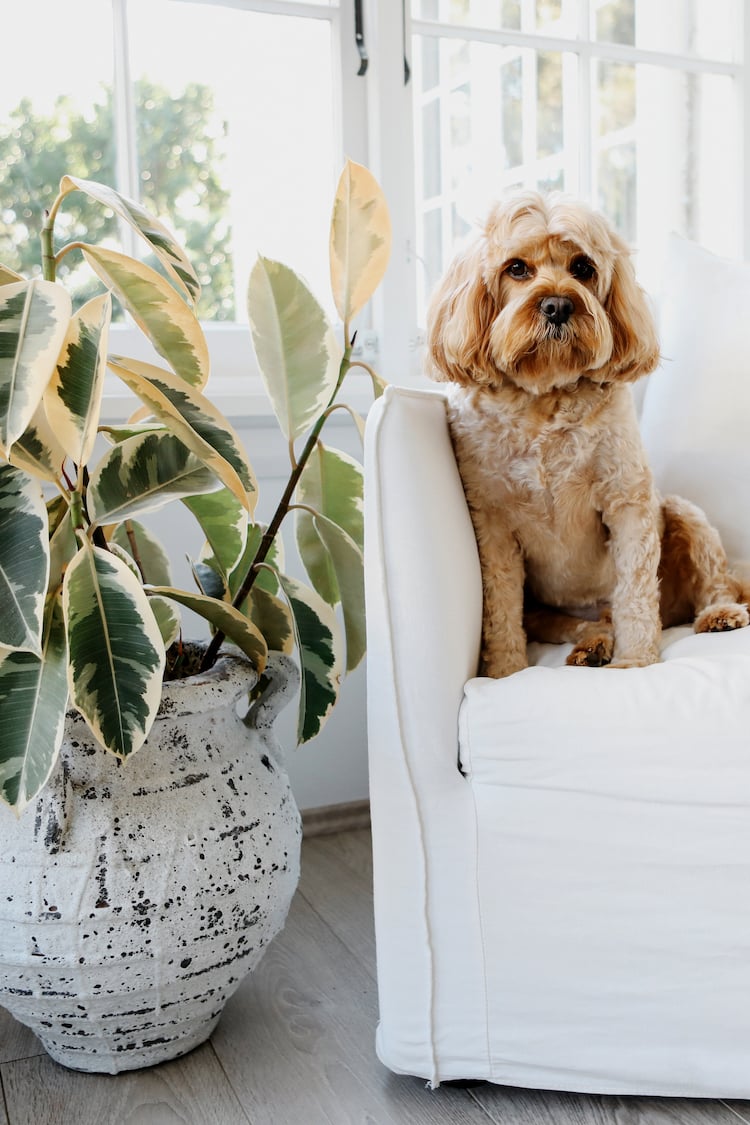 I don't like to wear foundation every day, so my usual base is just a combination of tinted sunscreen under BB cream.
After my morning shower I apply Aesop body moisturiser, natural deodorant, and then start on my face, using Rationale sunscreen and LB Cream on my face, neck, chest and back of hands. Then I apply either a Dior or NARS blush in a rose or terracotta colour, or during winter I use my Bobbi Brown cheek tint in a slightly deeper shade. I love the look of matching cheeks, eyelids and lips. Rather than using eyeshadow I'm often doing my eyes using blush, bronzer or even dabbing lipstick onto my eyelids with my finger. I don't know where I picked this habit up but I can never find an eye colour I love as much as finding one this way.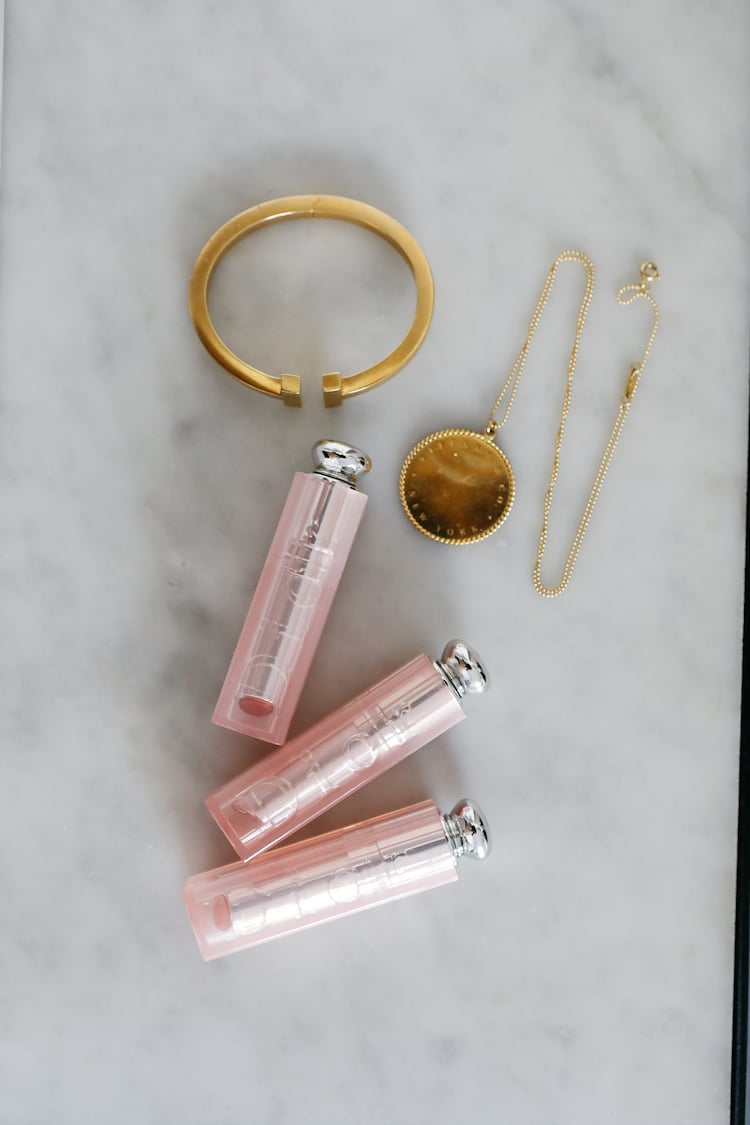 I am obsessed with Dior's Lip Glow and wear it every day. I have multiples so I am never without one – they're in my bags, drawers, car and basically anywhere I spend time.
I always use Dior mascara and also always tame my brows using either clear eyebrow gel or pawpaw ointment.  If I am going to a little more effort I will also use NARS Laguna bronzer on my jaw line and hair line, NARS Orgasm Liquid Highlighter on the cheekbones and add a little more colour on my eyelids with my blush.
At night, I am religious about taking my makeup off.
I always double cleanse with my Rationale cleanser all over my face, neck and chest – first to remove the day and my makeup, and then again to ensure I have cleaned my skin properly. Following this I apply my Rationale serum and night cream to my face, neck and chest.
Once a week I apply a moisturising face mask and my Olaplex hair mask and leave both on overnight. I am obsessed with my Jet Lag Mask by Summer Fridays that I recently bought. When I feel like I need it, I also apply a pharmaceutical-grade vitamin A cream (Ed. note: A313 is available only in France) overnight for an extra lift, and La Prairie eye cream.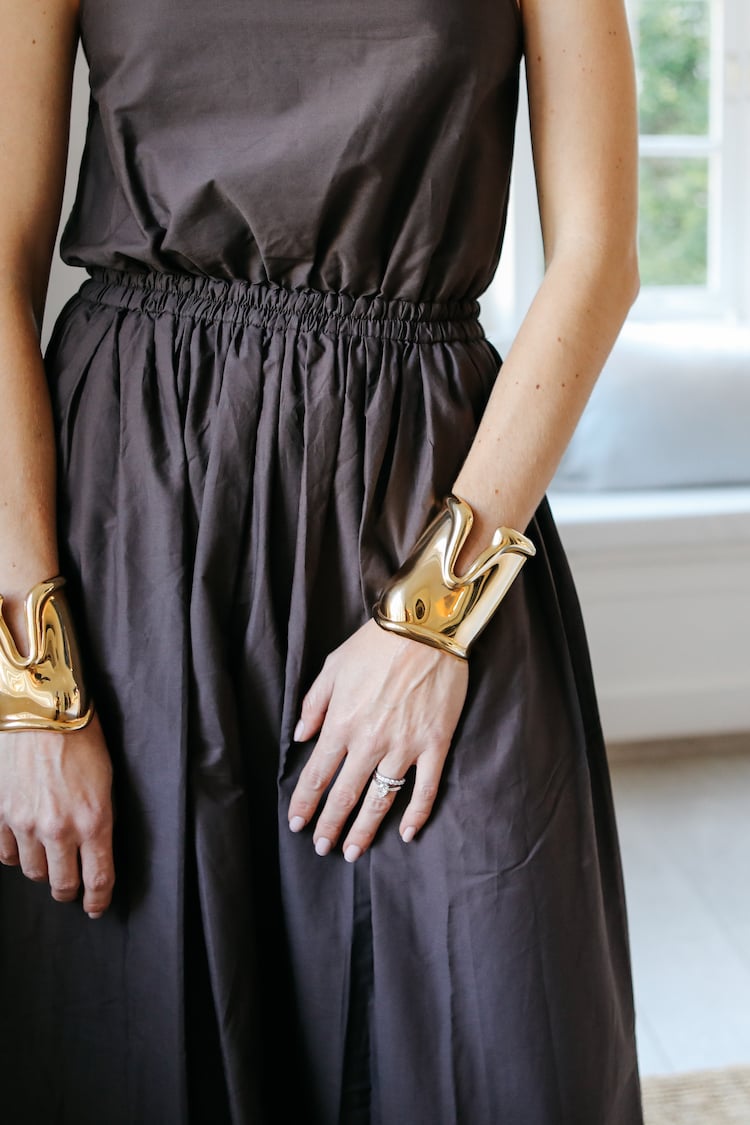 Generally, though, when it comes to my skin I really just focus on consistency. I think using my Rationale regime day in and day out is a better investment than having lots of treatments. I had bad skin when I was in high school so I think this is why I take a lot of time caring for it now.
As far as other treatments go, I have a manicure every two weeks, a pedicure every month and swear by laser hair removal. I get my eyebrows done at Kristin Fisher once every two month, along with an eyelash perm and tint. I also like Nimbus & Co. in Bondi for an infrared sauna – which I think might be my new thing. Apparently you burn 600 calories in one sitting, so bring it on.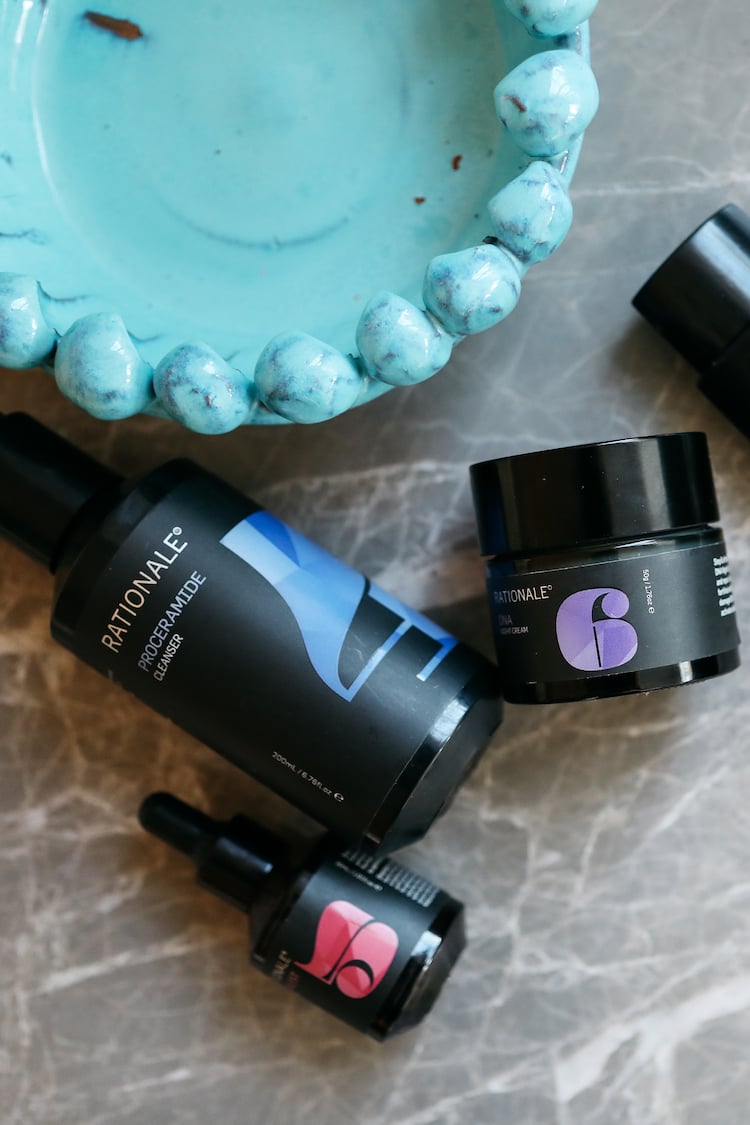 I get my hair coloured and cut twice a year at Edwards & Co with Jaye Edwards. I actually refuse to see anyone else and trust him completely.
As a teenager I think I tried every hair colour possible – black, brown, red, platinum. Thank goodness I've landed on something a bit more natural now. For home upkeep, I wash my hair every second day with a blonde shampoo and conditioner and use an Olaplex treatment once a week overnight. Styling wise, I curl my hair with a GHD in six large sections every second day, which takes me about two minutes. I curl each section, leaving the ends straight, and then brush each one out while adding some dry shampoo to the ends and roots. This helps me to get it to look undone, with a loose wave.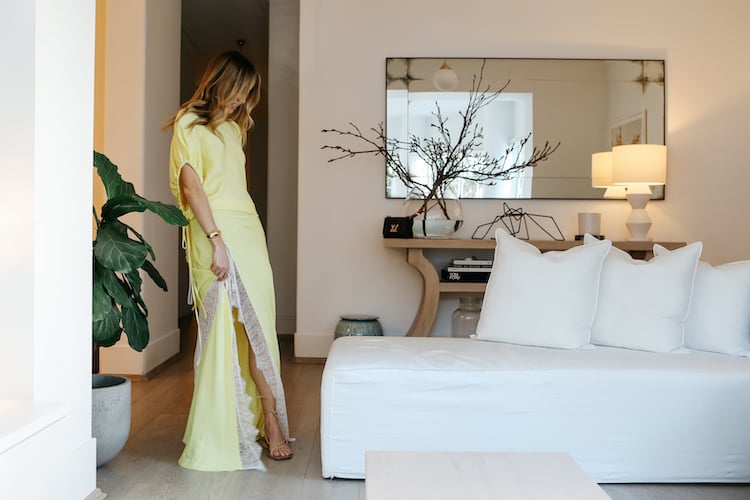 This year, I have tried to be more considered with my purchases, investing in items that I know I will wear for years to come.
I would like to think my personal style is a balance between relaxed and polished. Being around luxury every day I have a naughty habit of falling in love with luxury pieces like jewellery, shoes and handbags, but I do mix these pieces with clothing from local designers. My favourite brands are Totême, Loewe, The Row, Albus Lumen, Matteau, Georgia Alice, Christopher Esber and Jacquemus. I can't get enough of Totême at the moment; if I could, I'd buy the whole online store and be done with it, but my husband would kill me.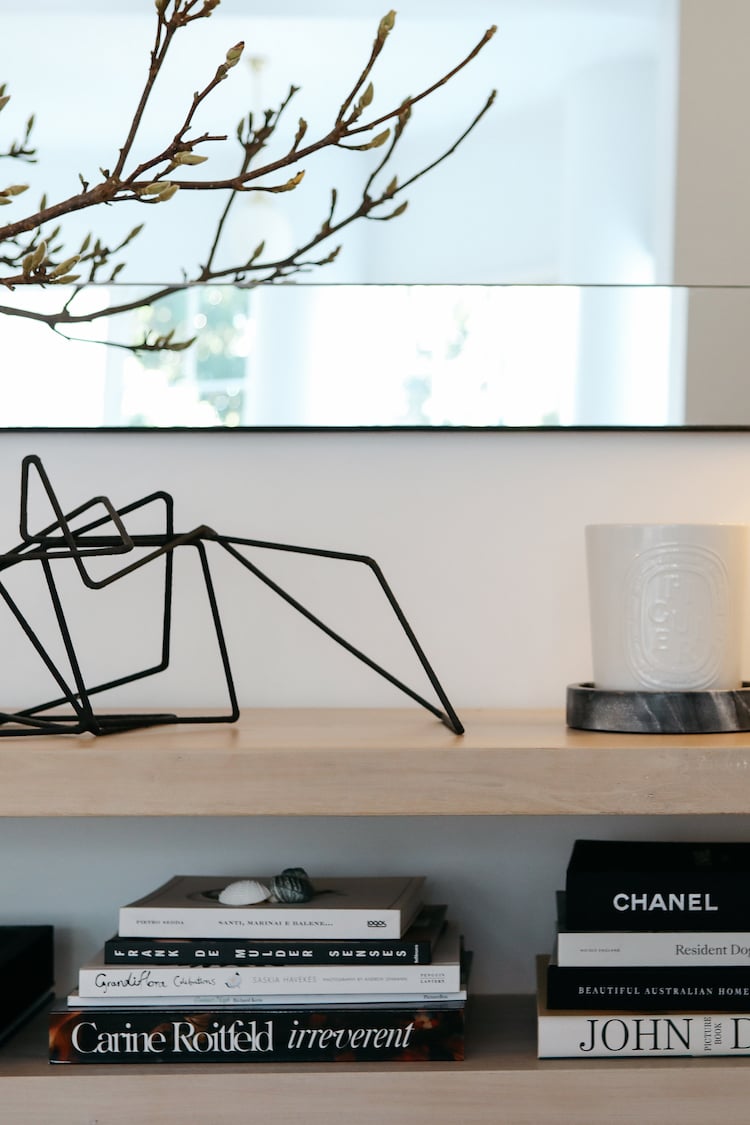 Growing up, I really didn't know that I could have a career doing what I do every day. I am incredibly grateful to have this job, and to work for a brand that I absolutely love. It's funny though, now I couldn't picture myself doing anything else.
My job and the industry as a whole are both constantly evolving and changing, and always keep me on my toes. What I love the most is definitely the people I get to work with. I am lucky enough to work with some of the most exciting, creative, innovative colleagues and they are a constant source of inspiration.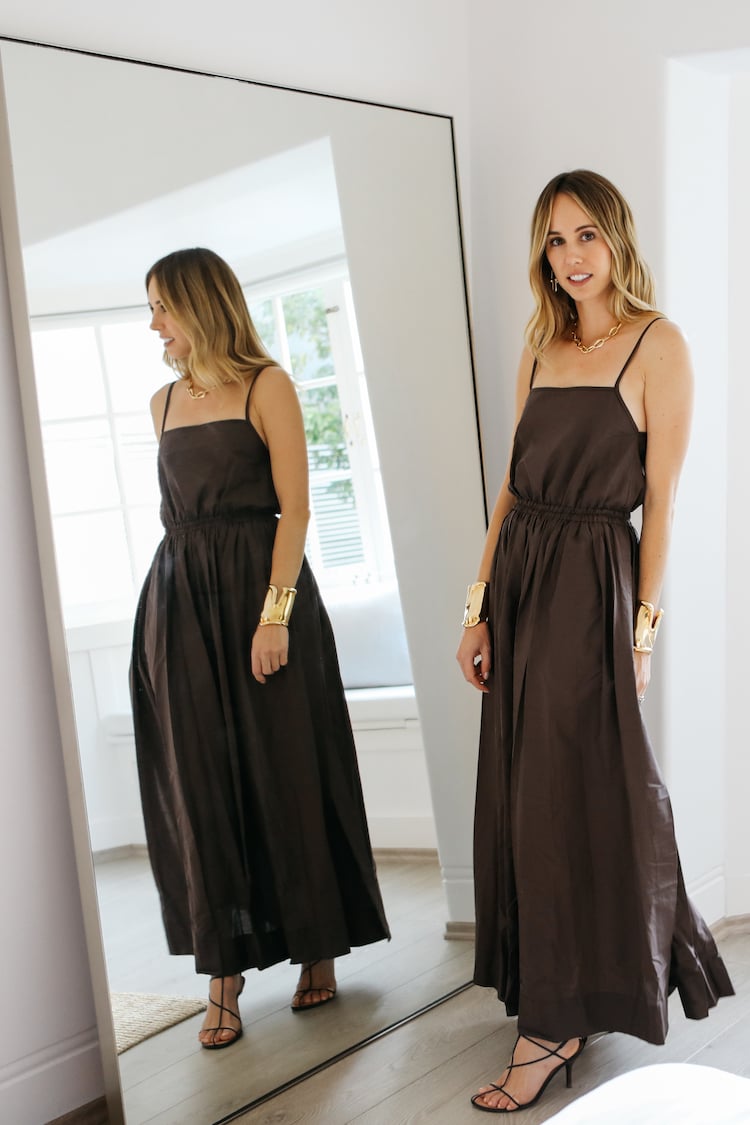 My mum is a major source of inspiration for me, too. I love that she is also always experimenting – I mean, she currently has pink hair. I definitely have a cool mum.
She taught me that you should always take time for self-care and this really does impact not only the way you look but the way you feel. She doesn't wear much makeup but is always impeccably groomed (and really instilled the value of this in me at an early age).
She takes pride in her appearance and always looks wonderful, with a chic lip and slicked back hair. My own desire for a fairly simple beauty look, the focus on having super healthy skin and a warm glow on the cheek and eyelids, and overall to look put together, is a direct reflection of her.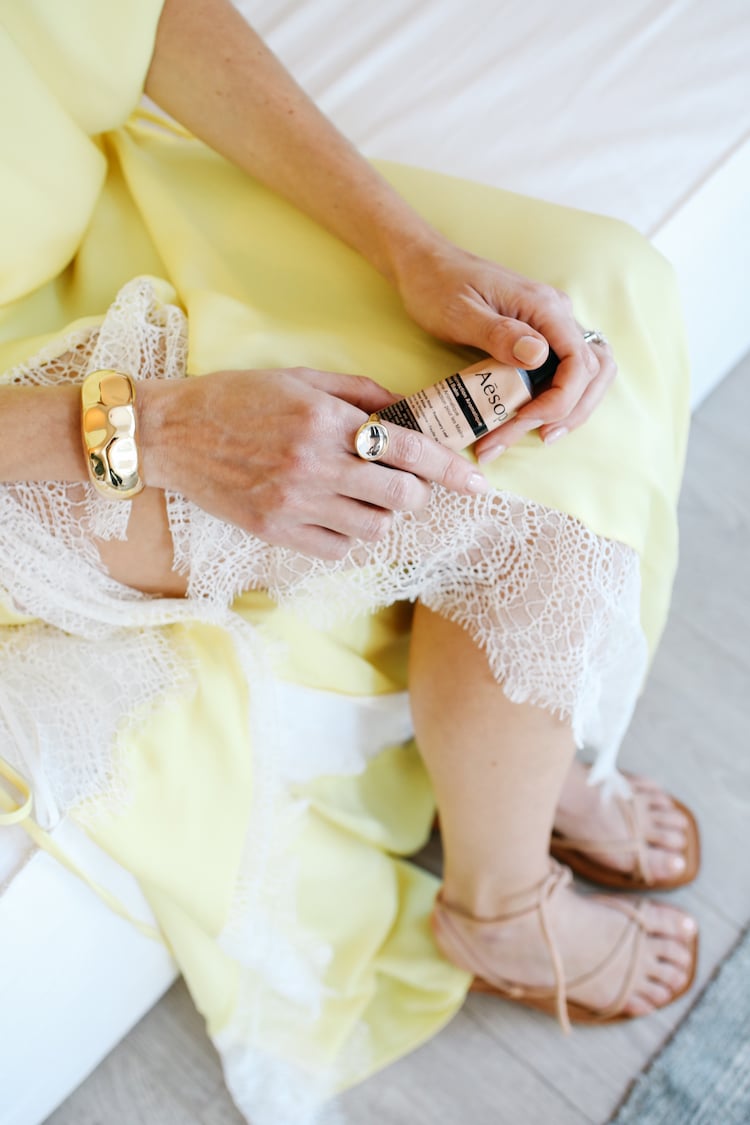 I don't like the judgement women put on other women.
If someone wants to go all out with their look and it makes them happy, who cares? Just let people be – it's their face and their body and there are more important things in the world for the rest of us to worry about. (Having said that, I got a tattoo when I was young that took me about a decade to remove – experiment as much as you want, but listen up kids, be careful about permanent changes!)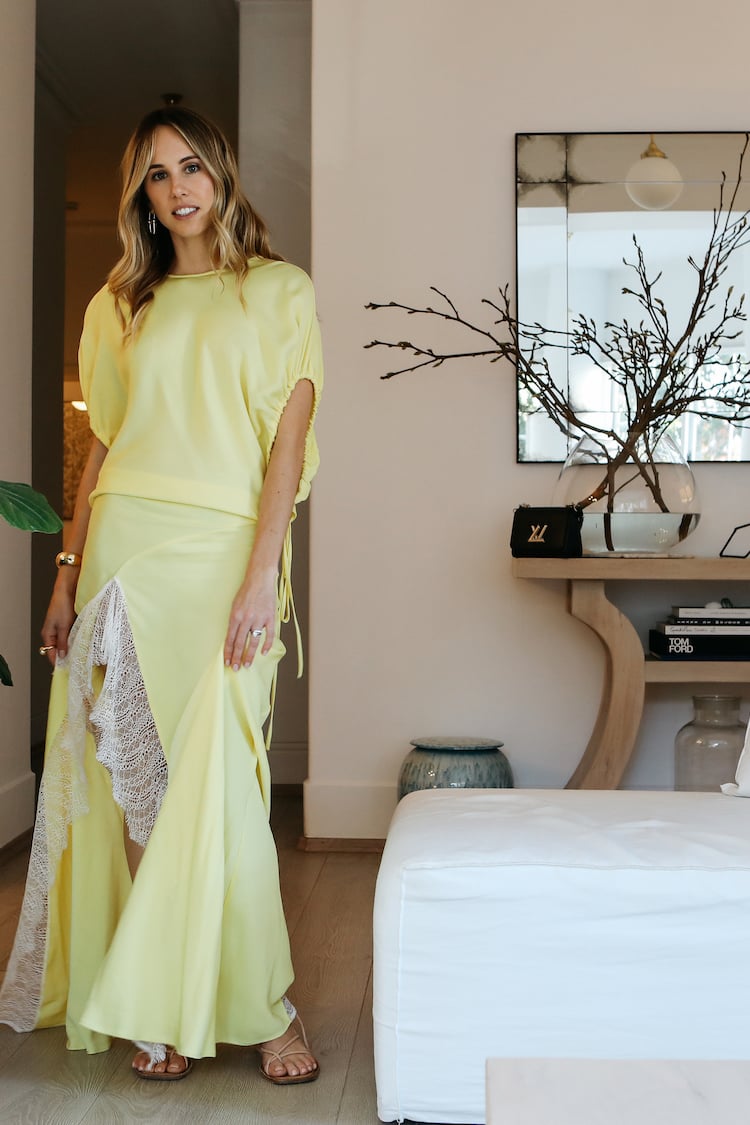 My husband is Italian and the best cook ever. I have to be careful because his food is so delicious, but it's not typically the best for my waistline if I am eating it every day.
I am not picky when it comes to gluten, dairy or sugar – I just try to eat everything in moderation and pick healthy choices when available. Although in saying that, you only live once and food is one of life's greatest pleasures, so I just try to balance out the bad with the good. I will basically eat anything, although I do try and limit my red meat intake. I did cut it out completely for six months and felt great, but eventually my body started to crave it again.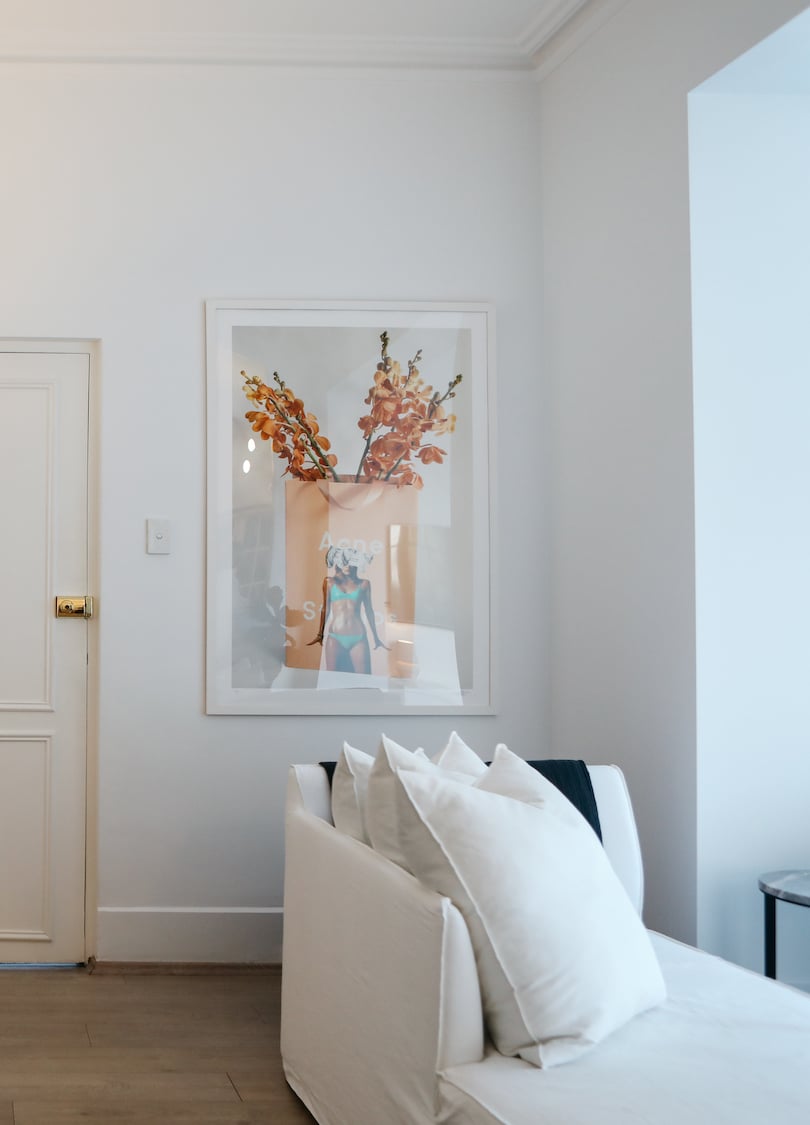 I do believe in apple cider vinegar in the morning, to kick start your metabolism, and green tea after a heavy meal to aid digestion.
I start each day with a one litre water bottle filled with a combination of The Beauty Chef Glow and Collagen powders, then when I get to work I have a shot of apple cider vinegar. I've recently been trying Mukti's Bioactive Collagen Booster, which is great too. I also try and drink another two litres of plain water throughout the day.
My exercise routine involves both cardio and light weights. I do these at the gym between two and four times a week, depending on what my diet is like that week. I like to rotate between running, fast walking on an incline and the stair machine, then mix in high repetitions of light weights. If I could, I would add a Pilates class into the mix once a week to try and strengthen my core. Before I settled on my cardio routine, I was doing Reformer Pilates three to four times a week, but just didn't see the results that I am now.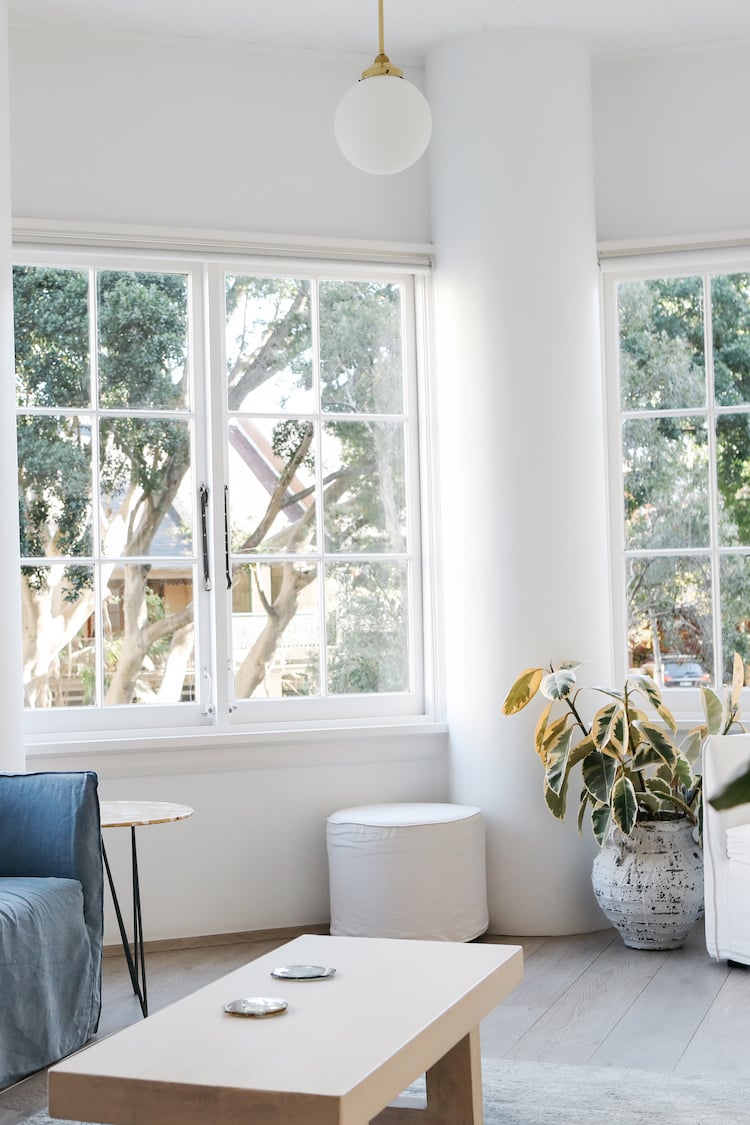 I definitely don't fixate on getting older, but I have never felt more myself or been more comfortable in my own skin as I do recently, and that just comes with age, doesn't it?
I know now that I need to get as much sleep as possible and do what I can to not let stress build up. Stress does not sit well with me and it has a really negative effect on my overall health and wellbeing. I have been making an effort to control this with exercise, listening to music and meditating as much as I can. I also do just really try to put things into perspective. To relax, I love to walk my dog, go for a quick run, listen to podcasts, or kick back on the couch with a glass of wine – one of these always helps clear my mind."