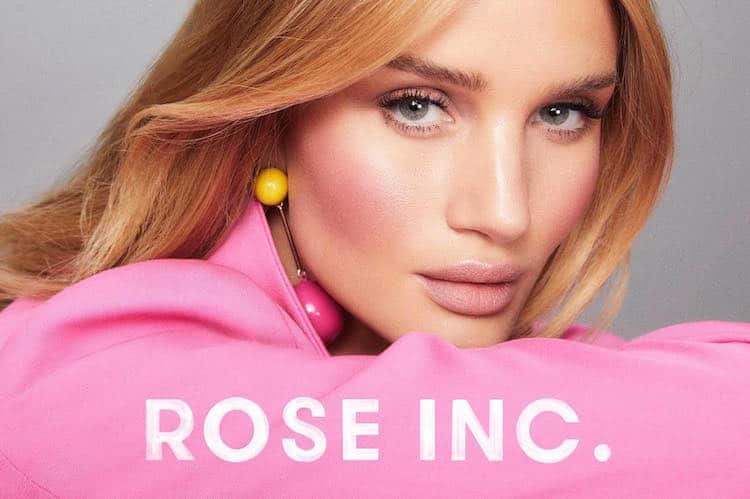 "What's in a name? That which we call a rose by any other name would smell as sweet," Shakespeare famously wrote. And so beauty aficionados, rejoice – our forever girl-crush Rosie Huntington-Whiteley has launched a new venture, simply (and very fittingly) dubbed Rose Inc.
The supermodel, part-time actress and full time mum/flawless human took to her Instagram – how else? – to release her plan her beauty world domination. Cue unanimous squeals of excitement.
The 31-year-old has already dabbled in ventures outside of her (very lucrative) modelling career, including a denim collaboration with Paige Collection and a huge partnership with British retailer Mark & Spencer named Rosie for Autograph  (which includes lingerie, activewear, swimwear and of course, fragrance).
It's not her first rodeo in the beauty biz – having previously been an ambassador for Aussie cosmetics brand ModelCo, releasing a Rosie for Autograph makeup range (which isn't available in Australia – boo), and being the favourite client of countless beauty experts. Clearly no stranger to being a businesswoman and with all this experience under her belt, we have an inkling that this may be one of her most successful projects yet.
Though still in it's infancy, the site and it's social media already boasts some impressive followers – the Instagram account already has 45.4k followers, since it's first post on May 21st. Judging by it's first few posts, we know her promise to inform us on all of her beauty secrets is as good as gold.
When previously speaking to Beauticate Founder Sigourney Cantelo, the model talked about her refreshing attitude regarding makeup, "My approach to beauty is never hide, [but] to enhance, so bring out your best asset rather than complaining about things you don't like. I'm famous for my lips I guess. I love to do a feline eye, with lots of lashes."
If anyone needs us, we will be glued to our screen, soaking up every tidbit of information. If it gets us any closer to emulating even a little bit of that RHW glow, you know we'll be first to try any recommendation.
To read the full interview with Sigourney, click here.