Tucked away in Sydney's Double Bay village, Juliana Marcs is a hair salon that's a cut (and blow-dry) above the rest. With rich Rococo finishes and just a touch of glitz, the salon's namesake has her hands full (literally) with the latte ladies of Sydney's society scene. We present you a blow-by-blow of all this small, but swanky, salon has to offer.
m the exterior, the façade of Juliana Marcs hair salon is simplistic and inviting, with black-trimmed white walls and a classic gold insignia. Stepping inside, the drama is raised a notch with the salon gilded in gold and burnished Baroque accents. The décor is tastefully opulent and reflective of Double Bay's European character. In the centre sits a spherical counter in copper and each client chair has their own majestic mirror.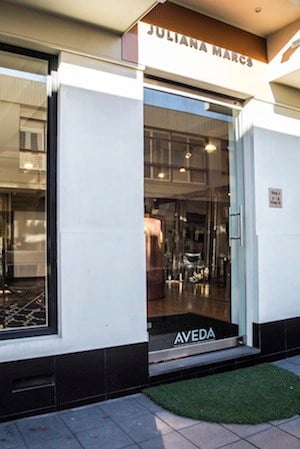 JULIANA MARCS KNOWS HOW TO MAKE A GREAT FIRST IMPRESSION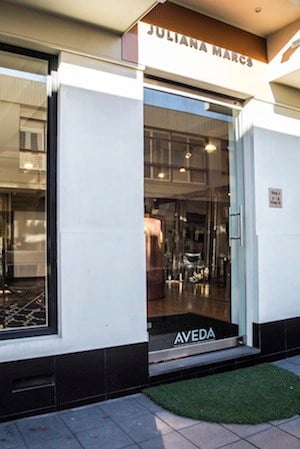 IT'S COOL LUXURY FROM BEGINNING TO END
Juliana greets me promptly. She is dressed stylishly in an all-black ensemble, offset with long, smooth flaxen hair – a note to self: a hairdresser with good hair is always trustworthy – and she shows me to my über-cool ghost chair.
A warm herbal tea, glass of water and a cookie are placed beside me alongside some editorial entertainment for my perusal. I chat to Juliana about what I want hair wise – a bouncy blow-wave that will remain buoyant and big at a friend's birthday on the wind-stricken harbour. I also apologise profusely for my wild, salty, Bondi mane. Luckily for me, Ms Marcs yields magical (hair) powers and begins to work her craft.
I am moved to my chair by the simplistic, serene space at the basin in the back. I look up and see a cluster of low-hanging light bulbs and catch the scent of nature. As a salon that is monogamous to one brand, a rare feat these days, only Aveda products stack the shelves of the basin and salon. Due to the unruly and frizzy nature of my post-beach 'do, Juliana advises me she is using the Aveda Smooth Infusion Shampooand Conditioner and proceeds to lather away. The soothing scent of aloe and guar bean coupled with the oh-so-heavenly scalp massage has me drifting off into a halcyon slumber. After the deepest, most thorough hair washes of my life, my squeaky clean locks are now indulged in a Smooth Infusion Smoothing Masque and another scalp massage (read: yes, please).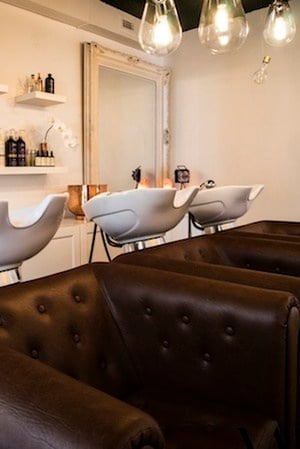 JULIANA MARCS TAKES CLIENT COMFORT VERY SERIOUSLY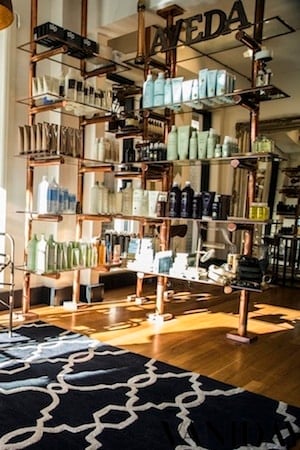 AVEDA'S NATURAL OFFERINGS ARE EXCLUSIVELY USED IN THE SALON
As I return to my chair, slightly zonked from my state of sensory bliss, she tends to my locks with a Volumizing Tonic – just what the hair doctor ordered for my bouffant desires. With hairdryer in tow, she proceeds to dry off my now silky locks – blow-wave style – and we tête-à-tête like girls in salons do. For curls that last, and with such a long, heavy head of hair, the tong comes out, and adhering to my mantra of volume, she arms herself with a backcomb and slightly teases the crown of my hair for that extra oomph. Finally, the Aveda pièce de résistance: their revolutionary Shampure Dry Shampoo (an aerosol-free product that is pumped and poof'ed all over my hair for added grit and texture). Looking into the mirror, I have a bouncing mane of curls, ready to take on my Saturday afternoon soiree on the bay.
For those after a glamorous yet wholly natural experience, head your hair in the Double Bay direction; Juliana Marcs has your mane covered.
Review by Chrisanthi Kaliviotis.
CONTACT:
2/17-19 Knox St
Double Bay, NSW, 2028
Phone: (02) 8068 8989
SPECIAL OFFER:
Complimentary botanical therapy treatment with your first hair cut or colour service. Valued at $25. *Offer limited to one per customer. Not in conjunction with any other offer. Not redeemable for cash or product.