With one of the most gobsmacking views in Sydney, Wildlife occupies some seriously prime Kirribilli real estate. Each chair and mirror in the salon is privy to a sprawling perspective that takes in the majestic arc of the Harbour Bridge, the grassy knolls of Bradfield park and the stunning expanse of Sydney's most famous waterway.
This blue ribbon location also boasts service to match with a team of highly skilled stylists led by multi-award winning director Jane Wild (she's won Australian Hairdresser of the Year, not once, but three times). Wildlife Origin is one of three salons in the business – the others being Sogo in Surry Hills and Studio in Milson's Point.
A recent renovation to the Origin salon sees the front windows turned into sliding doors, which cantilever, bringing the incredible vista – literally – right into the salon. The street-side entry has also been opened up and features a new café that tempts the locals with Single Origin and Vietnamese Coffee, fresh zesty salads and devilishly innovative desserts (Violet Crumble Muffins anyone?).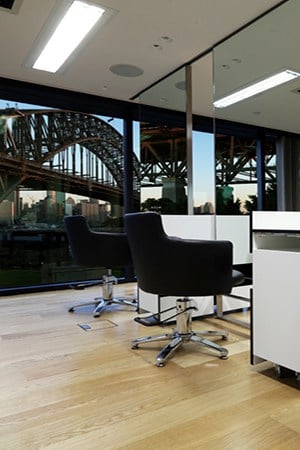 Today I'm booked in for a luxe Shu Uemura Colour Lustre treatment followed by a style with Jayne ahead of a function I have this evening. After a quick chat with the beautiful Jayne (who is one of the loveliest women in hairdressing) about the style I want – a chignon or up-do that will work with my black Zimmermann seventies style dress – and I'm introduced to Eve, who will be doing my treatment.
Kaija begins my treatment with a paddle brush in each hand and gently brushes my scalp to stimulate the blood supply – it's sensorial and shiver inducing. I sip a delicate mint tea and close my eyes. When I open them I'm again struck by the beauty of Sydney harbour. With the delicate afternoon breeze wafting through the space, it feels like I'm having my hair done on someone's private waterfront balcony.
I step through to the basin area for my wash and it's all subdued lighting and chilled music. Kaija tells me that the salon uses specially purified water to wash clients' hair – this prevents any toxic build up and gives extra doses of shine.
In addition to the hair service, you can also choose from a full beauty treatment menu to enjoy either in chair or next door in one of the four treatment rooms. Daniella, who runs the beauty salon, offers incredible Cosmedix and Payot facials, gel manis, waxing, massage, makeup and even injectables (her father cosmetic doctor who does special visits).  Wildlife also also make their own candles so that you can take a little piece of the relaxation home with you.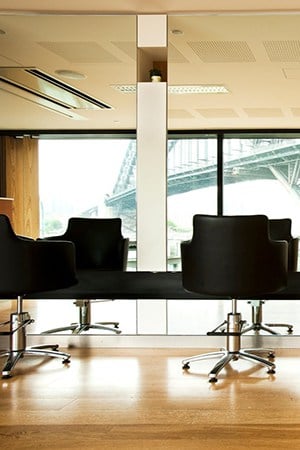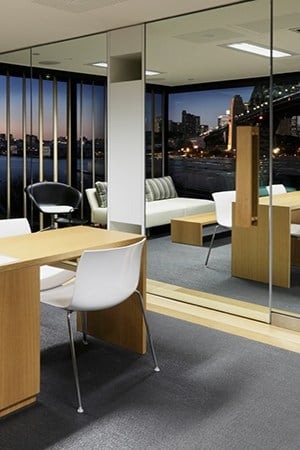 "It's not just about the hair," explains Jane Wild a few minutes later, as she expertly winds my hair around a brush while blasting it with a ghd aura hairdryer "It's about having a whole Wildlife experience.
My dream when we first built the salon was to have a one-stop shop. A destination where clients can have hair, beauty, they can have something to eat…  Most of my clients are time poor and running to get the kids, or get back to work, and they forget to eat, so it's important they can get everything done at once, because it's precious time that you get to yourself."
And within minutes, my hair has been folded into an elegant chignon and I do exactly that – swoop out of the salon to face the daycare pickup before heading home for a swift outfit change. Jayne and her team have nailed it with their salon, and it's an experience I can't wait to have again.