Having been in the limelight for a staggering twenty-five years, the truly-more-beautiful-than-ever Megan Gale needs no introduction… so let's just do an update instead. Since her start in the early '90s she has added many a 'slashie' to her original model title – think actress, swimsuit designer, charity ambassador, to name a few – as well as become a mother of two. Megan sat down with us to explain just how River, 5, and Rosie, nearly 2, have inspired her newest role as creator of natural children's skincare line, Mindful Life Child, and the renewed sense of purpose she has found navigating her first solo business venture.
"I've been thinking about Mindful Life Child for five years, since River was a newborn.
This shift started for me when I was pregnant with him. I was one of those mums who was very conscious of what I was eating and what was going on my skin. Then there was a flow on effect when he was born, of 'what am I putting on his skin?'. I looked at the products that were out there, and while some ticked my boxes, overall I was disappointed with my options. I really want to grow that space and contribute to it, to give parents options they can trust. I find that things are packaged to look natural and trustworthy but lots of nasty ingredients are still in there.
I knew for my first solo venture, I had to find a why and a purpose, so I stopped working on it for a while and just concentrated on being a parent, thinking about other parents I came into contact with, and my own mum. Serendipitously during this time I had strangers come up to me who said, 'You need to slow down and connect with your baby or you'll blink and miss it' and I thought to myself, the universe is really trying to tell me something here about the importance of making the time to connect. And that was the impetus for Mindful Life Child.
My mum had taught me since I was a teenager to slow down and be mindful, so I had been raised with this mindset but never really got it.
By my early twenties, all the signs were saying my modelling career wasn't going to be a major success, but I had a feeling in my bones. That was coupled with a fear of not going anywhere, of being 23 and having a bank account that wasn't looking good, and no idea what else I wanted to do. Then Omnitel (an Italian teleco which is now part of Vodafone) shot a commercial with an Australian director and they cast me. That was my game changer, twenty years ago now.
The nature of my industry is so quick, and I became programmed for that. My career started relatively late, so I felt like I had to ride my wave and make up for lost time. Mum would see me fall in a heap every now and again, then go to a spa or go back to Perth and piece myself together again, and then get back on the mouse wheel. She tried to give me her advice again and was concerned I would burn out.
The goal for me was always to evolve beyond being a model.
When I started being an ambassador and was able to have a voice, I found that very rewarding. Those roles also gave me an opportunity to see how businesses were run. I have always wanted to develop my very own business and go down that entrepreneurial path. My lines of swimwear and homewear were great and gave me a deeper understanding of how business and brands worked, but I stepped into those opportunities with everything set up and ready to go. I didn't have to worry about the financial risk. That's what's so different now about Mindful Life.
I always cleanse my face twice daily, and if I can, I don't wear makeup in order to let my skin breathe.
When I do wear makeup, I will apply the bare minimum and keep it fresh and light, which would typically consist of a tinted SPF 15 (I I don't wear full coverage foundation but am obsessed with LB Cream), blush and/or bronzer (Hourglass Illume Sheer Colour Trio in 'Sunset' – Ed note: limited edition shade now discontinued), and a light tinted lip balm or lipstick, like NARS' Afterglow Lip Balm in 'Orgasm'. I usually take the time to apply mascara (Maybelline's Full 'N Soft) and do my eyebrows as I feel that makes me appear 'done' in a very subtle way. To do my brows I dampen an eyebrow brush and fill them in using a MAC dark brown eyeshadow, which I've been using it so long the label has worn off! (Try MAC's Matte Eye Shadow in Join My League).
Every evening without fail I will give my skin a good cleanse and every other evening a good exfoliation. After patting dry I will apply a moisturiser with a few drops of my favourite face oil of the moment and then let that soak in.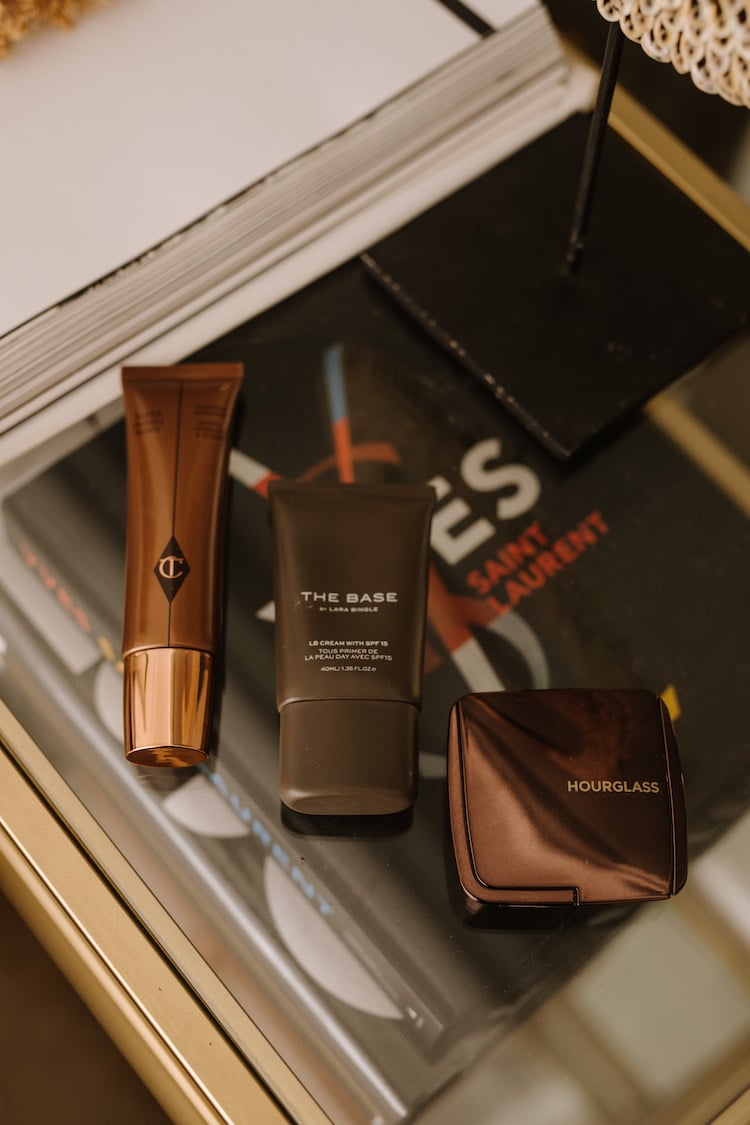 When it comes to a night out, I usually highlight one feature and make that the stand out. It's generally either eyes or lips.
When I focus on lips I tend to pick a colour such as peach, red, or deep burgundy. A favourite is NARS' Velvet Matte Lip Pencil in 'Dragon Girl'. If I'm highlighting my eyes, my basics are mascara and Bobbi Brown's Long-wear Gel Eyeliner in 'Black Ink'. If I choose to focus on eyes I will keep lips fairly neutral, because I will either do a smoky eye or play around with a bit of colour.
I apply the thinking 'less is more' to skincare and especially to makeup. We can get so bombarded and overwhelmed with everything that's out there, get so tempted to have it all and try it all and do it all. For me, this brings back the importance of self awareness and mindfulness. Let's not just use that cream because XYZ uses it, but think about 'what is my skin doing', 'what is my skin type?'  – you need to know that. Then you can experiment with different things, and not just buy it because you saw it in an ad (or because I told you to, haha!)
I find as I age, caking on too much makeup is not great for me – I think it can actually make you look older.
I do love to experiment with some more glam looks at times but I keep the amount of foundation I use to the bare minimum, otherwise it just looks too heavy and loaded up on my face.
Some tricks I've learned in the makeup artist's chair are using white or beige pencil on the inside rim of my eyes to make them brighter (this really helps when you're tired) and black gel liner on the inside rim applied with a fine brush to make your eyes pop if you're doing something a bit more dramatic.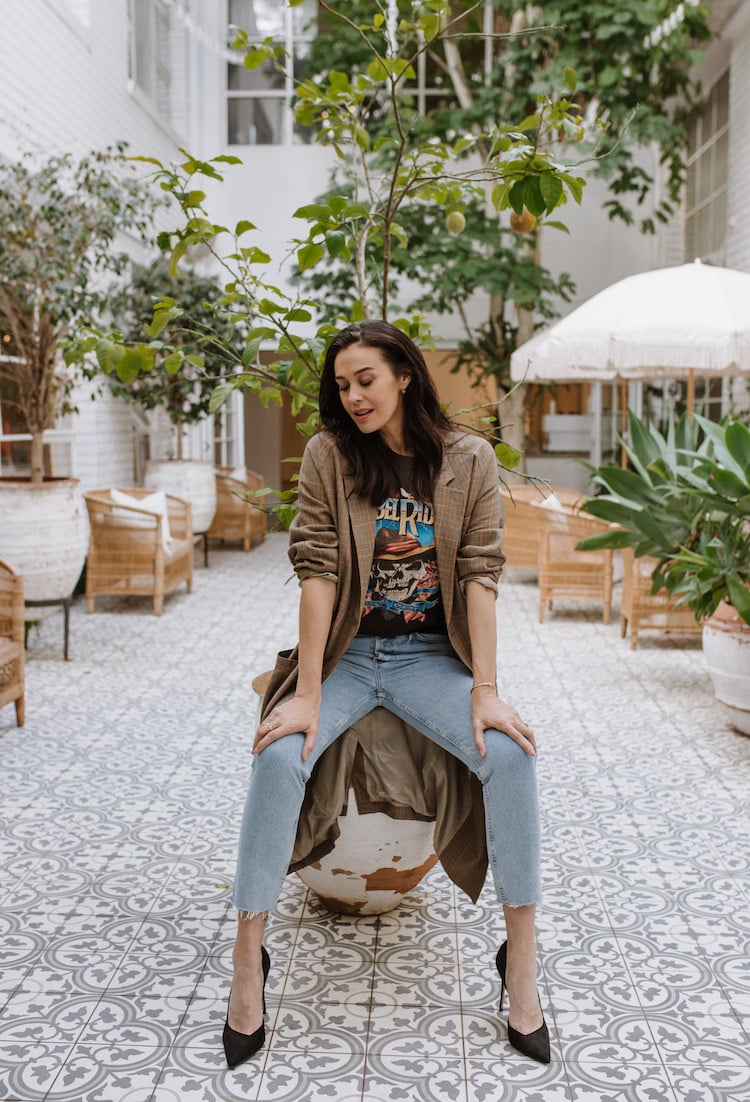 I would say that my personal style is classic – whether I'm dressing for business or socially, I tend to wear favourite pieces that don't go out of style and are simple enough that can be dressed up or down.
I love versatile pieces as well and for me it's about finding comfort without compromising on style.
My favourite designers include Zimmermann, Rebecca Vallance, Thurley, Jac + Jack, Bassike, GRLFRND, YSL, Gucci, and Viktoria & Woods. Some special recent purchases? Cropped GRLFRND jeans, rocker t-shirt from Spell, YSL leather espadrilles, Rebecca Vallance satin skirts in fuchsia and black, and a Viktoria & Woods trench coat.
Mum taught me not to start messing around with your natural beauty too young, though I think it was a lesson learnt rather late for me.
I definitely remember teasing my fringe and adding hair gel to turn it into this matted, gooey, knotted mess that I thought looked so cool. Note that it was the late '80s and very on trend at the time!
I was so obsessed with coloured mascara. When I was 15 I had a teal green Covergirl one and a bright blue Australis one. My mum didn't let me wear any makeup to school, so I would sneak them into my school bag and go to the toilets at school and apply it, then wash it off before I went home. So naughty!
I worry about this excessive makeup trend on young people in their teens and early twenties.
They have the gift of their gorgeous fresh skin, so to see them so overloaded with foundation, contouring, blush, fake lashes, heavy eye makeup and overdrawn lips just makes me scratch my head. To each their own, but it's not a look that I'm a fan of.
Like most young girls, I was desperate to start experimenting with hair styles and beauty trends, but I do think the longer you can leave your hair and skin alone and spare it from as many harsh products as possible, the better. Really, that's true as we get older as well. I think just let growing older happen – it's a part of life and we all need to relax about it.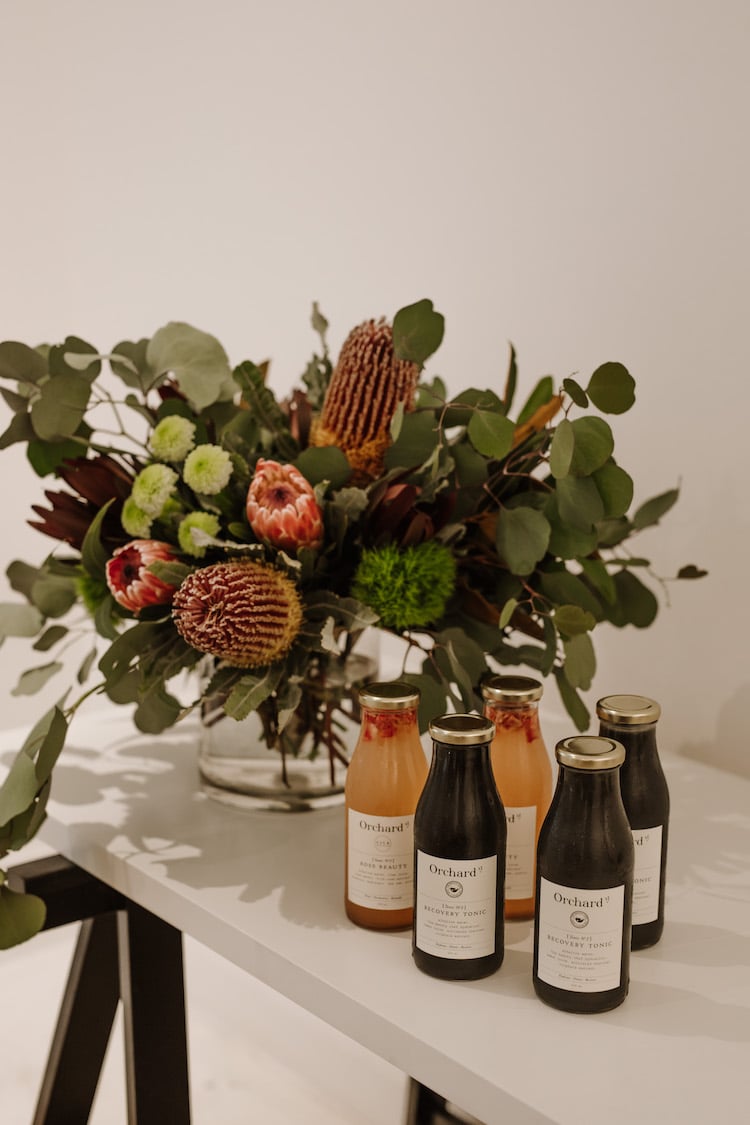 I have a few go-to places that help me take care of my skin.
Valli at Herbario Clinic in Melbourne performs wonderful holistic facials. Her whole philosophy and approach to anti-ageing is amazing, as her focus is on removing the toxins and stress we hold in our facial tissue and muscles to better improve the appearance and quality of the skin. Jocelyn Petroni in Sydney has this divine Heart Chakra facial which is so relaxing and rejuvenating that I often fall asleep mid-treatment.
Liberty Belle in Melbourne is where I turn for dermasweeps (i.e. deep exfoliation), LED light treatment and Pelleve/thermal treatments which help to stimulate collagen production. Natasha at Double Bay in Sydney does the best steam, cleanse and extractions ever – she has a featherlight touch, never leaves a mark and is great at 'feeding' the skin.
For spa treatments I love Crown Spa at Crown Towers, Aurora Day Spa and Body Freedom (especially for pregnancy massages!)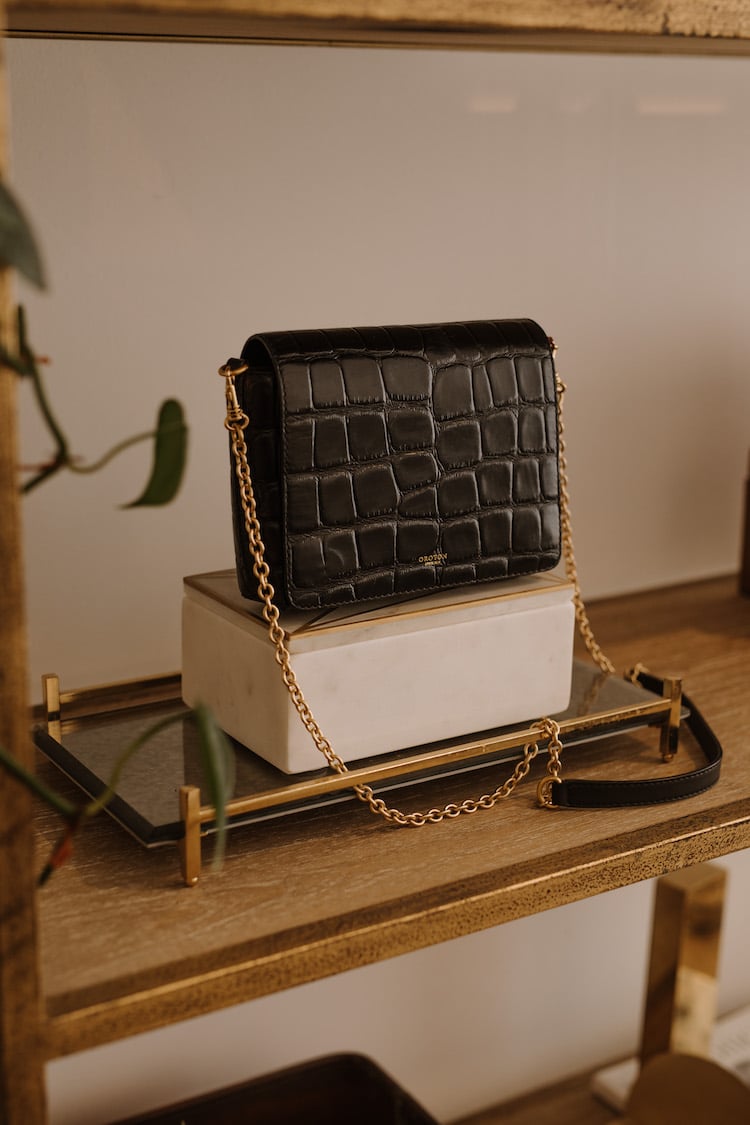 I like to take care of my body through regular movement, a balanced healthy diet, cleansing, exfoliating and moisturising daily, and stress relieving techniques such as yoga, deep breathing and meditation.
Yoga is my all-time go to for relaxation: it's great for my mind and my body and just really works wonders. I also like bike rides with my kids – I pop Rosie on the back of my bike and my fiancé Shaun takes River in a carriage on the back of his. It's really fun for us and the kids love it. We also enjoy doing little hikes and getting amongst nature on weekends when the weather is fine.
I have a few supplements and practices I like to include each day.
I take chaste tree for hormone balance, vitamin B which helps with energy levels and combatting stress, zinc, magnesium and vitamin C to support my immune system, and a probiotic every night. I also practice gratitude every evening as I head off to sleep. It sounds a bit corny, I know, but if I go off to sleep slowly counting ten things that I'm grateful for that day, I'm usually asleep before I get to number ten. For me, it's a beautiful way to end the day.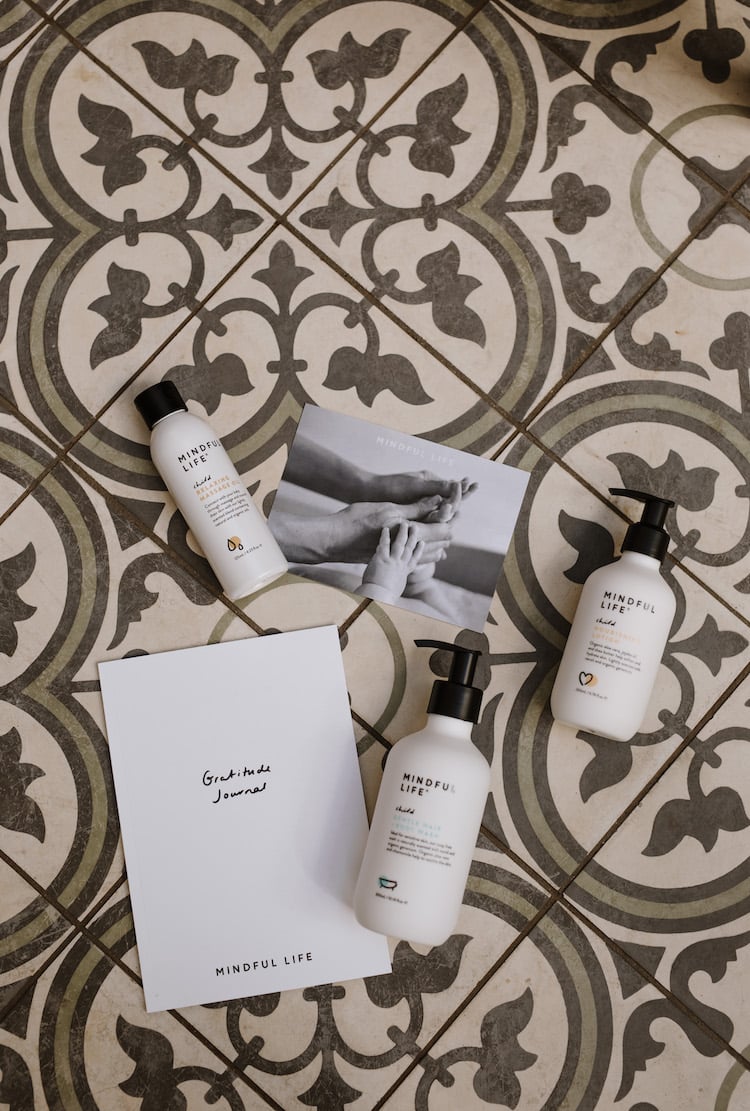 I feel so grateful that my work gives me the ability to create and collaborate with different people, and to have had the opportunity to work in different fields and wear different hats. It's good to have a few strings to your bow.
The roles I have taken on in fashion and beauty in the past were no brainers, which I did because I could or I needed to. The new direction I'm taking into health and wellness is because I've chosen to, and I want to. There's a deeper message in that for me. It's very daunting and scary to be doing it on my own without the infrastructure or financial support I've had in the past. I haven't taken on any investment – this is 25 years of my work supporting Mindful Life. So if it goes down, it's very risky (and I'm screwed!), but if it goes well, it's all mine. My prior projects were authentic and relevant to where I was at the time, but this has my DNA in it. It's come from the heart more than anything else I've ever done, and I hope people see that. There is something comforting and empowering about being the one who calls the shots and really owning that, however it turns out.